6 Reasons Many Small Churches Choose to Build with Steel
Large or small, many religious congregations choose to build a metal church.
Metal church buildings offer several advantages that small churches especially appreciate.
Six Reasons to Build a Metal Church
When building churches, people of faith place good stewardship as a cornerstone of the project. That's why pre-engineered steel buildings appeal to so many budget-conscious churches.
Steel church buildings win over building committees for the following six reasons.
#1: Steel Churches are Affordable to Build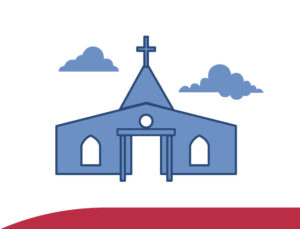 Stewardship demands churches use funds wisely. No congregation wants to sacrifice ministry effectiveness or community outreach projects for an over priced building project.
Fortunately, economical pre-engineered metal buildings typically save parishioners thousands of dollars over conventional construction. They find the church gets more per building fund dollar with a steel building system.
A new church building project usually requires the services of an architect. However, a pre-engineered system may eliminate the need for a structural engineer. The price of the steel building package includes all the structural engineering.
Building churches with a metal building system also saves time. Prefab steel buildings erect much faster than more labor-intensive construction methods.
In fact, RHINO steel buildings cut construction time by about 33%.
Faster construction saves money on labor. And speedy building means the congregation will be enjoying services in their new facility even sooner.
If talented contractors belong to the congregation, the church members may volunteer to do all or part of the construction themselves, cutting construction costs even more.
#2: Building a Church with Steel Cuts Operating Costs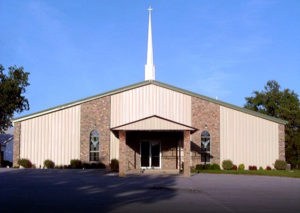 Steel church buildings are easier on an operating budget, too.
For example, a well-insulated steel church slashes utility costs. The deep wall cavities created by rigid steel buildings provide room for extra-thick insulation.
Premium insulation systems, like the Pro-Value Insulation package from RHINO Steel Building Systems, cut heating and cooling expenses by about 50%.
As an added benefit, the thicker insulation also reduces distracting outside traffic noise from penetrating church buildings.
A metal church building also enjoys extra protection from lightning, wind, earthquakes, mold, and premature aging, too.
In addition, the fire resistance of commercial-grade steel framing reaps significant discounts with insurance companies. That is another savings for the operating budget of a house of worship.
A steel church building also requires very little maintenance. Metal buildings do not require frequent repainting and repairs— or messy, costly termite treatments.
#3: RHINO Steel Church Buildings are Extremely Versatile
Our metal building system is capable of creating amazing and attractive church sanctuaries and support buildings.
Size, height, and style are almost unlimited with the RHINO steel building system.
Colorful steel panels, brick, stone, glass, tilt-up concrete, stucco, or wood may grace church building exteriors. Once completed, no one can tell the church hides a heart of steel.
#4: Building a Church with a Clear Span System
RHINO metal prefab chapel structures allow lots of wide, open space.
RHINO offers lofty ceilings and clear span structures up to 300-feet wide for inspiring sanctuaries.
#5: Steel Church Buildings Deliver Immense Strength
With the highest strength-to-weight ratio of any construction material, steel allows all designs to meet or exceed all current local building codes.
When building a church with a RHINO steel package, point loads for heavy crosses, bell towers, or steeples will be included in the design. If required, extra strength for massive roof-mounted air conditioning and heating units can also be accommodated.
#6: Expansion is Easier with a Steel Church Building
Stewardship demands a look toward the future, too.
Building a church with the RHINO system ensures that as the congregation grows, expanding the building will be economical.
In addition, metal church buildings retain their value better than other types of structures. That's important, should the need arise to sell the existing structure and move the church to a different location.
Conclusion
When building churches, ministries find they reap far more building for the money sowed with an economical RHINO steel prefab chapel.
The Best Steel Church is a RHINO Steel Church

In addition to church sanctuaries, RHINO steel buildings also meet the needs of other religious campus structures, including:
Administrative offices
Audio/video centers
Bus garages
Choir rehearsal halls
Classrooms
Conference rooms
Day care centers
Fellowship halls
Gymnasiums
Mailing and shipping centers
Parochial school buildings
Sanctuaries
Youth centers
Other miscellaneous auxiliary ministry structures
Speak to a RHINO steel building specialist now. Discuss your project in detail.
Call RHINO today at 940.383.9566 for a free estimate for your sanctuary or other religious building project.
(Updated 6-9-2021. Originally published 3-31-2017.)