Why RHINO Metal Buildings are Practically Maintenance Free
Compared to wood structures, steel buildings require very little upkeep and metal building repairs are simple.
In fact, the only regular metal building maintenance needed is an occasional power washing.
In addition, there are many other ways RHINO steel buildings eliminate the need for the continual maintenance common with wood buildings.
Buying a Metal Building Avoids the Hassle and Expense of Repainting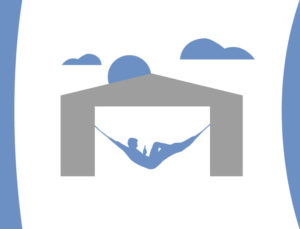 Wood structures require regular painting.
The frequency of the painting depends on your location— and the quality of the paint.
Plan to paint lumber-framed buildings every seven to ten years in mild climates.
Wood-framed buildings in coastal areas and in regions of extreme heat or cold need painting more often. In such areas, experts suggest painting every four or five years.
Let's put that in perspective.
For example, professional painting of a 2,400 sq. ft. wood structure currently costs about $3,840 on average. That is $23,040 if you painted every six years during a 30-year ownership! And that is assuming that the cost of painting does not keep rising, which is highly unlikely!
However, with simple periodic washing, RHINO prefab steel buildings can easily go 40 years or more without requiring any painting.
RHINO Metal Buildings Stay Straight and True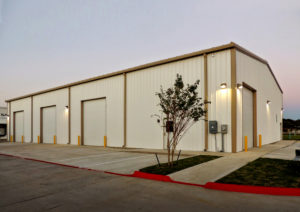 Lumber expands and contracts with moisture changes.
Unfortunately, a wood stud expands at three different rates along its width, depth, and length. That causes wood studs to move over time, a process known as "creep." The wooden studs shift, twist, bow, crack, split, and rot over time.
As lumber-framing moves, nails and staples back out. The entire frame loosens. The building corners are out of plumb. Sheetrock cracks. Windows and doors no longer close properly, creating drafts. Long-spanning rafters and headers droop.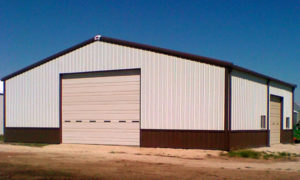 Repairing these problems is stressful— and expensive.
On the other hand, steel is predictable, consistent, and reliable.
Steel framing never creeps or moves.
When you build a metal building, you connect the steel pieces with high-strength bolts and screws that hold tight.
Therefore, pre-engineered steel buildings go up straight, plumb— and stay that way throughout the lifetime of the structure.
Conclusion: Build a Metal Building to Save on Repairs
Build a metal building instead of a wood-framed structure to save time and money on painting and other repairs.
RHINO Metal Buildings Promise Low Maintenance with Few Metal Building Repairs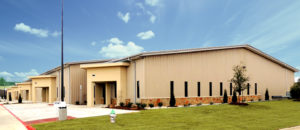 Eliminate metal building repairs by buying a metal building from RHINO. Our premium-quality prefab steel structures offer the lowest possible metal building maintenance.
Standard RHINO metal buildings include 26-gauge heavy-duty purlin bearing roof (PBR) panels for the roof and the exterior walls. Optional 24-gauge standing seam roof panels eliminate the need for steel-penetrating screws, delivering even greater waterproofing.
All RHINO exterior panels are Galvalume® steel with weather-resistant baked-on paint. In fact, our steel cladding comes with a 25-year guarantee.
RHINO's sturdy rigid-steel framing goes up straight and stays that way through decades of use. Our heavy-duty commercial-grade steel framing never warps, twists, cracks, splits, rots, or creeps.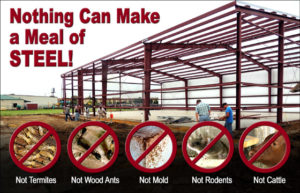 Unlike maintenance-intensive wood buildings, RHINO steel buildings never attract termites, wood ants, mold, or mildew.
Learn more about building your next structure with an easy-care, RHINO-tough metal building kit.
Call RHINO today. Speak to a friendly and knowledgeable RHINO building consultant now at 940.383.9566.
(Updated 8-25-2021. Originally published 10-14-2016.)