The Lifecycle Advantages of Pre-engineered Steel Structures
Metal buildings save money on purchasing and construction. However, the greatest savings happen over the lifetime of the structure.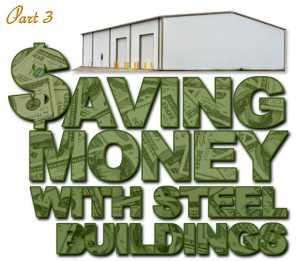 Smart investors look not only at the initial costs of building, but also at the lifecycle costs. This cradle-to-the-grave philosophy counts the cost over the years of using the structure.
Buying a cheap, inferior structure does not save in the long run if it costs too much to operate and maintain.
Looking Beyond the Cost of Construction
Well-crafted pre-engineered metal buildings save money on every phase of the building's lifetime:
EXTENDED LIFETIME: A structure built with poor quality materials that do not last is no bargain. The longer a building lasts, the less the economic and environmental impact. Steel buildings last decades longer than other types of structures— and retain their sharp looks and re-sale value longer, too.
MAINTENANCE: Structures that need constant repairs and repainting create a drain on budgets. Metal buildings save money by being practically maintenance free.
WEATHER RESISTANT: Well-constructed steel buildings offer built-in weather resistance. First-class steel building companies include value-added features that eliminate leaking, corrosion, condensation, and other weather-related problems.
INORGANIC: Organic wood rots, warps, sags, and twists as its moisture level changes. Wood-framed structures start to creak over time. Rafters sag. Windows and doors stick as the framing shifts. Inorganic steel is impervious to changing humidity levels. Steel components start out straight and true— and remain that way for the lifetime of the structure.
TIGHTER ENVELOPE: Steel structures create a tighter building envelope than other building materials like lumber. And steel inherent strength maintains that draft-resistant, tight envelope throughout its lifetime.
DAMAGE RESISTANT: Cheaply built structures cannot stand up to Mother Nature's savage fury like a steel building does. Steel provides extra protection from blizzards, hurricanes, lightning, fire, and earthquakes.
DISCOUNTED INSURANCE: Most metal building owners enjoy big discounts on insurance. The fire-resistant qualities of commercial grade steel earn significantly lower rates with most insurance companies, saving 25% to 35% on average.
TERMITE-RESISTANT: Wood structures require periodic expensive treatments with noxious chemicals to ward off costly termite and wood ant attacks. Steel framing is impervious to termite or wood ant attacks.
ENERGY EFFICIENT: When properly insulated, steel buildings slash energy costs. Over a lifetime of operation, well-insulated metal buildings save thousands of dollars on energy expenditures.
ECONOMICAL EXPANSION: Pre-engineered steel structures save money on remodeling and expanding. Steel buildings require few—if any— load-bearing interior columns. Changing the interior floor plan is a snap. Expanding the size of a steel structure is faster and easier with a metal building, too.
RECYCLING STEEL: At the end of a concrete or wood building's usefulness, the owner pays dearly for rubble removal after demolition. However, a steel building's owner profits at demolition by selling the steel as scrap. Recycled, the steel lives on as a ship, a car, a bridge— or as framing for another steel building.
RHINO Metal Buildings: Built Strong to Last Long
RHINO metal buildings save money— and maintenance headaches— every year of their lifecycle.
These options and features assure RHINO steel building owners many years of hassle-free use:
100% commercial-grade steel framing
Guarantee that the steel framing will meet or exceed all building codes for the lifetime of the structure
Long-lasting, heavy-duty high-tensile Gavalume® steel ribbed sheathing with a 25-year guarantee
Self-drilling cast-zinc head aluminum screws— guaranteed not to rust
Long-lasting, UV-resistant EPDM washers to create a weatherproof watertight seal
Formed-base trim to eliminate edge rusting
Die-formed ridge caps for an ultra-tight roofing seal
Foam closure strips for a tighter, weather-resistant and pest resistant building envelope
Closure strips for better sealing
Optional Pro-Value insulation system saves up to 50% on heating and cooling costs
Almost 40% of our sales over the past twelve months came from repeat customers— and those they enthusiastically referred to RHINO. That says more about the quality of our structures than anything else we can say.
Call RHINO today at 940.383.9566. Learn how RHINO metal buildings can save you money.