Defining "Clear Span" as applied to Pre-engineered Metal Buildings
"Clear span" is a term used in construction for both buildings and bridges. This article explains the definition of clear span as applied to pre-engineered clear span steel buildings.
The Span of a Structure
The span of a building is the width of the framing.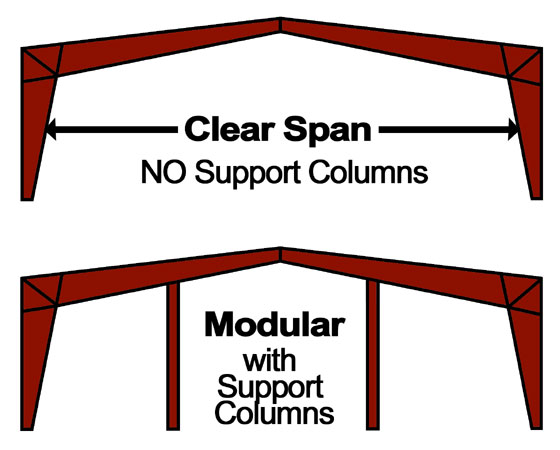 Pre-engineered clear span steel buildings are self-supporting. No support columns are required to support the building. Therefore, the inside span from outside column to outside column is clear of obstructions.
Since rigid "red-iron" steel is so much stronger than wood or light-gauge steel framing, pre-engineered metal buildings deliver the maximum amount of unobstructed area.
There are two main benefits gained by choosing a clear span metal building: maneuverability and flexibility.
Ultimate Maneuverability
Large-scale agribusinesses today require barns or equipment shelters with plenty of room to operate huge modern tractors, combines, threshers, and other farming equipment. Clear span metal buildings provide the room farmers and ranchers require.
Warehouses operations need wide-open space to access changing stock quickly and efficiently. Columns within the structure hamper maneuverability. Clear span structures simplify the job for warehouse managers.
Hangars and shade shelters must allow room for aircraft movement. Clear span metal buildings not only supply the open space needed, but also easily accommodate the huge door spans required for aircraft hangars.
Churches often choose clear span steel buildings, especially for their sanctuaries. No one wants to be trapped behind a steel column during the service. The same is true for theaters and school auditoriums. Any structure housing a large audience needs to be a clear span metal building.
Indoor horse riding arenas choose the unhindered space provided by clear span steel buildings.
Unlimited Flexibility
Rental office buildings and retail spaces find clear span metal buildings a great boon to their businesses. As clientele changes, the space needs change. Inevitably, the new tenant will want the space modified to fit their specific enterprise. Clear span steel buildings make remodeling much easier— there are no load bearing walls to interfere with the new floor plan.
Even individuals find the flexibility of a clear span structure beneficial. Clear span buildings make adapting the interior easier. As their needs for the space change over the years, they can simply add or delete any of the Metal Building Interior Walls without worrying about altering the structural integrity of the steel building.
RHINO Clear Span Steel Buildings
Let RHINO provide the perfect clear span metal building for your next project. Call RHINO today at 940.383.9566 for more information on the definition of clear span and a fast quote.