How Pre-engineered Metal Buildings Cut Construction Time
Did you know that pre-engineered metal buildings slash construction time by 33% or more? Here's how.
Five Ways Faster Construction Saves Money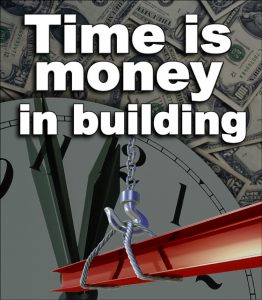 Time equals money in construction. With every additional day of construction, total costs rise. Rapid construction cuts costs five ways:
LOWER LABOR COSTS: Labor typically constitutes the largest expense of any commercial or industrial building project. The faster the structure is completed, the less the labor costs.
FEWER DELAYS: The longer a construction project takes, the greater the chance of costly weather delays. Contractors and subcontractors may shelve the project and move on to another next job, causing further time wasted. Pre-engineered steel buildings erect far quicker than other building systems, shaving weeks off large construction projects.
REDUCED INSURANCE: The shorter the construction time, the less spent on builder risk premiums.
LOWER SECURITY COSTS: Rapid construction means less spent on security protection from job site theft.
QUICKER MOVE-IN: The faster the building reaches completion, the sooner the owner starts turning a profit.
Five Ways Metal Buildings Save Time
Engineered to take maximum advantage of steel's superior strength, RHINO Steel Building Systems eliminate wasted time and materials.
COMPLIANT:

Pre-engineering means metal building kits arrive already compliant with all current local building codes. There's no hassling with building inspectors to bring construction up to code.

FEWER PIECES:

In a prefabricated steel building, far fewer framing elements create a much stronger structure. A rigid steel framing system places steel columns 25-feet apart; wood framing places studs every 16 inches.

READY-TO-ASSEMBLE:

Pre-engineered metal buildings arrive ready to start bolting together. Every piece is cut to length, welded into shape, pre-drilled, painted, clearly marked, and ready to assemble. In wood framing, the lumber must be sorted and culled to eliminate warped or damaged studs. Every piece of framing is measured, sawed, and nailed together to form walls and rafters.

LESS ERRORS:

Factory-produced framing pieces reduce human errors at the job site that waste time and materials. Steel framing fits together precisely. A pre-engineered steel building goes up only one way— the right way.

WELDED CLIPS:

Quality metal buildings, like those available from RHINO, include factory-welded clips. Welded clips make locating secondary framing on the main frames easy, speeding up construction. Welded clips are also stronger than the bolt-on clips used on inferior steel buildings.
The faster erection of pre-engineered metal buildings helps keep construction projects on time and on budget.
The Business Built on Trust
RHINO believes treating the customer right is the only way to do business. This old business maxim sums up the RHINO philosophy of customer service: "Customers may forget what you said but they will never forget how you make them feel."
Experience the RHINO Difference for yourself. Our knowledgeable staff can answer all your questions, offer helpful design tips, and supply a free quote on your next low-rise commercial or industrial building project. Call RHINO now at 940.383.9566 to learn about hour faster construction options.