How to Stretch Your Church Building Fund with a Metal Building
Homebuyers almost always expect far more home than their budget allows.  It is human nature to get carried away with all the features of a dream home.  Then reality douses you in ice water when you see the price tag.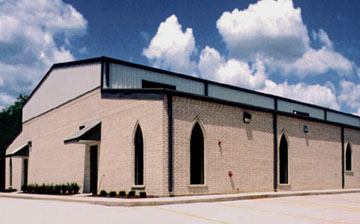 The gap between the dream and the budget grows even larger when a church building committee gets together.  They often envision a towering, majestic cathedral with triple the square footage their budget allows. Pre-engineered steel church building designs help bridge the yawning chasm between perception and reality.
Not a Metal Barn with a Steeple
Surprisingly, many people still believe all metal buildings look like agricultural structure.  Not so.
Over half of all commercial buildings today are framed with steel.  The restaurant, bank, clothing outlet, office supply, convenience store, doctor's office, or church you just visited is probably framed with steel.  Once the exterior is completed, the framing doesn't show— so you never know it is a steel structure.  Brick, stone, stucco, glass, steel panels, tilt-up concrete, or any other exterior finish can be used on a steel church building to create an attractive, long-lasting religious structure.
Advantages of a Metal Building System
There are so many reasons to choose RHINO steel buildings for a steel church building project:
AFFORDABLE

— You simply get more building for your budget with steel.  The building's engineering is included in the cost of the package.  With other building materials, the church pays extra for the structure's engineering— a LOT extra.  Depending on the complexity of the design, a prefab steel building may be 40% less than other types of structures.

DURABLE

— Quality-made steel building systems like RHINO are built to last.

STRONG

— Steel boasts the strongest strength-to-weight ratio of any building material.

SAFER

— A quality-made steel buildings generally outperform other structures during tornadoes, hurricanes, heavy rains, deep snows, earthquakes, fires and lightning strikes.

GREEN

— Good stewardship of the planet requires considering environmental concerns.  By far, the most recycled building material available, steel remains strong regardless of how many times it is recycled.

FASTER

— Steel building kits arrive at the church site ready to bolt and screw together, like a big erector set.  Parishioners may opt to assemble their own framing on small to mid-sized projects, saving on labor costs.
Call Today for an Accurate Quote
RHINO provides free quotes upon request.  Unlike the "ballpark" quotes common with many construction materials, RHINO quotes are accurate and dependable.
Call now to speak with a RHINO steel building specialist today about a new church sanctuary, auxiliary religious structure, or any other steel building project.