Steel Buildings are Capturing Hearts in America's Heartland
Farmers, businesses, and individuals all appreciate the advantages of choosing metal buildings in Iowa.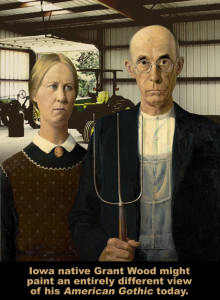 The climate challenges of the Hawkeye state demand strong structures. Iowa's economic diversity demands versatile building systems. Heartland pride demands attractive structures. No other construction system meets these demands as well pre-engineered metal buildings.
Agribusiness in the Hawkeye State
Farming has always been the backbone of Iowa's economy. However, farming in the state today differs drastically from bygone years.
Mega-acre agribusinesses have replaced most small farms. Iowa's terrain and climate makes it ideal for the highly mechanized farming operations of today.
Huge equipment, modern farming techniques, and hybrid crops allow cultivation of vast acreages by far fewer people. Although 90% of its land is devoted to agriculture, Iowa farmworkers make up only 10% of the state's workforce.
RHINO's metal buildings in Iowa offer farmers advantages no other building system can match. Compare steel buildings to other construction methods. You will find pre-engineered metal buildings will:
• Span farther
• Erect faster
• Last longer
• Require less maintenance
• Cost less to construct and operate
• Save on insurance costs
• Maintain beauty and value longer
• Resist damage from wind, rain, snow, fire, mold, lightning, and termites better
The Commercial and Industrial Market for Metal Buildings in Iowa
Recent decades brought more diversification to Iowa's economy.
The Hawkeye state now boasts many businesses manufacturing products like heavy equipment, motor homes, large appliances, chemicals, food products, and farm implements. Financial services, information technology, biotech industries, and green energy production businesses also operate in Iowa today. Service businesses, tourism, and gambling bring in revenues to the mixed economy of state as well.
Most of these industries require large manufacturing buildings, warehouse spaces, or recreational venues. The same benefits listed above that win the loyalty of agribusiness also please commercial and industrial enterprises.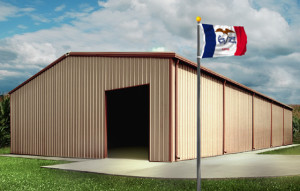 Pre-engineered steel buildings in Iowa provide the strongest low-rise structures at the best possible price— regardless of the use.
Steel Buildings in Iowa for the Residential Market
Business owners of huge steel barns, warehouses, manufacturing plants, aircraft hangars, and mega-stores enjoy the benefits of steel buildings. However, the versatility of the steel building system makes it ideal for individuals, too.
Homeowners appreciate the rewards supplied by metal buildings in Iowa, too. From Des Moines to Cedar Rapids and from Davenport to Sioux City, Hawkeyes increasingly choose pre-engineered steel buildings in Iowa.
RHINO's metal building kits arrive at the job site prefabricated and ready to assemble. Many homeowners elect to build the simple bolt-together kits themselves. Every framing kit carries a guarantee to meet or exceed all Iowa's local building codes— for the LIFETIME of the structure.
Residential applications include:
• Backyard businesses
• Craft cottages and hobby huts
• Family entertainment areas or media rooms
• Guest houses
• Home fitness centers
• Home office steel buildings in Iowa
• Homes
• Horseback riding arenas
• Lake and vacation homes
• Man-caves and woman-caves
• Multi-purpose structures
• Multi-vehicle or RV garages
• Storage buildings
RHINO Metal Buildings in Iowa
Experience the RHINO Difference for yourself.
Contact RHINO for your next construction project in Iowa. Our experienced, expert team of steel building specialists will lead you through the ordering process one step at a time. Call now for information on steel buildings in Iowa:
940.383.9566.