Have you ever thought about the importance of warehousing?
Warehouses present unique challenges. The warehouse owner wants warehouse construction that is quick, and reduces erection costs.  Their warehouse needs to be built strong to protect their inventories.
A wide, open span structure is essential to maximize a warehouse's maneuverability and storage capacity.  Warehouses also require extra protection against the elements, vermin, and fire. Many warehouse owners choose RHINO as their source for steel prefabricated warehouses.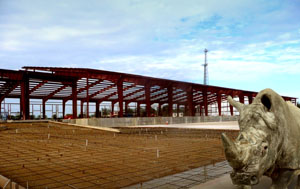 Practically everything we buy is sheltered in a warehouse at some point.  Food, beverages, furniture, clothing, household goods, pet supplies, sporting goods, electronics, computers, auto parts, medical supplies, office equipment, books, toys, games, hardware, appliances— almost everything you can name is first collected in a warehouse and then shipped.  Some of it is distributed to retail locations; some of it is delivered directly to our doors.
Generally, we think of warehouses as gigantic boxes with millions of square feet.  Can't you see in your mind's eye rows and rows of long forgotten crates piled high in a dark, cavernous building, like where the crate was stored in the end of Indiana Jones and the Lost Ark?
How big is the average warehouse?
The Energy Information Administration (EIA) puts the number of warehouses and storage buildings in the U.S. at over 600,000.  All together, they encompass 10.5 billion square feet of floor space.  To put that in perspective, that's equivalent to almost 375 square miles— 22% larger than all five boroughs of New York City combined.
Only about 1,000 of the over 600,000 total warehouses in the U.S. contain more than 500,000 square feet.  The overall average warehouse size is about 17,300 square feet.  However, 70% of warehouse complexes are less than 10,000 square feet.
Demand for larger and larger U.S. warehouses and warehouse construction have skyrocketed since China joined the World Trade Organization in 2001, which opened the door to greater Chinese and American trade. Many new warehouse buildings of 400,000 square foot and up are now being built.  Several U.S. import distribution centers of 1.5million to 2 million square feet have already been constructed in the last decade primarily to take advantage trade with China.
How do warehouses work?
Warehousing today is a high-tech, high-volume enterprise which requires extraordinary organizational skills to keep the inventory flowing smoothly in and out of the system on a tight schedule. This boom has fueled an increase in warehouse construction.
Warehouses today are usually very busy places, moving thousands of goods into storage and out to shipping in a constant stream.  While we may imagine the warehouse as nothing more than a big closet where you move pallets of boxes in and out with a forklift, warehouse operations are actually quite complex.
Several industries have evolved to serve the warehousing industry to improve efficiency, from logistical consultants, to material handling services, to order fulfillment companies, to warehouse construction, to magazines published specifically for the warehousing industry.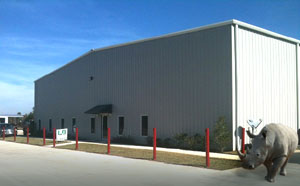 Maximizing warehouse efficiency has become an art.  As an example of logistical planning, assume 80% of warehouse activity is generated by 20% of the stock keeping units (meaning the products of the warehouse or SKUs as their known in the industry).  Grouping those highest traffic items in the most logistically accessible location saves time.  And as in any other enterprise, time is money in the warehousing business.
Mezzanines are another way of optimizing existing warehouse space by using the area for offices or small products and parts that don't require the use of a forklift or overhead crane.  RHINO has provided many customers with mezzanines for their warehouses, manufacturing, recreational centers, and aircraft hangars.
Is It Time To Build A New Prefabricated Warehouse?
While renting third-party outside warehousing space may help in a seasonal pinch, it is certainly no long-term solution for a profitable warehousing business. At some point new growth reaches a volume that demands either an addition to the existing building or a new, more modern prefabricated warehouse building to create a more effective operation long term.
Many things must be considered when in a warehouse construction expansion project. Based on current volume and the profile unique to each warehouse business and its products, what is the projected future volume?  How many square feet will be required for maximum output?  What is the ideal lane depth for those specific goods?  Is land available on the existing site or adjacent lots?  How much room is needed for vehicle traffic inside the building?  Is a low bay or a high bay better use of space for the specified warehouses goods?  What sort of equipment— overhead cranes, forklifts, conveyers, optical character reading or bar coding apparatus, communications gear—will enhance the operation, and what are the parameters needed to operate each one?  And that's just the beginning.
RHINO's Metal Buildings Make Great Prefabricated Warehouses.
One basic decision makes many other variables easier to coordinate: choosing to build a prefabricated warehouse with RHINO.
Whether adding space to an older building or constructing a new one, steel framing is definitely the right choice for your prefabricated warehouse.  Rigid-frame steel buildings can span as far as 150' without any interfering interior support columns obstructing the floor space use.  Even wider spans up to 200' are possible in warehouse construction, but require a custom quote. (For example, there is a RHINO clearspan warehouse currently under construction in Argyle, Texas that's 133' wide by 250' long.)
Clearspan framing not only makes the initial floorplan much easier to arrange during warehouse construction, it also allows the flexibility to change the layout later if the materials handled change, without forcing the layout to configure around load-bearing columns.  If overhead cranes or larger forklifts are necessary, a RHINO clearspan rigid metal building as a prefabricated warehouse can accommodate them much easier than open web truss buildings.
If open, clearspan space is not an issue with the goods and materials distributed— for instance in a warehouse filling catalog orders— RHINO metal building prefabricated warehouse structures up to 480' wide can be designed with minimal interior columns.
RHINO eave heights can be as high as 40' to exploit vertical dimension and maximize the amount of goods per square foot with denser SKU packing, thus cutting costs.  (Even higher eave heights are possible in warehouse construction, with a custom quote.)  Expanding a metal building prefabricated warehouse later is very easy; just add more floor space at either end wall by adding more framing bays.
According to the EIA, the median age of warehouses in use today is 24.5 years.  RHINO framing is certified to meet or exceed all local load requirements for the life of the structure in warehouse construction.  Our steel-framed, prefabricated warehouses age much better than other forms of construction, retaining their appearance for decades and increasing the resale value.
For more about the advantages of steel warehouses, including the "green" building benefits of RHINO prefabricated metal buildings, be sure and see Part 2.
RHINO's experienced and helpful steel warehouse construction specialists are available.  They can assist you with choosing your steel building size, options, and accessories.  Call today for more details and a free quote for a prefabricated warehouse.