The Benefits of Pre-engineered Metal Buildings for Agribusiness
Visionary farmers and ranchers were among the first to see the potential for pre-engineered metal buildings.  They were choosing prefabricated steel systems for their agribusiness operations long before the commercial, industrial, and residential markets joined in the switch to steel.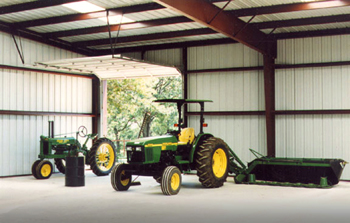 Below is a baker's dozen of the many advantages steel buildings bring to the agricultural market.
1.

Economical

American farm and ranch operations today run on a tight profit margin.  Agribusiness managers carefully weigh the pros and cons before adding any new assets to their operation.  They have to know that the cost of the new equipment or buildings will be offset by a positive upswing in the bottom line.

That's why agribusiness managers overwhelmingly choose durable, dependable pre-engineered steel farm buildings for their agricultural buildings.

Prefabricated steel buildings are efficiently designed and fabricated to construct the strongest structure with the least amount of materials.  Capitalizing on steel's inherent strength, modern engineering programs and manufacturing facilities work together to design and produce the most affordable building package possible.
2.

Clear Span

Farm equipment today cuts wide swaths through the fields to maximize effectiveness.  Huge tractors, combines, corn pickers, hay balers and wagons, harvesters, mowers, graders, backhoes, trucks, trailers, crop dusters, fertilizers, and the like need protection from the elements.  However, maneuvering large and cumbersome equipment within a structure can be tricky.

Wood-framed shelters and steel arch-style structures have limited structural widths.  Wood pole barns require interior columns to support the structural load.  Pre-engineered steel buildings are so strong, they can span up to 300' in width without any interior columns.

Large livestock buildings, indoor or covered riding arenas, and product storage shelters all benefit from the clear span capabilities of steel.
3.

Uncluttered Ceilings

Wood-framed barns and steel-web structures produce perfect roosting and nesting places for birds.  Who needs all that mess and inconvenience in your barn or livestock shelter?

Rigid-frame prefabricated steel farm buildings provide no overhead cross pieces to attract birds.
4.

Versatile

Whatever agricultural building is needed, a pre-engineered steel building is available to meet the need.  Steel barns, equipment storage shed, hay storage, livestock shelters, mechanics workshops, offices, grain storage buildings, stables, and covered riding arenas are all possible with a steel-framed structure.

Pre-engineered steel buildings can be any length.  The buildings can be 40' high on a standard— or more on a custom quote.  They are easy to expand as needs change, by simply adding more steel frames to either endwall.
5.

Options

RHINO prefab steel buildings can be finished with 26-gauge PBR steel panels, which come with a 30-year warranty.  Choose from an attractive array of colors. Or, if you prefer, finish your agricultural metal building in brick, stone, or other material.

Other options available include gutters and downspouts, vents with birdscreens, canopies, skylights and wall lights, insulation packages, and interior panels.
6.

Door Options

Some farming applications call for open doorways.  Others may need overhead doors, personnel doors, or windows.  All these options are available from RHINO.
7.

Strong and Durable

Ranchers and farmers realize an agricultural building is an investment.  They want a structure that works now and for decades to come.  Engineer- certified to meet or exceed all local buildings codes, steel buildings stand strong against high winds, heavy rains or snows, earthquakes, fire, lightning, and termites.
8.

Longevity

Steel building will last decades longer than traditional buildings.
9.

Easy to Erect Framing

Most farmers and ranchers are by nature do-it-yourselfers.  Since prefabricated metal buildings arrive ready to bolt and screw together, many people choose to erect the framing themselves— with a little help from friends.  Erecting the framing yourself saves money on labor costs.
10.

Low Maintenance

Once completed, steel buildings are virtually maintenance free.
11.

Green Building Material

Ranchers and farmers work and respect the land.  Environmentally friendly products and practices are important to them.

Steel is the most recycled material in the world.  On average, RHINO framing contains over 89% recycled steel.  When the agricultural outlives its usefulness, the framing can be dismantled and sold for scrap, to be recycled again.
12.

Quality Product

RHINO's prefab steel buildings are not the "tin barns" of earlier farm life.  Our structures are built strong to last long, protecting your investment for decades to come.  We include many features as "standard" in our metal building kits, which other companies sell as price-increasing options.
13.

RHINO: A Name You Can Trust

RHINO's track record speaks for itself.  Over 39% of our sales in the last 12 months have been either returning customers, or those referred by previous customers.  The Better Business Bureau awards RHINO an A+ rating.

Visit our gallery to see examples of the variety of metal building types available from RHINO

Related RHINO blogs: