Pre-engineered Steel Shelters Down on the Farm
Today's modern farmers overwhelmingly choose pre-engineered metal barns and agricultural buildings. They rely on the affordability, flexibility, and durability of steel barn and farm building construction.
Family Farming: Steel Going Strong
Families have always been the backbone of American farming. In the past, a working farm often remained in a family for generations.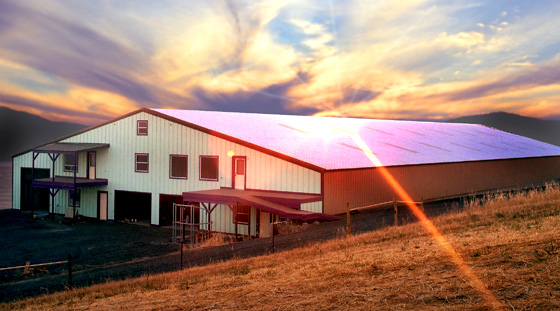 People assume today's huge farm enterprises are mostly corporate operations.
Farming today is still predominately a family business. Families and individuals own over 90% of all of the 2.2 million farms in the U.S.
Corporate farms account for only 3% of total U.S. farms— and 90% of those are family owned. (Savvy family-owned farmers have incorporated to take advantage of legal benefits available to corporation agribusinesses.)
Profit-wise farmers today have increased their acreage as large-scale equipment expanded their capabilities. According to the U.S. Census of Agriculture, farms now average over 400 acres. Larger farms may include thousands of acres.
High-Tech Farming Demands High-Tech Structures
Large-scale farms require large-scale farm equipment. Expensive tractors, combines, trucks, trailers, corn pickers, backhoes, graders, harvesters and other equipment need protected storage space— and a lot of it.
Wood-framed barns and structures require rafters and interior support columns, reducing usable space with farm building construction.
Steel is a far stronger building material than wood. Pre-engineered metal barns and farm buildings can span 200' or more without any interior columns or overhead rafters. Steel barns provide oodles of unobstructed space. Maneuvering huge tractors and ungainly farm equipment proves far easier in clear span metal barns and farm buildings.
Metal Barns and Ag Buildings: The Stronger, Safer, Smarter Way to Build
Steel barns comprise just one part of modern farming operations. Prefabricated steel buildings supply multiple advantages to all farm structural needs, including:
• Barns
• Calving barns
• Covered or indoor riding arenas
• Dairy barns and milking houses
• Farm equipment storage buildings or sheds
• Feed storage
• Fertilizer sheds
• Grain crop, or commodity storage buildings
• Hangars
• Hay barns and hay sheds
• Horse barns
• Horse stables
• Livestock shelters
• Metal and machine shops
• Multi-purpose farm buildings
• Offices
• Poultry houses
• Sale barns
• Storage buildings
• Truck and trailer garages
Whatever Your Farm Building Need, RHINO Is the Answer
Call RHINO today to learn more about metal barns and agricultural buildings framed with long-lasting, commercial-grade, prefabricated steel. Ask our metal building specialist for a more information and a free quote.
You may call RHINO at 940.383.9566 for information on farm building construction.