Using Steel Aircraft Hangars to Protect Flying Assets
Aircraft hangars provide shelter for both the aircraft and the maintenance which insures the safety of the aircraft, pilots, and passengers.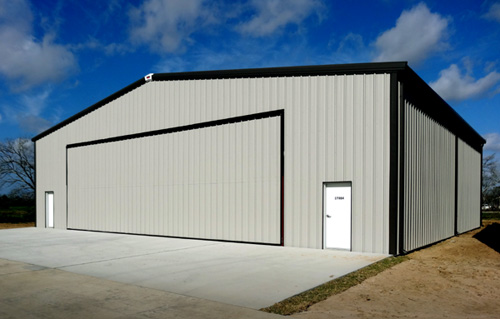 An aircraft is a sizeable investment, so you'll want the strongest shelter possible for the security your valuable asset.  The best protection possible is a prefabricated steel aircraft hangar from RHINO.
PREFAB STEEL AIRPLANE HANGARS: A STRONGER, SAFER, SMARTER WAY TO BUILD
Ever since man began dreaming up ways to fly, he has needed a place to construct, repair, and protect his flying marvels.  Thus the hangar was born.
The Wright Brothers constructed their first airplane hangar from wood in 1902 at Kill Devil Hills, North Carolina.  After completing the construction of their Wright Flyer in Ohio, they returned to find their wooden hangar badly damaged by storms.
It's easy to see why engineers so quickly switched to metal airplane hangars.
THE ADVANTAGES OF STEEL AIRPLANE HANGARS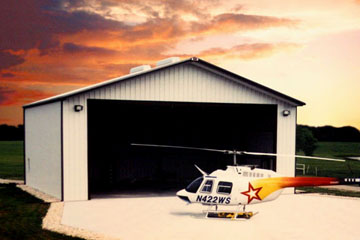 No one debates steel is stronger than wood.
Steel is able to span much greater distances that conventional wood buildings.  That's why steel is the material of choice for bridges, mega-warehouses, large manufacturing facilities, and clearspan commercial buildings, as well as metal airplane hangars.
Steel was the material of choice even for framing the massive hangars of the early dirigibles.
"Hangar No. 1" built in Lakehurst, New Jersey, constructed in 1921, was framed with steel.  This monster structure contains 211,000 sq. ft. of floor space and is a whopping 172' in height.  Today Hangar No. 1 not only still exists, it is a registered national monument.  What a testament to the functionality, versatility, and durability of steel!  (Here's a video that's a fascinating look at the construction of the USS Shenandoah in Hangar No. 1.)
Steel is not only the smart building choice for hangars and aviation support buildings, it is also the "green" building choice.  Steel is the most recycled material in the world.
Durable pre-engineered metal airplane hangars resist damage from termites, mold, erosion, high winds, snow, rain, fire, lightning, and even earthquakes.
The framing for prefabricated metal airplane hangars consists completely of manufactured steel components.  Each framing piece of our steel airplane hangars is welded, punched, drilled, and marked to make assembly quick and easy.
THE VERSATILITY OF RHINO PRE-ENGINEERED STEEL AIRPLANE HANGARS
RHINO steel building can be manufactured for:
Aircraft peripheral buildings
Airfield offices
Classic biplanes hangars
Corporate jet hangars
Crew quarters
Glider hangars
Helicopter hangars
Jumbo jet hangars
Maintenance buildings
Private plane hangars
Shade structures
Terminals
OPTIONS FOR STEEL AIRPLANE HANGARS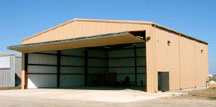 Customize your prefab aircraft hangar with overhead cranes, cupolas, mezzanines— whatever is needed to make the building right for your particular aviation application.  Doors are available in several styles including sliding, vertical lift, and bi-folding for metal airplane hangars.  Door options include manual, electric, or hydraulic lifting systems.  All hangar doors can be certified for up to 145 mph wind resistance is required.  Insulated doors are also an option for our steel airplane hangars.
Other quality-conscious metal building options to consider include:
Pro-Value Insulation Package
Skylights and wall lights
Standing seam steel roof panels
"Cool Roofing" Panels
Vapor barrier
Vents
Wall panels and partitions
Choose RHINO Steel Aircraft Hangars and Metal Buildings
RHINO can design a competitively priced steel hangar for any needs.  Our metal aircraft hangars and metal buildings are certified to meet or exceed local building codes for the lifetime of the structure.
Your aircraft deserves the best protection available.  Experience The Rhino Difference for yourself. For more information on prefab aircraft hangars or to get a quote, call: 940.383.9566.