Housing Yesterday's Treasures in Today's Metal Buildings
At first glance, steel building resale shops sound like a contradiction. Shouldn't antique, collectible, and memorabilia merchandise be relegated to dusty old wood or brick structures of the past?
Absolutely not!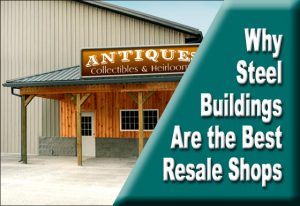 Like any other retail business, attractive displays and well-planned traffic flow are paramount for success. However, the biggest challenge for resellers comes from the way they receive their merchandise.
Retail businesses simply order what they need in large quantities, displaying as needed and stocking the excess.
Resellers, on the other hand, do not receive their merchandise in bulk. Since almost everything they sell is a one-of-a-kind, they cannot afford to have anything squirreled away out of sight in a stockroom.
However, constantly finding room for their latest acquired treasures is never easy. That is why roomy, open spaced steel building shops ideally fit the needs of resellers.
#1 Reason to Construct Steel Building Resale Shops
Obviously, the number one advantage that pre-engineered steel buildings offer resellers is uncluttered space.
Taking advantage of steel's superior strength, prefabricated metal buildings can span up to 300 feet without any interior support columns. All that unencumbered floor space gives resale dealers the freedom to change displays easily, bringing new merchandise to the floor as soon as it arrives.
Ample room also permits customers easy access to examine your latest treasures. It also keeps traffic flowing smoothly throughout the store, allowing treasure-hunting customers to browse leisurely, see more of your goodies— and spend more money!
4 More Reasons to Use Metal Buildings for Resale Shops
In addition to the clear span capabilities, steel retail store construction offer resale shops four additional benefits:
LOW COST: Economical to build and operate, steel buildings present resellers with the best building deal. Pre-engineering creates the most structure with the least steel, keeping the cost of the framing kit down. Prefabrication shaves 33% off construction time, saving even more. RHINO customers find the Pro-Value insulation package chops their heating and cooling costs in half. And the fire-resistant qualities of our commercial-grade steel framing earn discounts on insurance, too. Even later building expansion cost less with steel buildings.
GREATER SAFETY: Steel buildings thwart nature's tantrums better than other framing systems. Pre-engineered steel buildings have built-in damage resistance to wind, rain, snow, fire, lightning, mold, termites, and earthquakes.
DURABILITY: Rigid red-iron steel buildings stand tall and strong decade after decade. Carefree metal buildings never demand the constant repainting and repairs associated with wood structures.
HIGH RESALE VALUE: Steel buildings in a good location reap an excellent resale price for the owner. The versatility of the open floor plan allows the building to be easily adapted for other commercial uses. Consequently, the property attracts more prospects for the building owner.
The Reseller's Dream Team
Whether your resale shop deals in unique antiques, gently used clothing, sought-after collectibles, nostalgic memorabilia, or another commercial business, you will find your best deal is a RHINO steel building. Let us produce the treasure trove of your dreams.
Speak to a RHINO professional metal building expert today about retail store construction. Call us now at 940.383.9566. Ask for more information and a free quote.