Defining the Maximum Unobstructed Space possible for Steel Buildings
---
Ready to get started?
---
To maximize the usable space in a pre-engineered metal building, it is sometimes necessary to create a completely open or "clear span" design.
The strength and durability of steel make it the material of choice for clear span structures. Since steel is the strongest building material available, it is able to extend the farthest without structural support columns.
Pre-engineered clear span metal buildings eliminate the need for support columns or posts, allowing the most uninterrupted interior space.
When the maximum amount of interior room to operate efficiently is required, clear span steel buildings are the answer. Some possible applications include:
•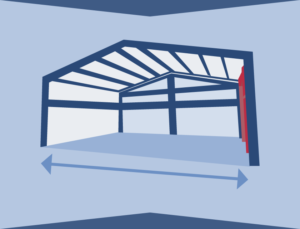 Aircraft hangars
• Churches
• Equestrian indoor riding arenas
• Gymnasiums
• Indoor pools
• Indoor sports facilities
• Indoor tennis courts
• Large manufacturing plants
• Large truck or farm equipment shelters
• School auditoriums
• Skating rinks
• Theaters
• Warehouses
RHINO Clear Span Metal Building Options
Straight wall clear span steel buildings are available from RHINO up to 80' in width. However, it is often more economical to use tapered column steel framing for structures over 40' – 50' wide.
On a standard design, RHINO's tapered column framing clear span metal buildings are available up to 150.' That is one-half the size of a football field.
For clear span steel buildings over 150' in width, custom engineering may be required. Normally, 300'— the entire length of a football field— is the maximum width for a pre-engineered clear span custom design.
At widths of 100' feet or more, it is more economical to use a modular span steel building system with interior columns. RHINO can deliver modular steel-framed buildings up to 480' in width.
World's Longest Clear Span Steel Building
Speaking of football fields, did you know the new steel-framed AT&T Stadium, home for the Dallas Cowboys, boasts the world's longest clear span roof structure?
The massive steel-framed behemoth covers 73 acres— 3 million square feet— all under one roof.
The arched roof of the stadium spans a quarter mile in length and rises to a majestic 292' above the field. Each boxed arch measure 17' wide and 35' deep and weighs an incredible 3,255 tons. Over 50,000 steel bolts were required for the arch spans.
The 180' by 120' high glass doors on the ends of the stadium are the largest operable glass doors in the world. It takes 18 minutes to open or close these giant doors.
The stadium's roof and roof structures required 14,100 tons of structural steel.
The AT&T Stadium is enormous even by Texas standards. This architectural and engineering triumph dramatically illustrates the incredible strength and endless possibilities of steel.
RHINO-tough Clear Span Metal Buildings
Why not ask for a free RHINO quote for a clear span steel building today? Call a RHINO steel building specialist today at 940.383.9566 to learn more about the types of steel buildings.
Related RHINO Blogs:
• "What is a Clear Span Steel Building?"
• "7 Types of Pre-engineered Red-Iron Steel Buildings- Part 1"