Metal Buildings Lasso the Market in the Cowboy State
From remote ranches and farms to friendly towns and bustling cities, nothing matches the versatility of pre-engineered steel buildings in Wyoming.
Need a large agricultural supply warehouse in Casper? Planning a steakhouse in Cheyenne? Imagining a theater in Jackson Hole? Expanding your offices in Laramie? Want an aircraft hangar in Gillette? Looking for manufactured homes in Wyoming? RHINO metal buildings meet every commercial requirement.
Mining operations in the state find pre-engineered metal buildings are the best buy for industrial structures, too.
The Benefits of Steel Buildings in Wyoming
Of course, with 66% of Wyoming's land devoted to grazing, agricultural buildings rule the building market. Farmers and ranchers love the simplicity and durability of steel buildings in Wyoming. Whether the farm or ranch operation is near a town or in a remote area, RHINO delivers directly to the job site.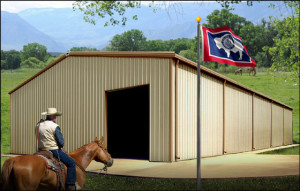 Talk about "land, lots of land, under starry skies above" and you are describing the vast expanse of the Wyoming. The spirit of the Old West lives on in the Cowboy State to this day.
Ranchers and farmers find the advantages of pre-engineered metal buildings in Wyoming impressive. They demand structures that take on the challenges they face with the "give it all you've got" spirit they embody. Of course our steel structures also work as manufactured homes in Wyoming.
RHINO's Wyoming prefab homes offer:
AFFORDABILITY: Prefabricated steel buildings from RHINO are economical to buy and to operate.
USABLE SPACE: Wyoming agribusiness operations often require plenty of maneuverable space for large, unwieldy farming equipment, barns, indoor riding arenas, and stables. Steel's strength, harnessed by modern technology, allows Wyoming metal buildings to include unobstructed space, free of interfering interior columns.
DURABILITY: RHINO's steel buildings last far longer than wood-framed structures in Wyoming's climate. Over the years, Wyoming prefab homes built from steel require far less maintenance than wood structures.
QUICK CONSTRUCTION: Every piece of a RHINO steel building kit is manufactured to precise specifications in order to slash construction time. Cut, shaped, welded, punched, and marked, the kit arrives straight from the nearest factory, ready to assemble. Owners can choose to erect the framing themselves— or hire a professional erection crew.
DAMAGE RESISTANCE: Metal buildings offer built-in resistance to damage from fire, high winds, heavy snow, lightning strikes, corrosion, termites, mold, and earthquakes.
RHINO Metal Buildings in Wyoming
While there are many metal building companies in the U.S., only one delivers RHINO-tough structures.
Learn more about the RHINO Difference. Contact RHINO for your next construction project. Our adept steel building specialists know all the ins and outs of metal buildings in Wyoming— and all across North America.
Call RHINO now for more information, a free quote, or a free brochure on steel buildings and manufactured homes in Wyoming: 940.383.9566.