The Benefits of Metal Buildings for Horse and Cattle Ranchers
When it is time to rebuild or expand, smart ranchers choose pre-engineered steel barns and metal structures. Metal barns, steel riding arenas and stables, serve ranch operations better— and much longer— than structures built with other materials.
Pre-engineered steel agricultural barns and buildings are easy to afford, easy to erect, and easy to maintain.
Metal Barns and Ranch Buildings Save TIME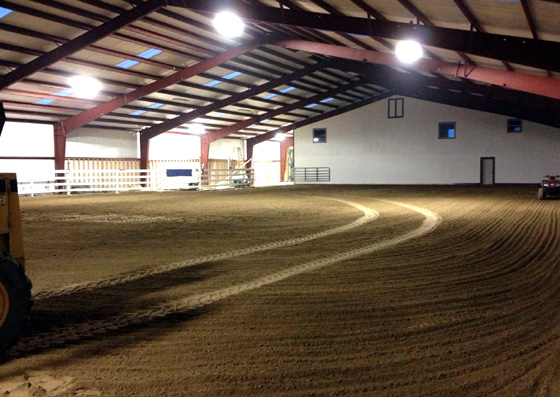 Cattle ranchers and horse breeders want to spend their time working their livestock, not building, repairing, and maintaining their ranch structures. Prefabricated steel are built fast— and built to last. Steel-framed stables, barns, riding arenas, livestock pavilions, hay sheds, equipment storage structures, and other rural ranch buildings stand up to the challenges of ranch life.
RHINO steel buildings arrive at the ranch ready to erect. All the framing components are cut, welded, punched, and marked at the factory. The building assembles one frame at a time, like a giant erector set. Prefabricated metal buildings typically take about 33% less time to build than traditional framing methods.
Steel is much stronger than all other building materials. Pre-engineered steel uses far fewer pieces to construct a much stronger frame than is possible with lumber.
Steel barns, riding arenas, stables and other agricultural buildings require almost no maintenance, saving even more time. Steel-framed structures last decades longer than ordinary wood buildings.
Steel Barns and Ranch Buildings Save MONEY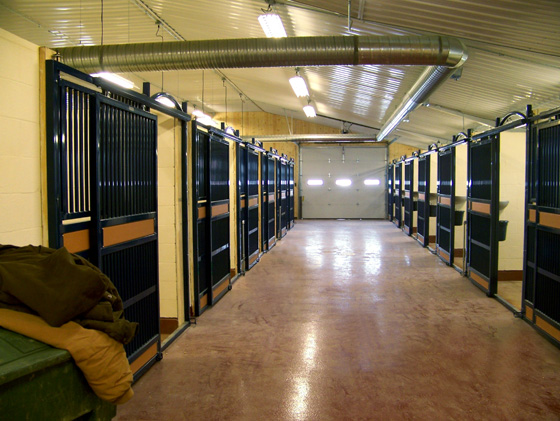 Whether raising cattle, horses, poultry, hogs, sheep— or more exotic creatures like llamas, emus, and ostriches— ranchers must keep a steady eye on the bottom line. They know it is important to watch not only the initial costs of ranch improvements, but the long-term costs as well.
Ranchers find RHINO steel buildings affordable to build— and affordable to operate. RHINO steel buildings deliver economical pricing.
Do-it-yourselfers cut building expenses further by erecting the framing themselves with a few friends. Faster construction time saves even more.
The low maintenance of metal buildings means less upkeep costs, too. The longevity of a steel building reduces life-cycle costs even more.
In addition, commercial-grade steel buildings generally earn substantial insurance discounts, further reducing operating costs.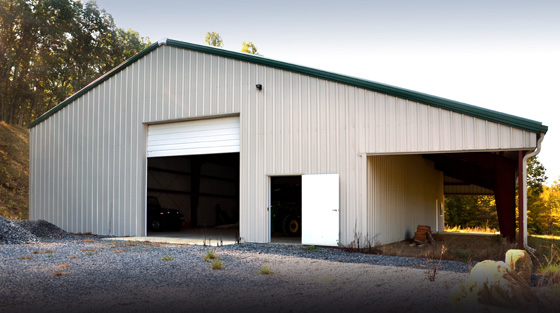 The building accessories chosen contribute additional savings. For example, high-grade insulation slashes air conditioning and heating costs in half for climate-controlled ranch structures like offices. Skylights and wall lights use natural lighting to reduce electrical costs.
Vents encourage humidity and heat control— especially important in buildings housing animals.
Metal Barns and Rural Buildings Save HASSLES
The strength of steel allows RHINO metal barns and ranch structures to create wide, open space inside. No longer is maneuvering cattle or equipment difficult.
Clear-span structures make remodeling simple, too. With no need for load-bearing interior walls, ranchers are free to tear out and rebuild interior walls as needed.
RHINO metal buildings expand easily. As the ranching operation grows and expands, the barns and other structures need enlarging. When a larger building becomes necessary, simply purchase additional frames and add extra bays to either end wall.
Steel Barns and Ranch Buildings May Even Save You from DISASTER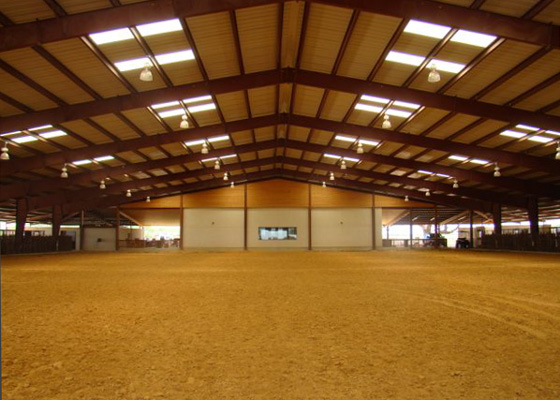 Steel outperforms other building materials when Mother Nature is at her worst. RHINO metal ranch buildings resist damage from wood-munching termites, strong winds, heavy rains, deep snows, pounding hailstorms, deadly lightning, dangerous fires, unhealthy molds, and shattering earthquakes.
Livestock cannot kick through steel— nor will they chew on the framing (as they sometimes do in wooden pole barns).
RHINO steel buildings meet— or exceed— all local building codes for the lifetime of the structure.
Whatever Your Ranch or Rural Building Need, RHINO is the Answer
Call RHINO today for more information on steel barns, metal stables, steel covered or indoor riding arenas, and other ranch structures. Our steel building specialists will provide more details and free quotes on the structures of your choice.
You may call RHINO at 940.383.9566.