Home Alone: Steel Buildings for Backyard Hideaways, Part 6
Better health and fitness can be just steps away in your own backyard with a pre-engineered metal building home gym.
Get Off Your Duff and Start Getting Buff
Only one thing will go away if you ignore it— your health.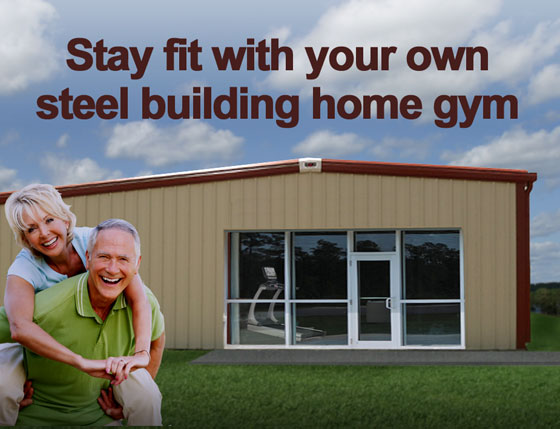 According to the Center for Disease Control, physically active people tend to live longer. They also have a much lower risk for heart disease, stroke, diabetes, depression, and cancer.
Only 30% of Americans say they are physically active. (Since 78 million adults in the U.S. are obese, those numbers may be inflated.)
Yet finding the time— and motivation— to workout is so hard.
Ideally, joining a health club should motivate you to get in shape. However, most people find it much easier to join a health club than to actually use it.
We are always too rushed or too exhausted to work out today. But we will positively get to the gym… tomorrow!
And so it goes.
Break the Cycle of Procrastination with a Metal Building Home Gym
Building a pre-engineered steel building home gym in your own backyard removes all the excuses.
Workout any time you like, doing the exercises you most enjoy, in a fraction of the time it takes to get across town to the gym, find an unoccupied piece of equipment, workout, drive home, shower, and change.
The Benefits of Steel Building Home Gyms
Pre-engineered RHINO metal buildings are economical to build and easy to maintain as home gym buildings. Steel detached home gyms are versatile, strong, long lasting, and attractive. Plus they are the perfect way to build your own gym.
Maintaining good indoor building air quality is essential— particularly in a gym. Since steel is inorganic, it will not outgas like organic building materials. Nor will your prefab home gym building promote mold or fungus growth.
RHINO's Pro-Value insulation helps keep your steel building gym comfortable— and affordable. Pro-Value insulation can slash heating and cooling costs as much as 50%
Our steel buildings offer increased resistance to damage from fire, hurricanes, lightning, earthquakes, and even termites and other vermin.
Metal buildings enhance the value of your property, too.
Building Buns of Steel in Steel Building Home Gyms
Decide the type of exercise and equipment you like to include in your workout and then calculate the space you will need for your ultimate metal building home gym.
Include plenty of floor space for you to safely bust a move with dance, Zumba, Jazzercise, or perform yoga— if these appeal to you.
Big screen TVs, DVD players, and good stereo systems are practically a must. Get an assortment of workout DVDs to keep your exercise routines fresh and varied.
Some gyms now offer streaming video of their classes for people who prefer to exercise in the privacy of their own home.
Wii sports games keep many people moving these days.
Make room for a mini-fridge for your ice water and your favorite health drinks.
Use mirrors— if that helps your form and motivation. Mirrors also make a smaller space look much larger.
Natural light from windows and skylights produces a revitalizing space if you have great views of the outdoors. If you are hemmed in with overly curious neighbors, less windows (or mini-blinds) will better protect your privacy.
Ventilation is important in a backyard gym building environment, so adequate air conditioning and heating is important. Consider including ceiling fans and possibly dehumidifiers for optimum air quality.
Many people find plants a nice addition in metal building home gyms. They are not only attractive, but increase the oxygen in the building.
More elaborate personal "health huts" often include a basketball court, a sauna, a Jacuzzi, a hot tub, or even a lap pool.
The point is to create a steel building home gym so personally inviting and invigorating, you will actually use it!
You might want to build a multitask, dual-use building. You could use one half as your own personal health "club, and include a home office, man cave, woman cave, hobby shop, extra storage, or a workshop in the other half.
Get Physical with Your Own Metal Building Home Gym from RHINO
Call a RHINO steel building adviser now for more information on building your own backyard steel building home gym. Start today toward a slimmer, trimmer, healthier new life. Do it for yourself and for your loved ones!
Please call 940.383.9566 today for info on how to build your own gym.