Home Alone: Steel Buildings for Backyard Hideaways, Part 5
Rather than a battle over whether to build a backyard "man cave" for him or a "woman cave" for her, strike a truce by choosing a pre-engineered multipurpose steel building.
His and Hers Areas in a Multipurpose Metal Building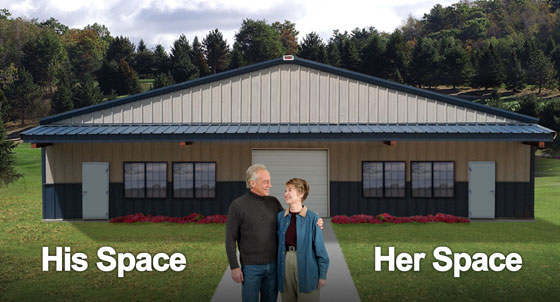 In earlier articles, we covered the reasons pre-engineered metal buildings make ideal man caves and workshops. We have also discussed the advantages of constructing woman caves and craft cottages with steel framing.
Everyone needs their own me-space to do the things they enjoy. However, there is no reason to turn the backyard hideaway into a turf war between the sexes. Why not build a separate-but-equal multipurpose steel building with ample he-space and she-space?
By choosing to build one multipurpose steel building, everyone can revel in his or her private space relaxing his or her own way.
The Versatility of a Multipurpose Steel Building
One prefabricated steel building can serve two, three or even more purposes. Designed specifically for your requirements, a multipurpose structure could not only house separate gender space, but it could also include additional storage or garage space for the boat or RV, a home office, a separate workshop, or whatever you envision.
Whatever Planet You Call Home…
Popular culture today declares that men are from Mars and women from Venus.  If you or your significant other revs up the TV or music to full throttle, plan to add high-quality soundproofing to your separate spaces. You might also consider including a "black hole" buffer between his planet and her planet for a storage area or a garage.
RHINO's extra thick premium Pro-Value insulation not only slashes utility bills by 50%, but also greatly reduces outside noise for an additional level of soundproofing.
Some of the Many Benefits of Pre-engineered Metal Buildings
Regardless of the end uses you have planned for your new backyard getaway, you will find every RHINO multipurpose steel building shares the same basic advantages:
Steel is the strongest building material available. It can span farther than wood and other structures. Steel requires far fewer pieces to construct a much stronger structure.
Steel is durable. It lasts decades longer than ordinary wood framing, while requiring practically no upkeep. Resistant to damage from howling winds, crushing snow, ravenous termites, disgusting mold, devouring fire, dangerous lightning, and devastating earthquakes, multipurpose steel buildings last decades longer than ordinary wood framed structures.
Every RHINO single purpose and multipurpose metal building is created in a factory. Every piece of the steel framing is straight, uniform, consistent, and dependable. The kit ships to your location prefabricated and ready to assemble with bolts and screws.
Multipurpose metal buildings from RHINO are affordable. Sophisticated computer programs create the perfect structure for your needs and location quickly and easily. Your order ships to your location from the nearest factory, often within five to seven weeks. Since all the pieces are prefabricated and ready to assemble, construction time is slashed by 35% or more. Because of the fire-resistant qualities of our commercial-grade steel, many insurance companies offer big discounts on steel-framed structures.
A multipurpose metal building is a green building material. More than 80 million tons of steel are recycled every year in North America. RHINO's steel framing contains as much as 89% recycled steel.
Dream it. Order it. Build it.
For help on choosing the size and design of your own multipurpose metal building, please call RHINO now at 940.383.9566.