Experts Predicting Building Upswing for U.S. and Canada
The future of construction looks bright, especially for metal buildings.  Industry experts predict continued growth in most segments of construction this year.
Builder confidence is also flying high and these US construction stats show how.
Construction Predictions for the U.S.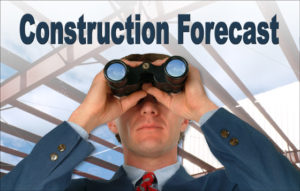 Several sources forecast continued growth for construction in 2018, with an almost 5% increase in U.S. construction starts.
Overall, construction spending in 2018 in the U.S. should grow to $1.33 trillion! 
In 2019, industry experts predict construction spending to hit $1.38 trillion.  Forecasters expect that number to rise to $1.44 trillion by 2020.
Specific Construction Segments in the U.S.
Although this year is proving difficult for the multi-family market, other segments of construction continue to expand:
Industrial construction is growing by 11%.
Single-family starts are up 9%.
Non-residential construction are rising 4%, with office buildings leading with an 18% rise and healthcare construction starts boosting by 11%.
Educational/public buildings are up 6%.
Specific Markets in the U.S.
The South and the West regions are leading the nation in construction growth:
South: 6% increase with Texas leading the charge with a 10% uptick
West: 5% increase
Midwest: Almost 4% higher
Northeast: Steady at a 3% increase
Thirteen states should reap construction increases of 10% or more.  These include Texas, Virginia, Wyoming, Kansas, Kentucky, Indiana, Idaho, Mississippi, New Mexico, New Hampshire, West Virginia, Nevada, and Hawaii.
Experts expect 36 metropolitan areas to see construction growth this year.  Those increasing by double digits include:
Oklahoma City, OK- 17%
Las Vegas, NV and Hartford, CT- 15%
Houston, TX- 14%
San Antonio, TX, Virginia Beach, VA, and Birmingham, AL- 13%
Tulsa, OK and Richmond, VA- 12%
Dallas, TX- 10%
(Increases in south Texas are partially fueled by rebuilding after last year's hurricanes.)
Building Projections for Canada
Canadian construction is likely to increase by 4% by the end of this year.  Residential construction should experience a modest 2% uptick.  However, 2018 non-residential projects in Canada should see a 6% increase over 2017.
The Market for Prefabricated Metal Buildings
Construction prognosticators foresee a 27% increase for manufactured buildings in 2018.  They expect warehousing to lead the expansion with a 9% increase this year and a 2% growth in 2019.
Commercial metal buildings' growth is up 3% in 2018.  Since online retailers continue to dominate the scene, smaller retail structures will be the trend.
According to steel experts, the prefabricated metal building market in the Americas will escalate from 1.20 million tons in 2016 to 22.9 million tons by 2025.
The U.S. continues to dominate the Americas market.  Canada, Mexico, Brazil, Venezuela, Argentina, and Colombia follow the U.S. in prefab metal building sales.
Construction Challenges
Although construction predictions look rosy, there are also challenges facing the construction industry, including:
Shortage of Workers: Recent stricter immigration policies dramatically reduced the number of available construction laborers.  In addition, builders are finding the next generation uninterested in a career in construction, further complicating the labor market.
Higher Labor Costs: As the construction workforce dwindles, increases in labor costs are rising 3%-4%.
Higher Material Costs: Experts foresee a 7% increase in gypsum product prices over the year.  Concrete is also expected to rise 4% during 2018.  Softwood lumber prices last month rose 19.5% over July 2017 prices.  Steel prices rose 13.4% over the same period.
Construction Confidence Climbing
In spite of the labor and cost problems, builder confidence remains high.  According to a recent survey, construction executives expressed a 20-year high on positive industry outlook scale.
When asked about expected net profits, 92% of builders replied that they expected to do as well or better than they did in 2017.  And a whopping 61% of respondents predicted they would reap even greater profits this year.
Charging into the Future with RHINO
As you can see with these US construction stats, the future of construction and prefabricated metal buildings has never been brighter.  Steel building kits take the drudgery and guesswork out of construction.  Here's how:
Pre-engineering by the steel building company eliminates the need to hire an engineer.
Prefabrication means no culling or wasted building materials. You only pay for what you will actually need.
Doors, vents, insulation, gutters, skylights, and other building options conveniently ship with the framing kit.
The steel framing arrives from the nearest factory—prefabricated, clearly marked, and ready to assemble.
Constructing RHINO's metal buildings requires fewer skilled workers, cutting labor costs. Moreover, prefabrication slashes construction time by 33%, further reducing labor expenditures.
Why build any other way?
Find out just how easy it is to build better with prefabricated steel building kits.  Call RHINO now at 1.940.383.9566.
Find out more about the RHINO Difference in construction kits.
Sources: U.S. Bureau of Labor Statistics, U.S. Census, Dodge Construction Outlook, Architectural Billings Index, and Oldcastle Business Intelligence