Why Metal Buildings Dominate Construction in the DFW Area
Everything is bigger in the Lone Star State, and the sales of North Texas steel buildings are no exception.
RHINO Steel Building Systems sells pre-engineered metal buildings all across North America. Yet, Texas continually rates number one in construction sales year after year. North Texas, home of RHINO's corporate headquarters, is an especially hot area in Texas for prefab metal buildings.
The North Texas Area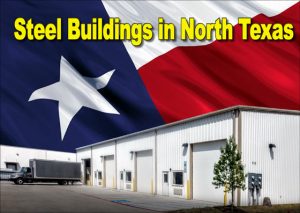 Geographically, the region called North Texas is actually the north central area of the state.
Dallas, Fort Worth, and Denton— called the "Golden Triangle"— form the hub of North Texas. Within easy driving distance, the counties surrounding these major cities complete the North Texas area.
Why Sales are Soaring for North Texas Steel Building Construction
So what's behind the metal building boom for North Texas construction? Several factors, including these:
As the largest metropolitan area in the state, the Dallas-Fort Worth-Denton Metroplex includes a vast array of commercial businesses and industries. As these companies grow, they need additional space. Prefabricated steel buildings meet their budget and quality demands.
Attracted by the pro-business governments— exceptionally low taxes and readily available skilled work force—established corporations flock to North Texas. In fact, the region plays host to 22 of the Fortune 500 companies. Consequently, companies new to North Texas require structures for warehousing, offices, manufacturing facilities, or fulfillment centers.
Population growth also fuels the need for more North Texas steel buildings. The area's population swelled from three million to seven million in less than three decades. And experts expect population growth to continue at a rate of 2.6% annually for another next thirty years. Therefore, metal building sales should also continue to rise.
Unlike crowded urban areas in other states, land is plentiful and sprawling in North Texas, making it easy and economical to build.
Many people in the area choose rural living, often commuting to their city jobs. Almost all these rural dwellers find the need for one or more metal buildings on their homesteads.
Farms and ranches flourish all around the Metroplex and into the counties beyond. Durable and affordable, RHINO's steel barns, hay sheds, equestrian buildings, livestock structures, stables and other agricultural structures meet the needs of busy Texas farmers and ranchers.
What Type of Metal Buildings Sell in the Area?
The diversity of North Texas businesses means all types of low-rise structures are needed. In addition, many North Texas require strong, sturdy buildings for their personal use.
Fortunately, versatile RHINO metal buildings adapt easily to every demand, including:
Aircraft hangars for commercial and private pilots
Barns and other agricultural buildings
Church sanctuaries, offices, classrooms, and bus garages
Commercial offices
Daycare centers
Gymnasiums and other recreational facilities
Industrial facilities
Manufacturing plants
Medical offices
Personal, RV, and boat garages and storage buildings
Restaurants
Retail stores
Self-storage facilities
Stables, riding arenas, and other ranch structures
Vehicle showrooms and repair shops
Warehouses
Denton-Based RHINO Steel Buildings
Call RHINO Steel Buildings today at 940.383.9566 for your next North Texas construction project— or anywhere else in North America. Ask for a fast quote, check out our steel building gallery, or design your own steel building online.