Hurricane-Resistant Construction Starts with Steel Buildings
As we saw last year with Hurricanes Harvey, Irma, and Maria, today's stronger storms call for stronger buildings.  Hurricane-resistant construction starts with pre-engineered steel buildings and storm proof framing.
2018 Hurricane Season Forecast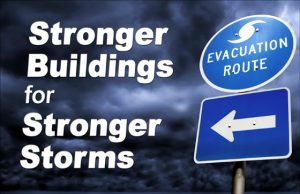 Officially, the Atlantic hurricane season runs from June 1 through November 30.  However, as we have seen this week with Subtropical Storm Alberto, nature ignores man's calendar.  Alberto rained havoc on Florida's panhandle.  A falling tree killed two journalists covering Alberto in North Carolina.
The National Oceanic and Atmospheric Administration (NOAA) predicts between ten and sixteen named storms for 2018.  They expect five to nine storms to become hurricanes.  NOAA's forecast also suggests one to four of those storms could reach major hurricane status.  A major hurricane is any of Category 3 or higher, with sustained winds of 111 mph or more.
Unfortunately, where these projected storms might strike is anybody's guess.
The High Cost of Hurricanes
On average, hurricanes account for 66% of insured property losses in the U.S.  However, that number is misleading.  It does not include uninsured property losses.  Nor does that 66% figure reveal the devastating damage inflicted by floods, which most insurance policies do not cover.
After major disasters, property insurance premiums can rise dramatically— and not just for the areas afflicted.  People may see significant increases in auto, home, and business property rates, as insurance companies struggle to recoup losses from major hurricanes.
After the accumulative effects of last year's disasters, industry analysts expect insurance rates to increase 5% or more across the board.  Disaster-prone areas could see rate hikes as high as 20%.
And 2017 marked the first year in the 166 years of recorded hurricane history that three Category 4 hurricanes stuck the U.S. in the same year.
However, the economics of disasters pales in comparison to the tragic loss of life.  In 2017, weather-related fatalities in the U.S. rose to 477.
Steeling for the Storms with Stronger Buildings
Given the odds of disaster striking, doesn't it make sense to invest in stronger buildings?  This is especially true for those living along the Gulf or Atlantic coasts.
Stronger buildings start with steel.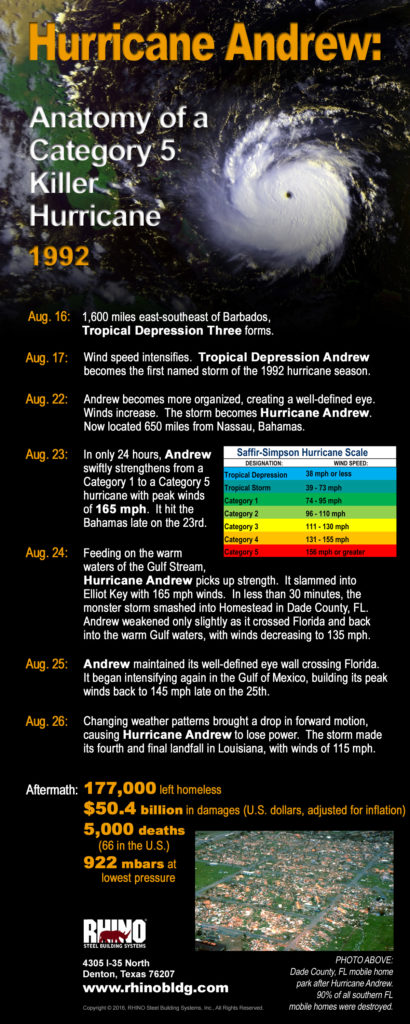 Steel boasts the highest strength-to-weight ratio of any common building material.  Pre-engineering means steel building systems create the stoutest possible structures with least amount of steel, balancing strength with affordability.
RHINO storm proof framing last decades longer than that of other typical building systems. Yet, they retain their beauty and value.  Here are just a few of the advantages RHINO's stronger buildings deliver:
Top-grade PBR steel panels, for greater strength and overlap
Rust-resistant formed base trim included at no extra charge
Die-formed metal ridge caps which match the shape of the steel panels, for a tighter-fitting roof crest
Foam closure strips for tighter seal, also included at no extra cost
Pre-welded clips for faster, easier framing erection
Ultra-strong bolts and nuts for long-lasting, wind-resistant connections
Three sets of plans stamped by an engineer licensed in your state, for problem-free permitting
Insurers know and trust rigid steel structures.  RHINO's commercial-grade steel buildings earn big discounts with most insurance companies.
All our structures will meet or exceed every current building code in your area— and that is guaranteed for the lifetime of your structure.  In fact, no building department has ever refused issue a building permit for a RHINO structure— not even extra-vigilant Dade County, Florida, devastated by Hurricane Andrew.
Call RHINO Steel Building Systems today at 940.383.9566.  Discover all the ways our RHINO-tough building systems create stronger buildings to stand up to hurricane-force winds, rain, snow, fire, and earthquakes.