Prefabricated Steel Buildings for Today's Commercial Builders
Links Construction is a very successful full service commercial building firm located in Denton, Texas.  The company has an excellent reputation for quality turnkey construction.  Links specializes in taking commercial projects from conceptual design to finished product.
Links Construction believes in taking all the pressure off their clients, making the building project a simple, stress-free, even enjoyable experience for the customer.
Growing a Business by Building Relationships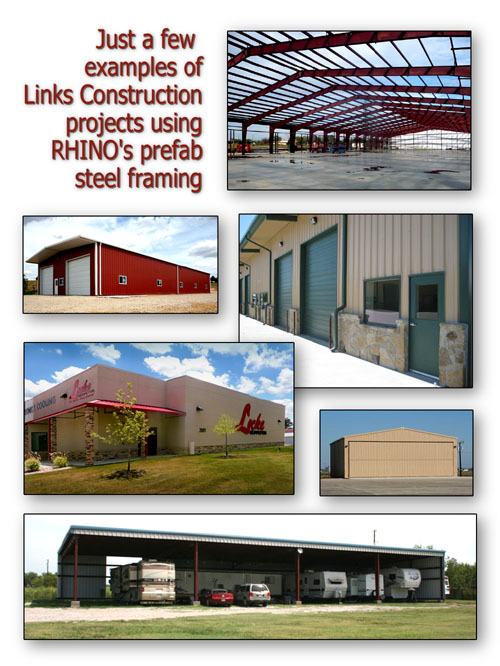 Links focuses on building not only exceptional commercial projects, but also in building long-term relationships with their clients— and their building material suppliers like RHINO Steel Building Systems.  As it says in the company's mission statement, "We have found that if you take care of them, honor your word, and offer your best no matter the challenge, relationships build themselves…  Do that and everything else takes care of itself."
That business philosophy has definitely paid off for Links multi-million dollar business.
Links Construction Teams with RHINO Steel Building Systems
Over the past four and half years, RHINO has supplied the framing for fourteen of Links Construction's commercial structures, including a vehicle storage building, several indoor equestrian riding arenas, a retail strip center, an aircraft hangar, and a 43,000 square foot steel warehouse, as well as other significant projects.  Another RHINO steel-framed warehouse is currently under construction by Links in Argyle, near Denton.
Although most Links Construction projects using RHINO metal buildings have been built in the Dallas-Fort Worth-Denton metro area, the company has erected RHINO steel structures from Oklahoma to San Antonio.
Lee Ramsey, president of Links Construction LLC, has been a commercial builder for thirteen years.  Ramsey says that although his company builds with other building methods, he prefers the RHINO prefabricated metal building system for most projects.  He finds it the most versatile for low-rise structural applications.
The RHINO Difference
Earlier in his career, Ramsey tried several pre-engineered steel building systems, but found them lacking.  Then a friend told him about RHINO.  He decided to give them a try.
Ramsey says he was immediately impressed by the professionalism of the RHINO staff.  "RHINO is wonderful to work with," states Ramsey.  "They always follow through with what they say they will do.  Once I started using RHINO, I stayed with them."
Ramsey said the quotes he received from other pre-engineered metal building sources were often "sketchy."  They did not thoroughly check the details and local loads, nor ask for complete information.  Consequently, the quotes often turned out to be incorrect.  "It isn't professional," says Ramsey.
Yet Ramsey says from the first he sensed he could really rely on RHINO.  "They are great about order details," he says.  "RHINO asks the right specifics about the project.  They check out the local loads requirements.  They ask whether the building will require a sprinkler system, overhead cranes, or need special point loads.  Their quotes are expertly done and thorough, so I can depend on them."
"I am never afraid to have RHINO's people speak directly to my customers.  I can always trust them to conduct business in a totally professional manner," Ramsey says.  "I can count on RHINO to make it happen."
In addition to the excellent customer service he has received from RHINO, Ramsey also likes the company's product.  "It's a good value," claims Ramsey.  "The RHINO buildings go together so easily.  Everything you need shows up on the truck.  It's a very smooth process from start to finish."
When asked if he plans to continue using RHINO steel buildings in the future, Lee Ramsey said, "Absolutely.  I always have several projects in the bidding process with RHINO."
The Scope of Links Construction's Commercial Projects
Links provides new construction of any size for office buildings, medical offices, warehouses, restaurants, retail strip malls, manufacturing facilities, storage facilities, and multi-family housing.  In addition to vast construction experience, Links also offers investment expertise and financial analysis for commercial real estate ventures.  Their goal is to bring their customers' projects in on time and on budget.
Not only does Links Construction handle new commercial construction, but they also offer commercial building remodeling services.
RHINO is Proud to Be Links' Metal Building Supplier
Like many of our repeat clients, Lee Ramsey has become not only a valued RHINO customer, but also a true friend as we've worked together over the past few years.  We are very proud of the projects on which we have collaborated and expect to supply the steel framing for many more commercial projects for Links Construction in the years to come.
Experience the RHINO Difference for Yourself
At RHINO we provide prefabricated steel buildings for use as agricultural structures like metal barns, horse stables, equipment storage, and hay sheds, as well as indoor riding arenas.  We also have steel buildings for use as covered pavilions, aircraft hangars, offices, retail stores, storage facilities, industrial and manufacturing facilities, steel commercial buildings, warehouses, personal workshops, suburban hobby shops, recreational structures, churches, garages, and mechanic, machine, or welding shops.
We ship to all 50 states, as well as Canada and Mexico from our multiple shipping locations across the U.S.  Our steel framing is guaranteed to meet or exceed all local building codes for the lifetime of the structure.
Contact us now and let us show you the RHINO Difference in metal buildings.  Let us know how we can serve you by calling 940.383.9566.