PREFABRICATED STEEL BUILDINGS: Chameleons of the Construction Market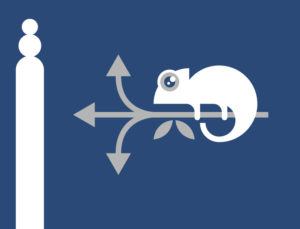 There is truly no building concept as versatile and economical as prefab metal buildings. 
No matter what your structural needs, there is sure to be a steel-framed RHINO building package to accommodate your requirements perfectly. 
From a small backyard workshop or RV garage, to a gigantic manufacturing plant or mega-warehouse, there is a RHINO metal building just right for every application.
In fact, versatility is a major incentive for choosing a pre-engineered metal building.
Prefab Metal Buildings Offer Versatile Designs
Unless you have unlimited capital and a real desire for an out-of-the-box design, why spend money on a radical architectural design just to be "different"?  Let's face it.  The most practical, cost-effective, flexible, and material-efficient buildings are fundamentally a rectangular box.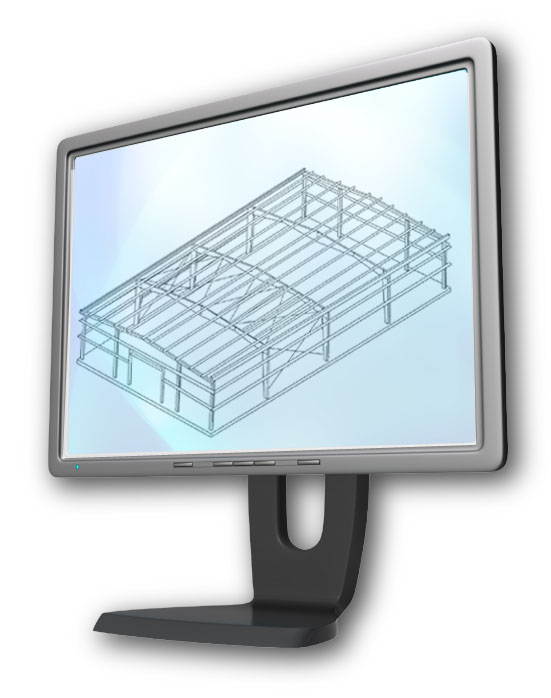 With today's innovative computer-aided design programs for structural steel, basic prefab metal buildings are quick and easy to design.  You just order the building to fit your lot, your building requirements, and your budget.  We take care of all the rest.
In fact, a RHINO steel building package can be designed and manufactured to fit your precise requirements in a surprisingly short time. 
Customizing a structure to your exact specifications and local load requirements is also faster and much simpler today with structural steel software programs. 
Prefab Steel Buildings Offer Versatile Sizes
The metal frames of a RHINO rigid-frame steel building are like steel "ribs" supporting the framing skeleton of the structure.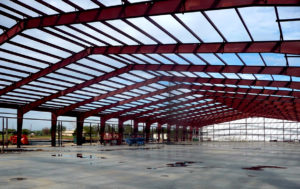 Typically, these frames are spaced 20' to 25' apart.  (Custom designs with heavier steel frames spaced at 40' are possible if required.)  It is just a matter of manufacturing as many column beams and rafter beams as necessary to stretch the length of your design and for the loads required.  
Clear span prefabricated steel buildings— with an open-plan interior, which doesn't require any interior support columns— can be up to 300' or more in width. 
With the addition of a single center column in each frame, buildings can be as wide as 480'.  To help you visualize that, consider that 480' is exactly three times the width of an NFL football field!  Only steel is strong enough to handle the loads for such massive dimensions.
What about length restraints?  Actually, there are none.  With a pre-engineered metal building system, your structure can be any length you require now— and it can be easily lengthened later. 
Business owners need a structure which can adapt to their changing needs.  To enlarge your structure in the future you simply order more frames.  These additional frames can be added on either end of your building, to the length you desire.  RHINO is able to supply all the framing members, panels, and trim to match your existing RHINO structure exactly.
RHINO buildings can also be up to 40' in height as a standard design.  (Even taller designs are available on custom orders.)
Our prefabricated steel buildings offer the ultimate in size versatility.
Pre-engineered Metal Buildings Offer Versatile Floor Plans
No other building system provides the floor plan flexibility of a pre-engineered steel building. 
Because of the superior strength of steel, interior support columns are usually unnecessary. 
Since the steel structure is self-supporting, you are free to have as many or as few interior walls as you want. 
Equally important is the ability to remodel and alter the interior floor plan without regard for "load-bearing" walls.  This is especially important as businesses grow and its needs change.  Clear span metal buildings allow interiors to be remodeled easily and economically.
RHINO Steel Buildings and their Versatile Uses

You will find there is a prefabricated metal building solution for almost any application.  RHINO metal structures work well for:
Agricultural / Farm / Ranch Buildings:

Barns, hay lofts, stables, outbuildings, indoor or covered horse riding arenas, equipment storage, animal shelters, cattle barns, livestock facilities, dairies

Aviation Buildings:

Aircraft hangars, offices, maintenance buildings, terminals

Automotive / Mechanic / Welding Buildings:

Automotive, motorcycle, truck, and boat body and repair shops, vehicle showrooms, offices, auxiliary buildings, welding shops, transportation buildings

Church Buildings:

Sanctuaries, classrooms, meeting halls, offices, daycare centers

Commercial Buildings:

Strip malls, retail centers, boutiques, clothing stores, grocery stores, "big-box" stores, lumber centers, arcades, convenience stores, gas stations, retail and specialty stores

Garages / RV / Boat Buildings:

Personal storage space, multi-purpose garage and storage spaced combined, or vehicle, boat, and RV storage

Industrial / Manufacturing Buildings:

Manufacturing facilities, assembly plants, factories, mills, industrial storage, oil and gas buildings, lumber yards, recycling centers, fire stations

Office Buildings:

Medical, veterinary, accounting, real estate, or legal offices, office complexes, office rental space, corporate offices

Recreational Buildings:

Gymnasiums, recreational centers, indoor pools, athletic centers, sports complex, indoor rock climbing, bowling alleys, covered pavilions, picnic areas, community centers, country clubs

Restaurants:

Bistros, cafeterias, family dining, theme restaurants, fast food, upscale dining, catering businesses

Storage Buildings:

Self-storage, personal storage, vehicle and marine storage, mini-storage centers

Suburban Hobby Buildings:

Personal workshops, hobby shop, family recreation buildings, multi-purpose residential buildings

Warehouses:

Product warehouses, shipping centers, distribution centers, mega import warehouses
RHINO steel buildings are so versatile they can be almost anything you need them to be.  If you can dream it, we can design it.
Versatile Exteriors
Prefabricated metal buildings are all about choices. 
A modern metal building doesn't look or perform like the old "tin" barns of your grandpa's day.  Steel structures today can be architecturally pleasing, yet still economical and practical.  (You would be surprised how many buildings, stores, and restaurants you frequent are prefabricated metal buildings— you just can't tell.)
RHINO's standard metal building kits include several choices of steel roof and wall sheathing in a wide array of colors.  The trim for the building can be ordered to match the walls and roof or in a pleasing contrasting color. 
However, if your building application or location calls for a more traditional facade, it is easily accomplished.  RHINO steel buildings can be finished with brick, stucco, stone, tilt-up concrete, glass, decorative block, EIFS— or even rustic-looking wood, if required. 
Your RHINO steel building comes with a choice of 1:12 to 4:12 roof pitch as a standard design.  (Higher pitches are available on custom orders.)
Versatile Options and Accessories
RHINO offers many options to further customize your metal building.  These options can improve both the aesthetics and the functionality of the structure.
Eaves Overhangs (Canopies)
Exterior Wall and Roof Panels
Gutters and Downspouts
Insulation
Interior Liner Panels and Partitions
Mezzanines
Overhead Doors
Skylights/Wall lights
Ventilation
Try us just once, and you'll be "Hooked on RHINO" 
Not only do we believe we offer the finest product in the metal building industry, but we have the best-trained, most experienced people, too.  We pride ourselves in providing first class service before, during, and after the sale.  We are driven to exceed all your expectations. 
You can depend on RHINO.  The Better Business Bureau gives RHINO an A+ rating.
RHINO buildings are both durable and "green."  Our environmentally friendly, commercial-grade framing contains an average of 89.5% recycled steel. 
Our steel buildings also typically retain their beauty and value for decades longer than ordinary wood structures. 
Every RHINO building comes with a letter of certification promising the building will meet or exceed all current design loads for the lifetime of the building. 
That is why RHINO buildings are considered more of an investment than an expense.
For durability, flexibility, and ease of construction, a prefabricated RHINO metal building is the ideal choice. 
See exactly what the RHINO Difference means.  Call today to find out more about our practical, innovative, versatile prefab steel buildings.  You can reach RHINO at 940.383.9566.  
(Updated 11-3-2021.  Originally published 2-27-2013.)