Starting a Self-Storage Business for Residential and Commercial Clients
Now is a terrific time to start a self-storage business— or to expand an existing operation— with pre-engineered steel self-storage buildings.  Why?
A self-storage business is a great real estate investment for novice business people
Self-storage offers a good return on the initial investment
Interest rates are incredibly low
Self-storage owners report 85-90% occupancy
An Excellent Time to Buy Metal Self-Storage Buildings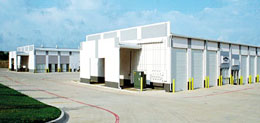 Self-storage flourishes during times of change.   The recent economy forced many young people to return home until their job situation improved.  Where will they put all their household goods in the meantime?  They'll rent self-storage units.
Many baby boomers are now opting to downsize to smaller homes while interest rates are low.  Where will they store the overflow of furniture and other item?  In a nearby mini-storage facility.
An estimated 37-40 million Americans move each year.  U.S. Census Bureau demographics suggest millions have moved in with family or into rental properties as the result of home foreclosures.  When they move, they have to do something with all their surplus furniture and household goods.  So they rent self-storage units.
Steel Self-Storage Buildings to Attract Commercial Renters
Over 70% of mini-storage renters are homeowners.
However, small businesses often rent self-storage units to warehouse archived documents, tax records, excess inventory, and equipment.  It is more cost-effective for a small business to storehouse surplus materials, increasing room for growth, than it is to acquire additional office space.
The average rental for residential customers is about 15 months.  However, typically commercial customers rent for two years or more.
Metal Self-Storage Building Basics
Currently the average size of self-storage facilities is about 46,200 sq. ft.
Maximizing land use by with as many self-storage units as feasible brings cost-per-unit down
Most self-storage units range in size from 5'x10' to 20'x20'
Traditional self-storage facilities allow 24-hour drive-up access drive-up facility with the customer-provided locks
Higher-end storage facilities provide controlled access with security guards, security cameras, and gated access
As with any business, location is critical for self-storage.  The site must be large enough, be very visible in a high-traffic area, and afford easy access
Military bases are a prime location for many self-storage operations.  Military personnel rent about 4% of all total units
Nearby multi-family developments may increase demand for smaller self-storage units, which typically produce a higher per-square-foot return on investment than large units
Cash in with your own metal self-storage business of RHINO-tough steel buildings.  Please call today for a FREE ESTIMATE on prefabricated self-storage buildings or other steel building projects.  Call now: 940.383.9566.