RHINO Provides Metal Buildings for the Prairie State
No other state in the U.S. matches the impressive history of steel buildings in Illinois. Architects and builders in Chicago pioneered many of the early techniques which led up to today's pre-engineered metal buildings.
Steel building in Illinois: A History of Innovation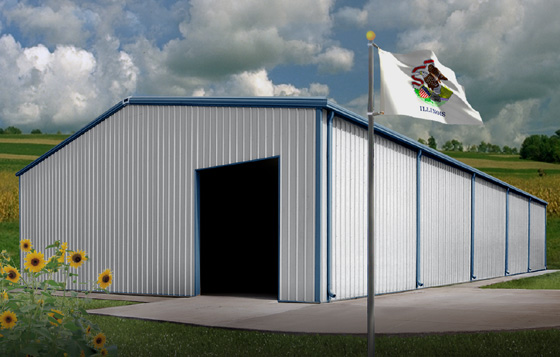 Look at a brief timeline of the events which brought about the evolution of steel building in Illinois— and the rest of America:
1871: The Great Chicago Fire devastated Illinois residents. An extremely dry summer had left Chicago vulnerable to fire. Wood-framed structures dominated the city. An estimated 300 people died in the conflagration. Of Chicago's population of 300,000, over 100,000 became homeless. In November, newly elected Chicago mayor Joseph Medill promised more stringent building codes to prevent the disaster from reoccurring. Builders started looking for more fire-resistant construction materials.
1885: The world's first skyscraper is completed in Chicago. The ten-story Home Insurance Building is the first structure using a steel and iron self-supporting frame.
1889: The Rand McNally Building in Chicago becomes the first all steel-framed skyscraper. For many years after, all-steel framed structures were known as "Chicago Framing."
1893: The World's Columbian Exposition in Chicago celebrates Columbus' discovery of the New World. The 633 acre Exposition embraced many progressive building techniques in its 14 main buildings, which included 18,000 tons and steel and iron. Over 25% of the entire population of the U.S. visited the Exposition.
1933: Chicago hosts the World's Fair, which included a Homes of Tomorrow exhibit featuring a steel-framed home. Good Housekeeping and Stans-Steel worked together to create a house that would be fireproof, prefabricated, and affordable. The completed house was a modest 1,300 sq. ft. and sold for about $7,500.
1940s: During World War II, steel buildings are developed and mass-produced to ship overseas in support the war efforts. These "Quonset huts" were quick to manufactured, easy to ship, and simple to erect where needed. After the war, prefabricated steel buildings began spreading into the local agricultural markets, including steel buildings in Illinois for farmers in the state.
1960s: Improvements in pre-engineered metal buildings make them more versatile, attractive, and economical. Soon commercial, aviation, and industrial markets are choosing to use steel buildings in Illinois low-rise construction projects.
Today: RHINO Steel Building Systems sells affordable, premium-quality, prefabricated metal buildings in Illinois— and all across North America.
Why RHINO Metal Buildings for Illinois Make Perfect Sense
The benefits provided by strong and durable RHINO steel buildings in Illinois include the following:
Fire Resistance: Steel framing never becomes the first-ignited origin of a structural fire. Wood framing often sparks as the origin of fires. Steel will never add fuel to a fire as wood framing does. Well-grounded steel buildings resist lightning damage, too. Consequently, most people receive significant discounts on insuring their metal buildings in Illinois— and elsewhere.
Storm Resistance: Wind speeds in Illinois have been as high as 88 mph. Gusts over 100 mph have been recorded. Super strong RHINO metal buildings bring superior strength to combat nature's fits of temper. Steel buildings perform better in thunderstorms, high winds, tornadoes, and heavy snows than ordinary construction techniques.
Insect Resistance: Illinois residents must constantly guard against structural damage inflicted by sneaky Eastern subterranean termites, Arid-Land subterranean termites, and wood ants. But what creepy crawler can make a meal of steel?
Earthquake Resistance: Most earthquakes in the state to date have been small to moderate. It is comforting to know that any RHINO metal buildings in Illinois provide built-in resilience against earthquake damage.
Age Resistance: Time takes its toll on all of us— and on buildings. However, no other construction material ages as gently as the RHINO metal buildings— and with practically no maintenance! Our prefabricated steel structures go up straight and true— and stay that way over decades of use, preserving the resale value of the structure.
Learn More about RHINO Metal Buildings in Illinois
Call RHINO today at 940.383.9566. Discuss your aviation, agricultural, commercial, or industrial building project now with one of our knowledgeable and friendly steel building advisers. Get a free estimate and complete details on metal buildings in Illinois today!