Versatility and Pre-engineered Metal Buildings
Some people expect pre-engineered commercial steel buildings constructed to all look like a barn. Nothing could be further from the truth.
Beautiful, Functional, Durable Commercial Steel Buildings
Many of the commercial businesses you frequent are probably framed with a metal building system without you even knowing it.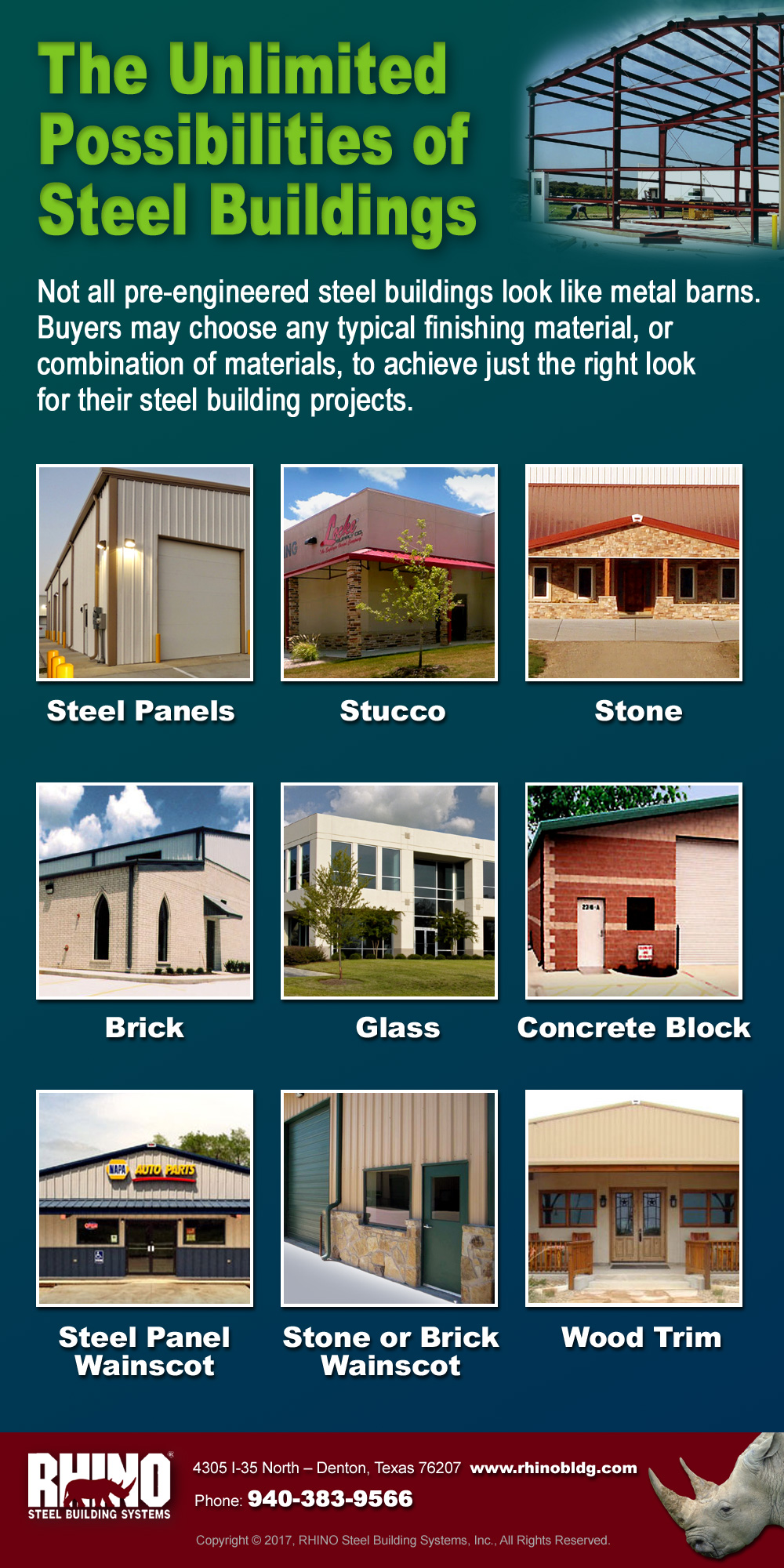 Prefabricated commercial steel buildings can be finished in any exterior building material or metal building facade. Use brick, stone, stucco, glass, aggregate panels, concrete, block, rustic wood, or colorful steel panels, to achieve the "look" that is right for your business enterprise.
Planning to open a Texas-style barbeque restaurant with a cedar façade, or a Mexican restaurant with a southwestern stucco exterior? Need a professional-looking brick building for offices or a medical clinic? Would a stone façade best blend in with the neighborhood where your church plans to build its new sanctuary? Does the motorcycle showroom for your new dealership require lots of glass show windows?
A RHINO versatile prefab steel building system works every time.
Commercial Steel Buildings: The Bottom Line
Commercial investors love the affordability of factory-produced metal buildings.
Premium prefab steel buildings go up faster, last longer, protect better, require less maintenance, age slower, and often rate discounted insurance.
Pre-engineered metal building systems erect much faster than labor-intensive wood or galvanized steel buildings— reducing construction costs. Well-insulated steel building facades cut energy output, saving even more on long-term operations.
Step Up to Steel
Whether you are planning a million-square-foot manufacturing facility, an upscale restaurant, a fire station, a commercial aircraft hangar, a mini-storage facility, an equestrian center, a retail operation, an office building, or any other commercial enterprise, consider using a RHINO metal building.
RHINO steel building systems are quicker to build, beautiful to behold, economical to maintain, and built to last. What more could you ask of a commercial building?
Why not call 940.383.9566 right now for a free quote and full details on all the benefits of RHINO-tough steel buildings and steel building facades?