Teaching People to Kick Up Their Heels in Steel Buildings
Pre-engineered steel buildings prove an excellent investment for karate schools and dance studios. Metal prefab studio kits offer the unfettered spaciousness critical to the free motions of martial arts and performance arts training.
Four Reasons Karate Schools and Dance Studio Owners Choose Steel Buildings
Every successful commercial enterprise demands cost-conscious locations to do business. Steel buildings provide martial arts dojos and schools of dance with features that meet their unique needs— at a surprisingly affordable price.
1. FLEXIBLE DESIGNS: Although very different disciplines, karate schools and dance studios both teach movement. The ability to move freely is essential. The safety of students demands unrestricted space for movement.
Steel's superior strength allows open, column-free structures. Pre-engineered steel buildings can span up to 200' or more without any cumbersome interior support walls or columns. High ceilings are also easily accomplished in steel buildings.
Steel buildings' clear span interiors allow plenty of room for students in motion. They also permit complete floor plan freedom. Owners design the layout of their prefab studio kits to suit their own specific needs.
As the business grows and changes, so can the floor plan. Altering the interior layout of a clear span metal building is quick and easy. There are no restrictions. Add walls or delete walls as needed.
There are no limitations on the exterior design of a steel building either. Every pre-engineered metal building is basically a custom design, created specifically for the buyer and location.
While the steel roofing and wall panels typical of metal buildings are most familiar metal building exteriors, they are not the only option. Dance studio and martial arts school owners may choose any exterior building façade they want to reflect their vision and complement the surrounding neighborhood. Brick, glass, stone, stucco, tilt-up concrete walls, and even wood cladding and trim may be used to surround the sturdy steel framing.
2. ECONOMICAL CONSTRUCTION: Pre-engineered steel buildings are affordable to purchase, ship, and construct. Computer engineering and competitively priced, factory-produced components make steel buildings economical— and faster to build. Typically, prefabricated metal buildings cut construction time by 33%-40%. Steel building companies with multiple factories can ship from the nearest location, reducing shipping costs.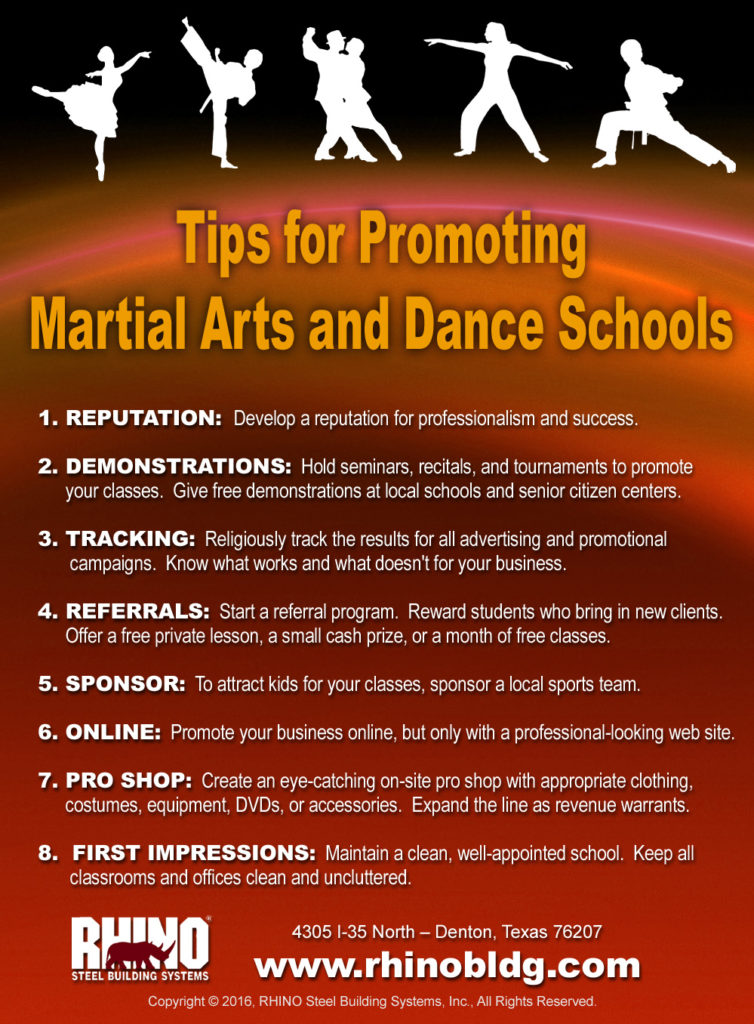 3. LOWER OPERATING COSTS: There are several ways steel buildings reduce operating costs when compared to ordinary construction methods:
• Prefab studio kits require very little maintenance.
• Properly insulated, steel buildings slash heating and cooling bills in half. Optional cool-coated roofing panels cut utility costs even more. The thicker batt insulation of metal buildings reduces outside noise, too, for a quieter, less distracted teaching environment.
• The fire-resistant qualities of commercial-grade steel framing earn discounts on insurance premiums through most carriers.
• Because steel is inorganic, metal-framed buildings also resist damage from mold, mildew, and termites, protecting owners from costly repairs and termite treatments.
4. SMART INVESTMENT: Wood-framed buildings rot, warp, creep, sag, and deteriorate over time. Not so with steel framing.
Steel buildings are built strong to last long. Metal buildings retain their value and a much longer than other construction methods. Not only do steel buildings last decades longer, they also hold their resale value better.
The flexibility of the interior floor plan offers another competitive advantage at resale.
5. GREEN CHOICE: As the most recycled material on Earth, steel is an eco-friendly building material. Owners of steel-framed dance and martial arts schools can take pride in their green building.
Eventually, wood, concrete, and other building materials add to crowding in landfills. At the end of a steel building's usefulness, the steel lives on. It is recycled into new steel— and without losing any of its in-built strength. Steel is the only material that does not degrade no matter how many times it is recycled.
Green buildings typically bring a higher price at resale, too.
Build Karate Schools and Dance Studios with Steel
Let RHINO Steel Building Systems create the perfect martial arts studio, aerobic center, or dance school for you. RHINO offers:
Multiple shipping locations across the U.S.
Pro-Value insulation packages for a quieter, more cost-effective structure.
Premium steel building features for increased waterproofing and ease of construction.
Options, including skylights, standing-seam roofing, reflective roofing, vents, doors, and more.
Experienced Steel Building Specialists to assist buyers.
Call RHINO today at 940.383.9566 for more information or a free quote about these prefab studio kits.