How Building Kit Construction Cuts Building Costs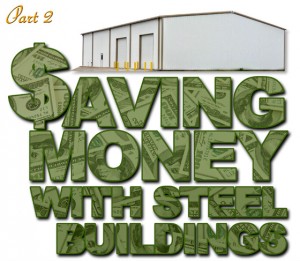 Well-made steel buildings save money when you buy, as you build, and as you occupy them.
Steel building costs are lower when you buy, as you build, and as you occupy them.
Let's look at the ways metal building costs are lower during the construction of a pre-engineered metal building.
Time Is Money in Construction
The longer it takes to finish the building, the more the project costs.
Pre-engineered steel buildings save money by significantly speeding up construction.
Pre-engineered steel buildings save money by significantly speeding up building kit construction.
1. PREFABRICATION: All the framing components for steel buildings come ready to assemble for lower metal building costs. Every piece is cut to the correct length, welded into shape, drilled where needed, and sealed with corrosive-resistant paint. Framers do not waste time culling, measuring, cutting, drilling, or welding.
2. FEWER PIECES: Steel's strength creates a strong, durable building kit construction with surprisingly few pieces. Less pieces equals faster construction and fewer metal building costs.
3. EASY ASSEMBLY: Premium steel building companies take every measure to insure hassle-free building erection to lower steel building costs. The factory clearly marks every component for fast identification during building kit construction. Plans indicating the correct placement of each pre-labeled framing piece simplify the process. A pre-engineered steel building really is like a life-sized erector set for grownups.
4. LOWER LABOR COSTS: Steel building costs are lower for labor, too. The quicker a building goes up, the less money spent on labor. Individuals often decide to erect their own small-to-medium steel buildings for even greater savings. They enlisting the help of a few friends. It's like an old-fashioned barn raising.
5. BUILDER'S RISK INSURANCE: The faster a building is completed, the less is spent on construction insurance.
6. CONCRETE: Steel buildings save money on concrete, too. Because steel's unmatched strength-to-weight ratio actually makes the total framing package lighter than other building materials, less concrete is required for building kit construction on a slab.
7. DEBRIS: Removing construction debris costs money. The more material left over to haul away, the greater the expense. Pre-engineered metal buildings produce very little scrap. Leftover steel scrap can be sold for recycling.
RHINO Steel Buildings Slash Construction Time by 33% or More
RHINO stands for quality— a reputation we have earned one metal building at a time.
RHINO structures include:
Fast delivery
Commercial-grade rigid steel framing
Factory-welded clips for faster, easier attachment of girts and purlins
Factory-located openings for openings, doors, and windows
Matching cover trim for all openings
High quality bolts, nuts, and screws for high-strength connections
A detailed installation manual with safety tips
A construction video on DVD
Three sets of plans stamped by an engineer licensed for your location
An anchor bolt plan for concrete specifications
Thousands of satisfied commercial, agricultural, aviation, industrial, and residential customers depend the RHINO Difference to save on steel building costs.
Discover how much you too can save time and money with a high-performance RHINO metal building. Call RHINO at 940.383.9566 and speak to one of our experienced metal building specialists today about metal building costs and building kit construction.