Protect Feed, Livestock, or Equipment with RHINO Metal Barns
Shrewd farmers and ranchers use pre-engineered metal hay barns and farm sheds to protect their assets. 
The Art of Raising Hay
Profitable haymaking involves hard work, precise timing, quality hay sheds— and the cooperation of fickle weather.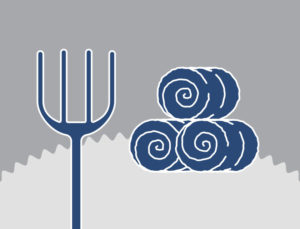 Successful haymakers must carefully balance the following:
WEATHER: Balers need at least three days of dry weather before mowing hay.
FIELD CONDITIONS: Soggy fields delay cutting.
HAY MATURITY: Ideally, haymakers need to cut hay after the grass reaches full maturity, but before the seeds develop.  Cutting too soon diminishes yield.  Cutting too late produces less valuable hay with a much lower nutrient density.
MOISTURE CONTENT: Hay moisture at baling time is critical to both the quality and shelf life of the hay.  Lower moisture levels yield brittle, low quality hay.  Higher moisture levels risk molding, rotting hay.  In addition, baled, stacked hay with too high a moisture content may even spontaneously combust!  Densely packed round bales are particularly prone to combustion if baled too wet.
STORAGE: Storing hay out of the weather reduces loss.  Hay exposed to the elements wastes 2% to 10% of its substance.  However, hay stored under a roof and off the ground reduces loss by 15%.
After all that work raising and gathering the hay, why would you leave bales rotting in the field? 
Steel Hay Barns and Farm Sheds Protect Feed
Protect your crops with RHINO prefabricated steel barn kits and hay sheds.  Our hay sheds and metal barns maximize weather protection and minimize hay loss. 
RHINO metal barns and farm sheds are:
READY TO ASSEMBLE: RHINO metal farm buildings arrive welded, cut, formed, painted, drilled, marked, and ready for assembly.  In fact, our steel structures reduce construction time by about 33%. 

EASY TO ERECT:

Many of our customers build their own RHINO agricultural structures.  Friends and family may help, like an old-fashioned "barn raising."
CLEAR SPAN: Steel's strength allows RHINO rural structures to be built without clumsy interior supports.  Thus, storage space is maximized and farm equipment easier to maneuver in RHINO clear span hay barns and farm sheds.
AFFORDABLE: RHINO pre-engineered Ag buildings need virtually no maintenance.  In addition, steel is a commercial-quality, non-combustible building material.  That extra fire-resistance earns reduced insurance premiums for steel buildings.
SIMPLE TO CUSTOMIZE: RHINO prefab barns and steel structures offer a wide variety of building styles and colors.  Choices include ridge vents, skylights, gutters, insulation, and more.  Also, you may erect your hay sheds, barns, or other Ag structures on your choice of concrete slabs, stem walls, or piers.
OPEN OR ENCLOSED. You may completely enclose your steel building for maximum asset protection.  Or, if you prefer, enclose the walls in the direction of prevailing winds, leaving the remaining walls open for easier access.  If needed, you can also create a structure with a solid steel roof, and no exterior walls.
EASILY EXPANDED: For future expansion, you will find adding length to a RHINO steel building is cost-effective.
DURABLE: RHINO steel agricultural buildings last far longer than pole barns and lumber-framed structures.  Our quality-made steel shed and barn kits add value to your property.  However, pole barns may actually decrease your property value.
Conclusion
You simply cannot beat the quality, convenience, and value of RHINO steel farm structures.
RHINO-Tough Farm Buildings
RHINO ships thousands of metal barns, hay sheds, and other steel buildings all across North America.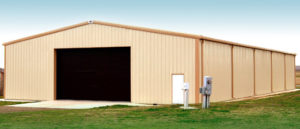 For more information on our prefab hay sheds, barn kits, or other types of metal buildings, please speak to a friendly RHINO steel building specialist today. 
Our number is 940.383.9566.
(Updated 5-26-2021.  Originally published 6-24-2016.)