Improving Life and Property Value with Steel Outbuildings
Metal barns and outbuildings dot the countryside everywhere you go. Across the heartland—and in rural areas just outside major metropolitan areas—peaceful country homestead, farm, and ranch properties include steel buildings.
The Numbers on Living in the Country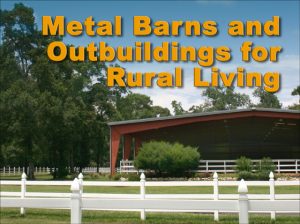 According to the latest statistics on rural dwellers:
46.1 million U.S. residents now live in non-metro counties
14% of the population lives on 72% of the nation's land mass
81% of rural dwellers are homeowners
65.4% still live in the state where they were born
The Convenience of Rural Steel Buildings
Whether living on a two-acre rural getaway or a thousand acre working farm or ranch, outbuildings enhance comfortable country living. Rural dwellers find pre-engineered metal barns and outbuildings enhance their lives, providing space for agricultural products, animals, equipment, vehicles, storage, and more.
The Protection of Rural Steel Buildings
The purpose of most rural barns and buildings is protection. Prefab outbuildings stand up to the rigors of country living.
Prefabricated steel structures offer built-in resistance to damage from howling winds, pounding rain, drifting snow, irritating molds, devastating fire, sizzling lightning, and even earthquakes.
Pre-engineered metal barns and outbuildings will not rot or invite termites like wood structures and pole barns do. And pre-engineered steel buildings don't attract birds like web-trussed metal buildings and wood barns. Nor do steel buildings require the relentless maintenance common with wood outbuildings and pole barns.
Rural dwellers trust pre-engineered steel buildings to provide the strongest protection— and at the best price.
The Value of Rural Steel Buildings
Quality steel outbuildings increase the resale value and appeal of rural property. Built strong to last long, steel buildings maintain their attractiveness and functionality decade after decade.
On the other hand, an old, leaky, dilapidated wood structure in need of repairs actually decreases property value, sending potential buyers in search better maintained rural properties.
In some areas, pole barns (with wood posts driven directly into the ground) may violate building codes. Trying to sell a property with such a blatantly illegal structure becomes almost impossible without extensive (and expensive) reinforcements and repairs.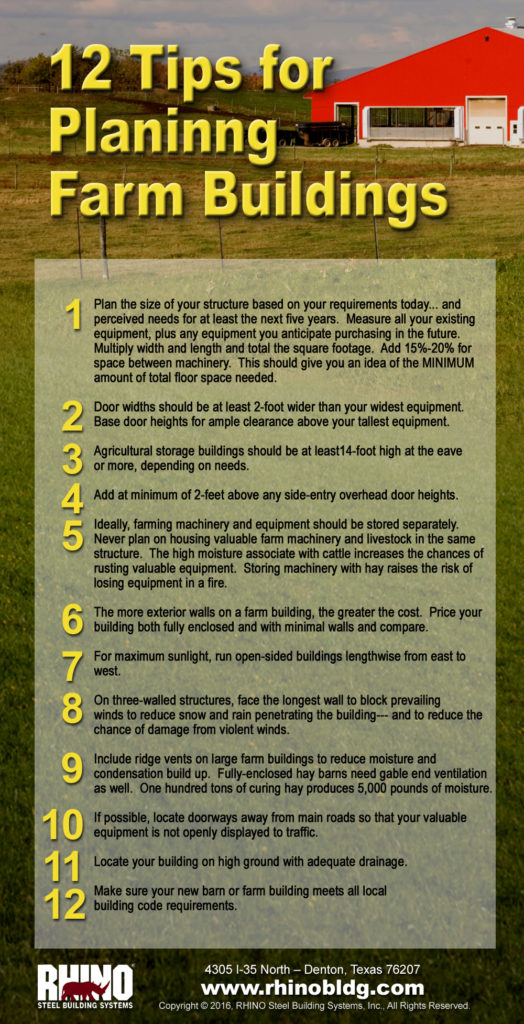 And don't overlook the environmental value of prefab outbuildings. As the most recycled material in the world, steel rates at the top of green building framing choices.
RHINO METAL BARNS AND PREFAB OUTBUILDINGS
Barns
Crop storage
Dairy barns and milking houses
Farm equipment storage
Feed storage
Fertilizer sheds
Hangars
Hay sheds
Livestock shelters
Office
Open-air or indoor horseback riding arenas
Poultry houses
Sale barns
Stables
Storage buildings
Truck, trailer, or RV garages
Workshops
Call RHINO today to learn more about metal barns and steel prefab outbuildings. Ask one of our experienced rural building specialists for a more information about RHINO steel buildings for farm, ranch, and country living. Ask for a free quote on the metal barn or outbuilding of your choice. Call now at 940.383.9566.