Steel Frames the Best Barns, Stables, and Riding Arenas
Equestrian enthusiasts appreciate the advantages supplied by metal buildings for horses. Whatever the need, pre-engineered steel buildings deliver the most durable structure at the best price.
For the Love of Horses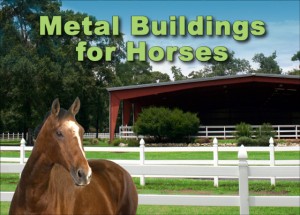 The love of horses runs deep in our history.
America was literally explored and expanded by adventurers and pioneers on horseback.
Horses pulled the covered wagons that brought settlers across the land. Freight wagons drawn by horses brought supplies to new settlements dotting the westward expansion. Daring cowboys astride well-trained cowponies drove cattle from ranch to market. Even the farms that fed the early settlers would have been impossible without horses to pull the plows.
Horses are still a vital part of our heritage— and of rural life today, as these statistics show:
2 million people in the U.S. own one or more horses.
Today there are over 9.2 million horses in the U.S.
Horses are used for breeding, racing, rodeos, equestrian shows, mounted police, farms and ranches, competitions, carriage work— and just plain fun!
4.6 million people work in the U.S. equestrian industry as owners, service providers, employees, or volunteers.
Equestrian businesses create 460,000 full time jobs in the U.S.
The equestrian industry affects the U.S. economy by $39 billion annually.
Protecting Equestrian Investments with Steel Buildings
Horses represent a large investment of time, money— and love. Protecting horses means sheltering them in the safest possible accommodations.
Pre-engineered steel buildings make the best barns, hay sheds, shade shelters, stables, and enclosed or open-air riding arenas today. Here's why:
Metal buildings for horses require far less maintenance than old-fashioned wood barns, which need frequent painting and repairs.
The prefabricated components of pre-engineered steel buildings shave construction time by 33% or more over other building methods.
Steel's superior strength allows the large, unencumbered space needed for large barns, agricultural equipment storage, hay sheds, animal shelters, stables, and riding arenas.
Steel's durability makes it the best long-term investment.
Organic steel never attracts mold or termites like wooden structures.
The uncluttered ceilings of pre-engineered metal buildings for horses thwart birds from nesting inside the structure— a real problems with lighter web-truss type structures.
Fire-resistant steel buildings never add fuel to a fire like wood structures do.
Rigid commercial-grade steel buildings for horses resist damage from earthquakes, lightning, snow, and wind far better than other building systems.
Premium insulation packages protect stock and workers in harsher climates with frigid winters or sizzling summers.
Skylights add natural lighting to metal structures where needed.
Horse Enthusiasts Love RHINO Metal Buildings
People love horses because they represent freedom, freedom to fly across the countryside, at peace with the world around us. They love RHINO metal buildings for horses the same reason; pre-engineered steel buildings grant horse owners freedom from worry about their animals and their building investment.
RHINO metal buildings for horses offer wonderful benefits to equestrian operations. Our structures are versatile, expandable, strong, durable, simple to construct, easy care— and all at a surprisingly affordable price.
It is no wonder that professional equestrian businesses like the Outlaw Equine Veterinarian Clinic and Medieval Times Equestrian Training Center made RHINO metal buildings their choice for new structures.
Call RHINO right now at 940.383.9566 to learn more about the barns, equipment shelters, hay sheds, stables, ranch offices, or training and riding arenas for your equestrian operation.
Our steel building specialists will happily answer all your questions, offer expert advice on your building project, and provide you with fast quotes upon request.
Call RHINO today. You'll be glad you did!