The RHINO Difference: Quality Steel Buildings at an Affordable Price
Pre-engineered rigid-frame building kits produce high quality buildings that outperform all other construction methods. And RHINO Steel Building Systems offers the best metal buildings on the market today.
The Uniformity of Prefabricated Rigid-Frame Metal Buildings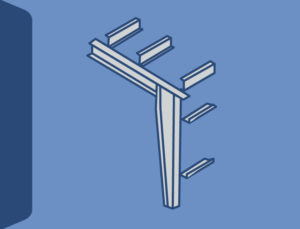 There are no variations or unknowns in RHINO's commercial-grade rigid-frame steel buildings.
Precisely manufactured to the exacting tolerances of strict industry guidelines, every steel member of a RHINO metal building package is absolutely consistent and predictable.
Each piece performs exactly as all other pieces of the same type and gauge, supporting a known weight at a certain width and at an exact distance from the next component.
In addition, RHINO's red-iron steel does not rot, warp, creep, twist, or split like lumber. Every steel member in our quality metal building kits is strong, straight, and true and stays that way for many decades of service.
The RHINO Difference Creates Exceptional Quality Buildings
Every RHINO order is calculated using sophisticated computer-aided steel engineering software. Each load and local code is analyzed before creating an exact list of the pieces needed to construct the structure ordered for your specific location.
The software then generates detailed drawings for the factory.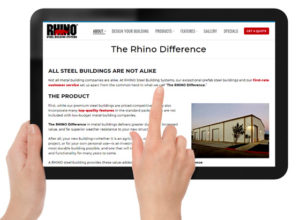 All the components of the steel framing are manufactured to exact specifications from high-strength commercial-grade steel. Each piece is cut, welded, drilled, and marked for easy identification.
Your building arrives ready to assemble. Heavy-duty steel bolts, nuts, and self-tapping screws used to assemble the framing are included.
This streamlined design and production system keeps RHINO's steel building kits affordable and efficient to build. It eliminates wasted material— and wasted time at the job site.
Fewer Pieces for Faster Construction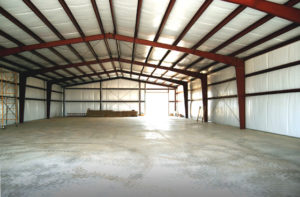 RHINO's red-iron steel is so much stronger than wood or light-gauge steel framing. Consequently, RHINO quality steel buildings require far fewer pieces to form a strong, very durable structure.
Consider the following comparisons:
Wood framing typically spaces studs 16-inches
Light-gauge steel framing is ordinarily built with studs spaced 16 or 24-inches
RHINO's prefabricated rigid steel frames are normally placed 25-feet
Thus, RHINO's more efficient system creates the best structures. In fact, our high quality metal buildings slash erection time by 33% over other building methods.
The Best Steel Buildings Provide the Greatest Protection
RHINO's quality steel buildings provide superior protection, with built-in resistance from damage caused by:
Lightning
Fire
Strong winds
Crushing snows
Mold
Rot
RHINO's commercial-grade framing delivers the best steel buildings. Therefore, most insurance companies offer significant discounts for RHINO steel structures.
Our Best Metal Buildings Slash Utility Bills in Half
RHINO's wall cavities are much deeper than wood or light gauge walls. This allows RHINO to use more insulation for greater energy savings.
Our optional Pro-Value insulation system not only eliminates all thermal transfer problems, but also typically saves about 50% on heating and cooling costs over wood or light-gauge steel framing.
In addition, no customers have ever experienced "ghosting" in their RHINO-tough quality metal buildings. However, ghosting is a common problem for light-gauge steel structures.
RHINO Clear Span Structures
No wood-framed building or light-gauge steel structure spans as far as a RHINO steel structure. These building materials simply lack the strength of RHINO's rigid red-iron steel framing.
In fact, RHINO buildings clear span unobstructed space up to 300' wide. Adding a single post on a modular frame allows spans up to 480'wide.
RHINO-Tough Quality Metal Buildings
Do you need a quality steel building for any of the following?
Agricultural structures or barns
Church structures
Commercial buildings
Horseback riding arenas
Airplane or helicopter hangars
Self storage buildings
Industrial or warehouse buildings
Personal garages, storage buildings, or workshops
Then you need a RHINO-tough metal building.
Conclusion: The Best Steel Buildings are RHINO Quality Buildings
Call RHINO today for free quotes and assistance. Let our steel building advisors answer all your questions. Their experience and expertise will aid you in ordering the best metal buildings for your specific needs.
Call RHINO now at 940.383.9566.
(Updated 9-9-2020. Originally published 4-8-2014.)