Rhino Steel Buildings Blog
Comparing Automotive Automation to Metal Building Production
Have you ever thought about the parallels between cars and steel buildings? Both industries are constantly evolving to bring a better product at a better price to today's savvy consumer.
Automobiles and Buildings in 1900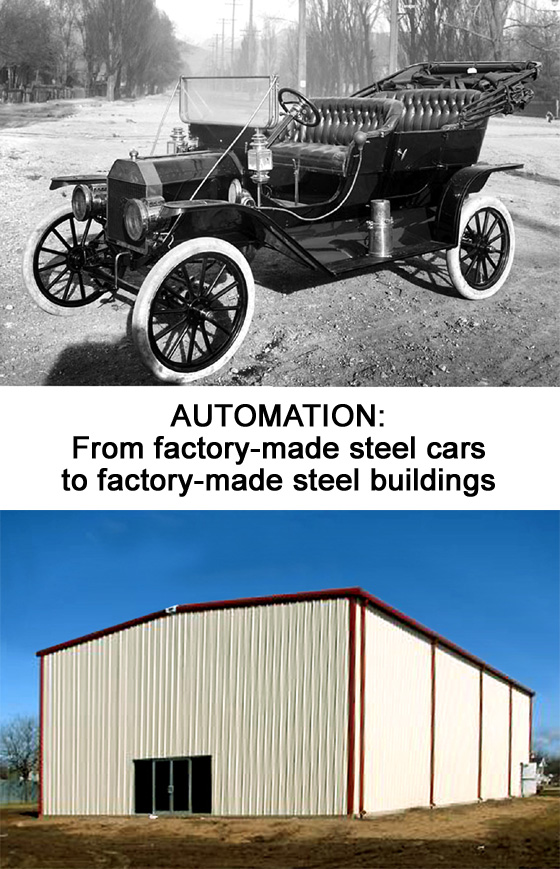 At the beginning of the 20th century, only the very wealthy could afford to own the new "horseless carriages" known as automobiles.
Constructed by skilled craftsmen one at a time, cars were extremely expensive. Complex and prone to breaking down, these first automobiles generally needed professionally trained mechanics and chauffeurs to keep them operating, creating additional expenses.
Construction in the early 20th century was the same. Buildings were produced one at a time at the job site. Professional carpenters and experienced project managers were required. Every piece needed to be measured, cut to the correct length and angle, and nailed into place, one by one.
Sadly, many homes and businesses today are still constructed in this inefficient, old-fashioned way.
Henry Ford and the Assembly Line
In 1903, Henry formed the Ford Motor Company. In 1907, Ford announced his goal to create "a motor car for the great multitude." The Model T debuted in 1908, with a sticker price of $825-$950.
The Model T was a massive step forward in the automotive industry— but still beyond the budget of most Americans. Ford worked with his top managers to find a way to increase production, thereby decreasing the price.
After several attempts at automating production, efficiency gradually improved. By 1913, Ford's team had perfected an assembly line operation. Model T prices dropped to $360 by 1916— and to about … Read more »