Rhino Steel Buildings Blog
The Architectural Advantages of Steel Construction
Today designers choose steel buildings for their low-rise, non-residential projects. Steel framing frees designers to create beautiful, practical structures within the project parameters.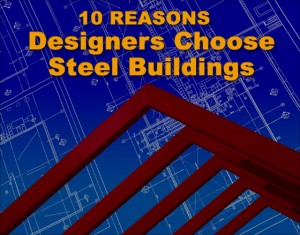 Steel building leads the U.S. market today. Steel frames 50% of all low-rise, non-residential construction. Low-rise commercial designers choose steel framing for 71% of all projects. Steel accounts for 95% of all industrial construction in the U.S. The agricultural market overwhelmingly builds with steel.
There are many reasons for steel's market dominance. The following list covers ten advantages pre-engineered steel building systems offer specifically to architects and designers.
1. It is easier to design a building with steel.
Innovative software developed by the steel building industry permits design, analysis, and detailing to flow easily. With sophisticated 3-D modeling software, designers view steel plans from every angle.
Once a floor plan is created and approved, ordering a pre-engineered steel building is simple. The steel company engineers the structure to meet all local building codes, fabricates the steel, and ships the completed framing package to the job site.

2. Steel framing provides complete design freedom.
Whether the project calls for a no-frills basic box or a sophisticated, eye-popping structural masterpiece, structural steel is the answer. No other building material provides the span, strength, and design flexibility of steel. Whatever can be imagined can be created with steel.
3. Steel construction creates more with less.
Pre-engineered steel buildings produce a highly stable structure with surprisingly little material. Steel columns occupy 75% … Read more »