Rhino Steel Buildings Blog
Beating City Summer Heat with Reflective Surfaces
Our last blog stressed the importance of greenspaces in mitigating urban heat island (UHI) impacts. Another strategy for diminishing the sweltering heat of UHIs involves lighter, more reflective surfaces on buildings, pavements, and roadways.
Starting at the Top with Roofing Choices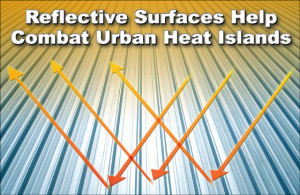 Roofs account for 20% to 25% of the land cover in cities.
The simplest way to cool down hot roofs is to choose light-colored roofing materials. Light colors reflect radiated heat; dark colors absorb heat. The darker the material, the hotter its surface will be on a sultry summer day. Regardless of the roofing material used, a lighter color produces a cooler roof.
On a moderate sunny day with an air temperature of 90°F, a white roof reaches a surface temperature of about 110°F. Surface temperatures on a black roof can soar to 190°F or more.
Light-colored roofing lasts longer than dark roofing, too, reaping another environmental and economical plus.
Beating UHI Heat with Cool-Coated Roofing
Traditional roofing materials absorb 85% to 95% of the sun's energy. New technologies have yielded highly reflective paints that absorb as little as 35% of the solar energy hitting their surface.
Highly reflective cool-coated roofing materials deflect the sun's heat away from a building. In fact, cool roofing reflects more of the sun's energy than any other building product. A roof with high solar reflectance reduces the roof's surface temperature by as much as 50°F to 60°F on a blistering summer day.
Cool roofing allows less heat to transfer to the building, decreasing the energy needed for air conditioning. Diminished air conditioning usage prolongs the life of the AC unit.
Shrinking energy usage relieves the pressure on the power grid— … Read more »