Rhino Steel Buildings Blog
What to Do When Adult Children Crowd Back into Your Empty Nest
Just as building an in-law apartment creates a safe haven for an aging parent, constructing a boomerang apartment puts needed space— and privacy— between parents and a returning adult child.
Why Kids Boomerang
Young adults, who lived on their own for a time but then move back in with their parents, are known as "boomerang kids."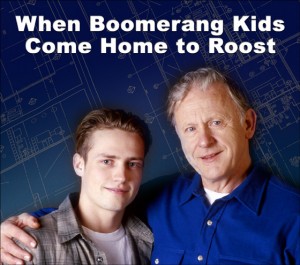 An incredible 57 million Americans now live in multi-generational situations with elderly parents, grown children, or grandchildren gathering into an increasingly crowded home.
The reasons for the return to the nest vary, but economic hardship tops the list.
• 20% of young Americans in their 20s and 30s now live with their parents.
• Skyrocketing college costs leave many graduates burdened by sizable student's loans.
• 45% of 25-year-olds carry large debts.
• Downsizing, outsourcing, and stock market downturns have reduced employment opportunities for many young people.
• A college degree no longer guarantees a bright future with greater earning power. Today's graduates earn substantially less than their predecessors do.
• The diminishing buying power of the dollar creates greater pressure on those with lower-waged, entry-level jobs.
• 60% of all young adults in the U.S. have accepted some financial help from their parents.
• Far fewer young adults marry in their 20s than in previous generations. Some of those who married later divorced, with one or both of the spouses returning to live with parents for a time.
Coping with Multi-generational Living Arrangements
Parents who have adjusted to their "empty nests," and started independent lives often find it challenging to share space with their grown children. Young adults, who have lived for some time on their own, also experience difficulty returning to the … Read more »