Rhino Steel Buildings Blog
Building Green in the Evergreen State with RHINO Metal Buildings
Constructing pre-engineered steel buildings in Washington is green building. There is no greener way to build than with steel.
The state of Washington has always been a leader in the green building movement. In fact, Washington was the first state to pass legislation requiring all state-funded new construction or renovation to meet green building standards.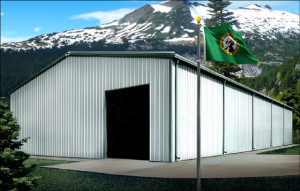 The Clear Span Advantages of Steel Buildings in Washington
The strength and durability of steel buildings makes them last far longer than ordinary construction methods like wood and concrete. The longer a structure lasts, the less its environmental impact.
As the most recycled material on the planet, steel meets the criteria for environmentally responsible Washington builders. There is zero degradation of strength in recycled steel— no matter how many times it is recycled. RHINO steel buildings contain up to 90.7% recycled steel.
Pre-engineering eliminates waste, another green building plus. What little steel remains after construction is easily sold to metal scrap dealers for recycling.
The inherent strength of steel allows prefabricated metal buildings to span wide areas without interior supports. RHINO straight column metal buildings in Washington clear span up to 80' in width. Tapered column designs clear span up to 150' wide on standard orders. Widths up to 300' are possible with a custom order.
Here are just a few of the buildings benefiting from steel's clear span capabilities:
• Aircraft hangars • Auditoriums • Barns • Big box stores • Churches • Dance studios • Equipment storage buildings • Fish or meat processing plants • Gymnasiums • Hay or hops storage • Horse riding arenas • Lumber or paper mills • Manufacturing plants • Produce storage • Recreational facilities • Theaters • Warehouses
Metal Buildings for Every Application
Versatile pre-engineered steel buildings adapt to any low-rise commercial or industrial application:
Consider RHINO metal buildings for mega-warehouses in Seattle or Tacoma.
Agricultural buildings for … Read more »