Rhino Steel Buildings Blog
Adding Pizzazz to Metal Buildings with "Pop-Out" Framing
The most economical shape for pre-engineered steel buildings remains the basic rectangle. While practical for most industrial, agricultural, and storage applications, commercial enterprises sometime require more visual interest.
In this series on customizing steel buildings, we have divulged several ways to lose the "boxy" look of metal buildings to add eye appeal. So far, we have covered:
• Part 1: Changing the Roofline
• Part 2: Adding Roofline Extensions
• Part 3: Using Brick, Stone, Stucco and Other Exterior Building Materials
We can further improve a structure by adding structural "pop-outs."
Metal Building Basics
First, let's cover some a couple of basics in pre-engineered steel building construction.
In a clear span steel building, the two steel columns bolted together with two rafter beams create a single "frame. The frames run the length of the structure, much like ribs supporting the skeleton of the building.
Typically, frames are spaced 20'-25' apart. The distance between the frames is called a "bay."
The frames continue for the length of the structure, creating the basic rectangle of the building.
So What is a "Pop-out"?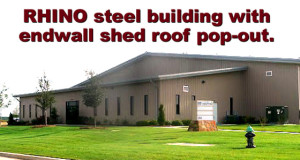 Adding smaller frames outside the main structure creates pop-outs. This adds square footage to the structure while breaking up the rectangular shape of the building. Pop-outs can be added at either the end wall or sidewall.
Pop-outs offer many practical uses.
For example, a pop-out section on a church, hotel, medical building, school, … Read more »