Rhino Steel Buildings Blog
Protect the Animals and Your Investment by Building with Steel
Pre-engineered steel buildings safeguard a pet hospital investment— as well as its precious animal patients— better than other building materials.
When fierce winds wail, lightning sizzles, fire rages, or the earth tremors, prefabricated metal buildings stand up to the challenge. Commercial-grade steel framing like RHINO Steel Building Systems provides maximum damage protection for a veterinary facility.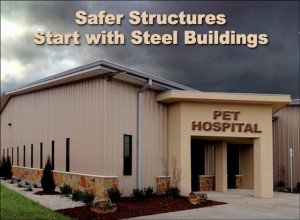 WINDS: Most wind damage occurs when strong winds breach the building envelope. High winds can literally lift a wood-framed roof from the building— or the entire structure from the foundation— as nails pull out under the pressure of the winds.
RHINO's steel framing connects with high-strength bolts and nuts that hold fast against howling winds. Attached to the foundation with sturdy metal j-bolts buried in the cement, metal buildings resist the lifting force far better than lumber-framed buildings, too.
FIRE: Non-combustible steel does not burn as wood does.
Steel is never the point of ignition of a structural fire— but wood framing often is. Even if a fire does starts in a steel structure, non-combustible steel framing will not contribute fuel to spread and intensify the damage.
LIGHTNING: The U.S. Fire Administration reports lightning starts over 17,000 fires every year in the U.S. As a poor conductor of current, wood explodes into flames when lightning strikes.
Steel is a great conductor of current. In a properly grounded metal building, lightning passes through the framing and harmlessly into the earth.
EARTHQUAKES: Pre-engineered commercial-grade steel structures outperform other building methods in earthquakes, … Read more »