Rhino Steel Buildings Blog
Why Farmers and Ranchers Choose Eco-friendly Metal Buildings
Strong, durable and recyclable pre-engineered steel barns and agricultural buildings make it easy to be "green." The environmental benefits of metal buildings make them with favorite for rural dwellers and city dwellers alike.
This Land is Your Land
Farmers and ranchers respect the land. Their very existence depends on the earth's bounty. Being "green" comes naturally to them.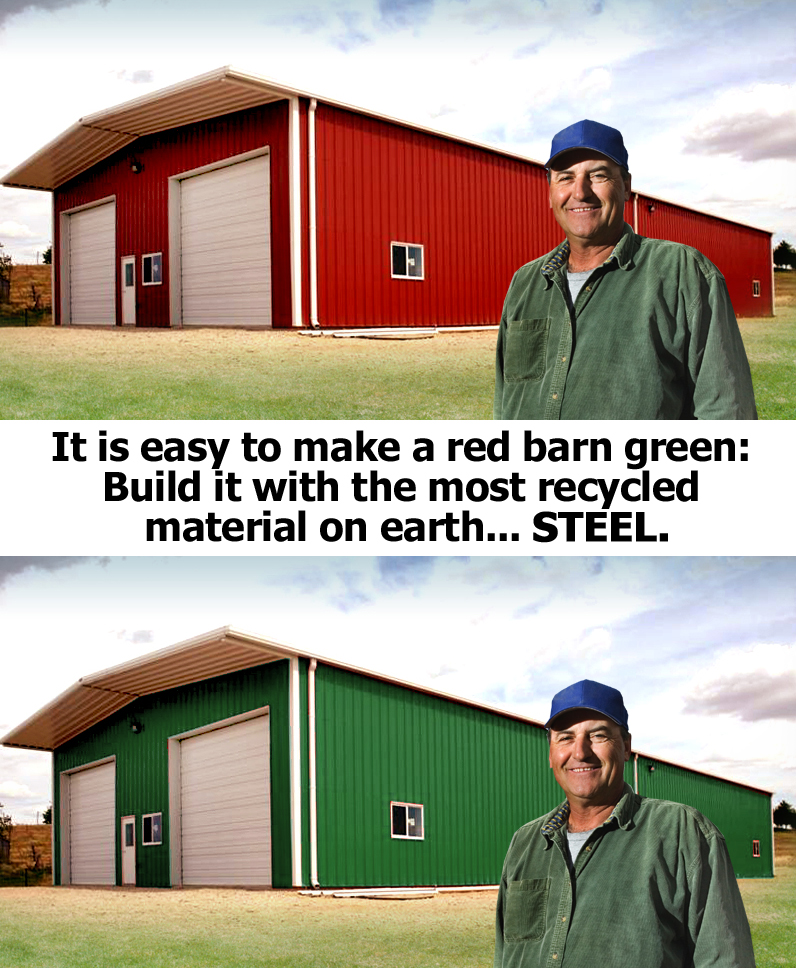 That is just one of the many reasons so many ranchers and farmers make pre-engineered steel buildings their number one choice for barns and other ag buildings. They are confident metal buildings make the best environmental choice.
Steel: Endlessly Recyclable
Steel is by far the most recycled substance in the world.
Why?
Steel is the only building material on the planet that can be recycled countless time without losing any strength. RHINO's metal barns and buildings contain up to 90.7% recycled steel.
Steel: Economical to Recycle
Other materials must be hand sorted for recycling. The magnetic qualities of steel make separating it simple. Using giant electromagnets, steel leaps from the solid waste stream, leaving glass, plastic, wood, and paper behind.
There is an abundance of steel to reclaim. Junked cars and ships, old railroad cars and tracks, dismantled old bridges, and discarded appliances abound. Decades from now, when your steel barn has outlived its usefulness, it too can be recycled into another generation of steel.
The steel industry is no Johnny-come-lately to the environmental bandwagon. North American steelmakers have been recycling steel for over 150 years.
Steel: Less Waste
Steel's strength … Read more »