Rhino Steel Buildings Blog
Customizing the Exteriors of Pre-engineered Metal Buildings
Steel buildings do not have to look like steel buildings. There are many ways to enhance the exterior of a structure to lose the "boxy" look of a metal building.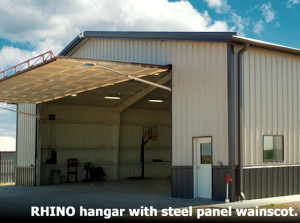 In parts one and two of this series, we offered suggestions for changing the roofline and profile of a steel building to create a more traditional look. The versatility steel buildings doesn't stop there.
Any exterior building material available for other building systems will also work with pre-engineered steel framing.
Steel Panel Exteriors for Metal Buildings
Most of RHINO Steel Building System's customers with agricultural, industrial, and storage applications choose our standard 26-gauge purlin bearing roof (PBR) steel panels for cladding. The panels are attractive, economical, and durable. Available in a variety of colors, steel exterior panels and trim offer many choices for the buyer.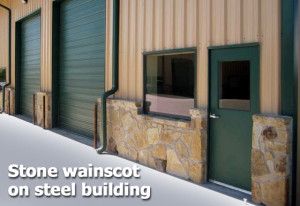 Buyers may purchase optional gutters and downspouts in colors to match trim. Also available are 24-gauge standing seam roof panels and highly reflective "cool coated" steel panels.
Steel Panel Wainscoting
One very economical way to "dress up" a steel building is to add steel panel wainscoting. A wainscot is simply a contrasting material added at the bottom exterior wall, usually about 3-1/2' to 4' in height.
Using Traditional Exterior Finishing Materials with Steel Buildings
Choose any exterior building material used with other building methods for pre-engineered metal buildings.
Planning an office complex with … Read more »