Rhino Steel Buildings Blog
Home Alone: Steel Buildings for Backyard Hideaways, Part 8
Imagine how your life would change if you had a backyard home office 25 feet from your back door, instead of commuting 25 miles away!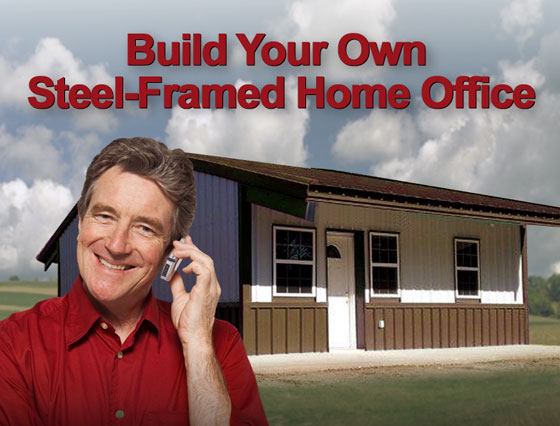 It is easy to build your own highly efficient, highly productive home office with a pre-engineered steel building from RHINO Steel Building Systems.
Spend More Time Computing and Less Time Commuting
Almost everyone needs a home office for personal use.
However, more and more people are working from home at least part of the time. Even those with full time remote jobs find themselves bringing more work home from the job.
In addition, many entrepreneurs are now starting their own full or part time homes-based business.
The statistics on home-based work are impressive:
The U.S. Bureau of Labor Statistics reports that one in four Americans now work from home, at least part of the time.
The number of state government employees working from home shot up 133% from 2000 to 2010.
The number of federal employees working from home jumped 88% in the same period.
According to the Telework Research Network, 79% of workers say they would happily work from home at least part time, if their employers allowed it.
According to USA Today, the average commute is 25.5 miles one way. However, about 8% of U.S. workers endure so called "mega-commutes" of 50 miles or more, according to the U.S. Census Bureau.
Typically, telecommuters save $2,000- $7,000 a year on transportation, clothing, lunches, etc.
Obviously, telecommuting is here to stay.
Making Working at Home More Productive
Finding space to work at home both large enough to accommodate all your needs— and quiet enough to keep you focused and productive— is difficult.
Quite simply, you are … Read more »