Rhino Steel Buildings Blog
Receding an Exterior Wall Changes the Look of Metal Buildings
In Part 4 of our series on "Steel Buildings: Think Outside the Box" we covered adding pop-out sections of framing. Pop-outs protrude outside the main structure, breaking up the boxy look of pre-engineered steel buildings.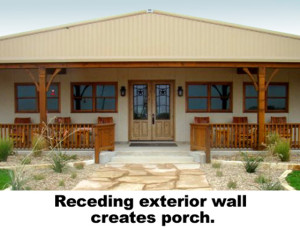 Another way to add visual interest to a metal building is to do the exact opposite. Instead of extending an exterior wall, consider receding an exterior wall, sort of a "pop-in" section.
Practical Reasons for Indenting an Exterior Wall
The exterior wall of pre-engineered metal buildings can end at the last frame of the structure, or at the next-to-the-last frame. In fact— with minimal additional framing— the exterior wall can be placed anywhere in between frames.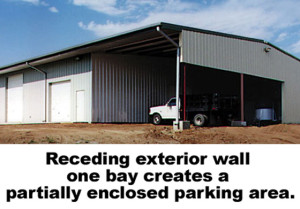 For example, you might want a deep porch under rafter. Or perhaps your commercial business needs a corner entrance under rafter to protect clients in inclement weather.
Agricultural buildings and shops often include a protected outside area under rafter to store hay, equipment, or vehicles out of the weather. Personal storage building, workshops, or multi-vehicle garages might encompass an under rafter area for a boat, RV, or camp trailer.
Stylish Reasons for Indenting an Exterior Wall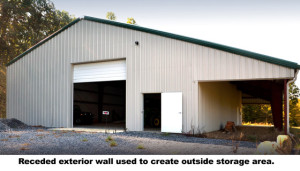 Beyond practical considerations, indenting a wall also changes the profile of a structure. Receding a wall helps adds visual interest. It is an easy and economical way to add personality to a structure. Commercial enterprises may find this especially helpful.
Suppose you want to add a "down-home" look to your new barbecue restaurant. Indent the exterior wall … Read more »