Rhino Steel Buildings Blog
Why Farmers and Ranchers Choose Pre-engineered Steel Buildings
People who enjoy country living favor building green, eco-friendly structures on their rural properties.
Whether their country home represents a retreat from urban life or their livelihood, rural dwellers love the land. Country people are, by nature, conservationists. Environment preservation is important to them, and so is eco-friendly green building.
Farmers and ranchers were the first to appreciate and build with steel. Even before the environmental movement gained national support, those who made their living from the land recognized the advantages of building eco-friendly steel barns and steel agricultural support structures.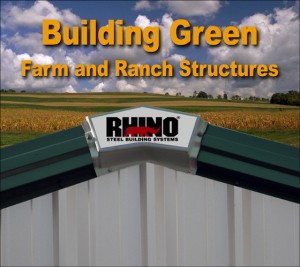 Steel Buildings: The Right Choice for Rural Structures
Pre-engineered metal buildings offer farmers, ranchers, and other rural residents many advantages.
Quite simply, green building with steel delivers the best deal for the planet, the pocketbook, and for the people purchasing the structure. Here is why:
RECYCLED: Steel is the most recycled material on Earth. Every year, America recycles 80 million tons of steel.
Steel is 100% recyclable. Steel is the only construction material which never loses any of its characteristic strength when recycled repeatedly.
The U.S. Green Building Council states, "Steel as a primary structural building material, with its inherently recyclable nature and its efficiency of assembly, is the logical and responsible choice for Green Building."
Steel is the only building material in the LEED (The Leadership in Energy & Environmental Design) green building program with an automatic minimum default for its high-recycled content.
North American iron and steel makers started recycling over 150 years ago. All new steel framing now contains recycled steel. (RHINO steel framing is up to 90.7% recycled steel.) The magnetic properties of iron and steel allow them to be handled easily— … Read more »