Rhino Steel Buildings Blog
Good Ventilation Creates Comfort and Extends Building Life
Never underestimate the importance of airflow in metal buildings.
As discussed in part 1, adequate ventilation controls comfort, humidity levels, and condensation in steel buildings.
Two Types of Ventilation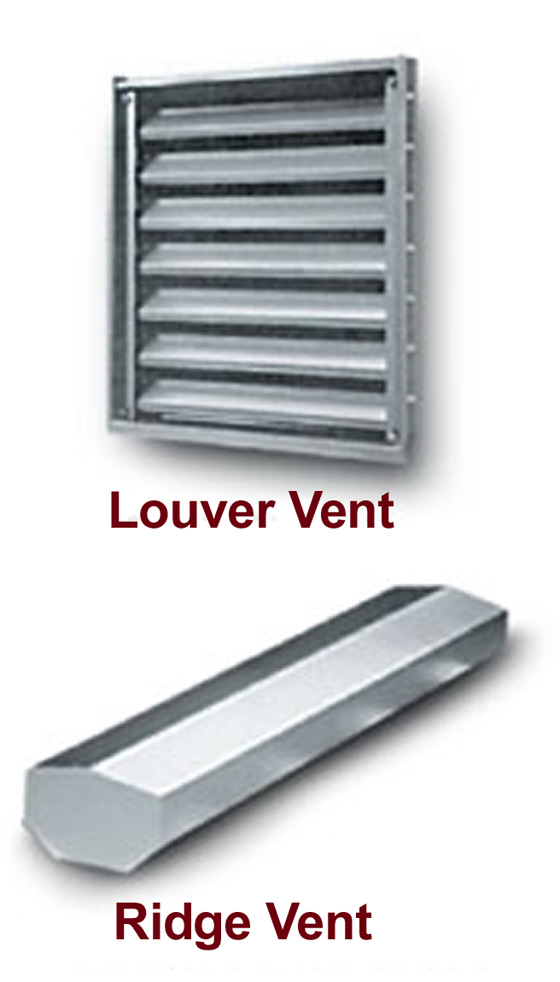 Controlling airflow in metal buildings without air conditioning and heating is simple. You need fresh air flowing into the building and humid air flowing out. This is easily accomplished with vents and large door openings.
Steel barns, equipment structures, storage buildings, aircraft hangars, warehouses, and manufacturing facilities usually have large doorways to accommodate vehicles, equipment, and shipping and receiving. When open, these doorways introduce fresh air into the interiors.
Vents also supply airflow in metal buildings. Vents help in two ways. Vents placed lower in the structure let air into the building. Roof vents allow hot, humid air rising to the ceiling to escape the structure.
RHINO Vents
In our line of popular accessories, RHINO includes two types of vents.
RHINO's 3′ x 3′ louver vents typically install in the endwalls. (Larger vents available as needed.) Louver vents may be fixed or include a damper mechanism to control the airflow. In smaller metal buildings, louvered air vents placed under the peak in either endwall may provide enough ventilation.
Louver vents are available from RHINO in either Polar White or Galvalume®.
Ridge vents run along the peak of a metal building's gabled roof line. Normally, one ridge vent per bay works in larger structures. However, ridge vents can also be connected of required, forming a continuous line down the length of the building. (This allows you to control all … Read more »