Rhino Steel Buildings Blog
Unlimited Floor Plan Options with Pre-engineered Steel Buildings
No other building system offers the spaciousness of pre-engineered metal buildings. Steel's strength allows for completely open floor space, unencumbered by obstructing support columns or load-bearing walls.
Let's take a brief look at the evolution of building in the past 70 years.
The Restrictions of Wood Framing
Wood-framed structures and pole barns created most low-rise structures in the last century.
Wood needed interior supports, restricting use and maneuverability. It also required constant upkeep and frequent painting.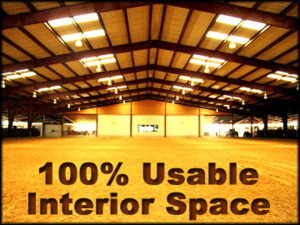 Rot, mold, termites, fire, lightning, and high winds all posed threats to wood structures— then and now.
Seventy years ago, wood was plentiful, readily available, and cheap, so wood framing remained the primary building system.
As old-growth forests diminished, lumber prices soared— while wood quality plunged. Soon commercial builders, farmers, ranchers, and aviation operations were looking for alternatives to old-fashioned wood structures.
The Limitations of Arch-Type Buildings
During World War II, the military needed structures that could be erected quickly— and dismantled quickly as battle lines shifted. The Quonset hut was invented to fill this need. (Think Gomer Pyle's barracks.)
After the war, Quonset huts found a niche in agricultural markets at home. Farmers and pilots liked the ease of construction of the arch-type equipment sheds. They liked the low-maintenance and durability of steel. However, due to the curve of the walls, much of the interior space was wasted.
The Drawbacks of Light-Gauge Steel Framing
As forests disappeared and lumber prices rose, light-gauge steel framing began to make inroads into the construction market.
The idea was simple: substitute light-gauge steel studs for wood studs, "stick-for-stick."
Steel framing was stronger and lighter than wood. Light-gauge steel framing required less maintenance than wood. Impervious to termites, rot, and mold, light-gauge steel framing also provided … Read more »