Rhino Steel Buildings Blog
Defining Green Building Objectives
We hear the term "green building" a lot today. What does the term really mean?
At its simplest form, green building is construction which casues the least impact on the environment.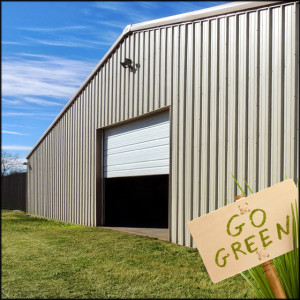 Green building considers all environmental aspects of a project. This includes site location, building design and operation, and the eventual deconstruction of the structure.
Green building integrates all— or some— of these strategies to reduce the "carbon footprint" of a structure:
Disturbing the natural setting of the site as little as possible.
Designing a structure's orientation at the site to take best advantage of natural shading, lighting, prevailing breezes, and possible future expansion.
Implementing water-conserving practices in and around the structure.
Choosing building materials with the smallest environmental impact.
Taking measures to decrease the building's operational energy consumption.
Constructing a building promoting with healthier indoor air quality and greatly reduced noise pollution for its inhabitants.
Planning a structure not only for now, but also for the future. Selecting materials with easy upkeep and longevity. Thinking long term, with an eye on the complete lifecycle of the building.
Considering the environmental impact of building materials at the end of the building's life. Is it a recyclable material— or destined to rest forever in an overcrowded landfill?
Is Green Building Affordable?
A green builder strives to find a delicate balance between what is best for the planet— and what is best for the building's owner.
Cost will always be a factor in every building decision. However, visionary green builders consider not only current construction costs, but also long-term cost offsets. While some green building tactics and material choices cost slightly more than conventional scourge-the-earth construction, the long-term benefits of green building often reap greater financial rewards.
For example, choosing energy-efficient double-pane windows, up-grade insulation … Read more »