Rhino Steel Buildings Blog
October 2, 2015 Facing the Facts About Building Fires in the U.S.
Every day building fires kill, maim, and destroy.
 According to the National Fire Protection Association (NFPA), every day in the U.S. there is an average of:
• 1,353 structural fires • 43 people injured in building fires • 9 fatalities in structural fires • $26.8 million dollars in structural property losses caused by fires
Underestimating the Danger of Building Fires
Too many people blindly assume they will never be caught in a building fire. However, the evidence leaves no room for debate:
Roughly, one in every 320 households reports a house fire every year.
60% of residential fire fatalities occur in homes without working smoke alarms.
Surveys show only 33% of Americans have produced and practiced a family fire escape route.
55% of those injured in home cooking-related fires were hurt while trying to extinguish the blaze themselves.
32% of those surveyed believed they would have at least 6 minutes to escape before a home fire became life threatening. The time available is often far less.
Only 8% of those surveyed said exiting would be their first thought when the smoke alarms sounded!
Why Steel Buildings are Safer Buildings
Once started, a building fire can spread with shocking speed, swiftly cutting off avenues of escape.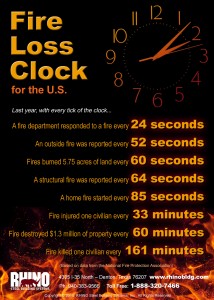 Statistically, the third most likely place for a house fire to start is in the framing. Wood framing provides the perfect fuel for fire ignition. Wood burns easily, feeding and spreading the fire after it starts.
Steel does not ignite. Fire-resistant steel does not contribute fuel to spread a fire. Consequently, steel building fires spread much slower, increasing the chances for escape.
All … Read more »