Why Steel Buildings Dominate the Market
You've seen steel buildings and are probably noticing more of them as they gain popularity as permanent, practical, and economical structures.
These metal buildings are all around us in the form of garages, shops, warehouses, commercial/industrial buildings, recreational facilities, airplane hangers, fire stations, and agricultural buildings such as barns and implement sheds.
The use of steel buildings has been favorable since post WWII, and steel building systems have been gaining widespread popularity since the 1970s. Today, steel buildings are more popular than ever before. This popularity comes from a variety of factors involved in the efficiency and versatility of metal structures.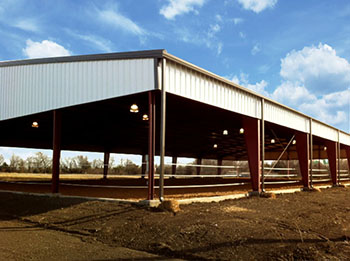 Steel buildings hold several advantages over conventional wood or masonry structures. For instance, steel as a building material is widely accessible and endlessly versatile. These qualities make steel building materials extremely economical. With metal building materials being 100% recyclable and steel buildings being energy efficient, steel buildings are largely popular in the 'green' movement as environmentally friendly and sustainable.
Steel building systems require far less maintenance than wood structures and are superior to wood structures in that steel building systems do not crack, twist, bend, or warp. Steel building systems are also less prone to mold and mildew. Steel buildings are durable and stand up to hefty winds, heavy snows, and even fires. With these factors considered, steel buildings offer increased safety over other materials. These qualities are considered by insurance agencies and result in lower insurance premiums.  Low cost material, virtually zero maintenance, and lower insurance premiums certainly make steel building systems cost effective.
Steel building systems can be stand-alone structures or can also be used as an add-on to an existing structure. Steel building systems offer a practical and affordable expansion options to a preexisting structure.
Steel building systems are also easy to install. The prefabricated components of a steel building are delivered to the building site and assembled with ease. Some smaller steel buildings—such as sheds, garages, and shops—can even be assembled by the purchaser.
There are many options for steel buildings and other metal structures.
For more information, call RHINO Steel Building Systems at 940.383.9566.