Steel Buildings in West Virginia
Pre-engineered metal buildings in West Virginia and Virginia find an audience who already appreciates steel construction. The greatest project ever developed in West Virginia would have been impossible without steel.
The New River Gorge Bridge
A triumph of engineering and steel construction in West Virginia, the New River Gorge Bridge spans the chasm over the river. When it opened in 1977, it was the highest vehicle bridge in the world.
The stats on the awesome steel arch bridge are impressive:
Over 16,000 vehicles cross the bridge daily.

The bridge runs 3,030 feet in length.

The longest span is 1,700 feet.

The roadway hangs 876 feet above the gorge floor.

The bridge framing required over 88 million pounds of steel.

The bridge cuts travel from one side of the gorge to the other from 45 minutes to 45 seconds.

Guided bridge-walks allowed on the steel catwalk underneath the roadway.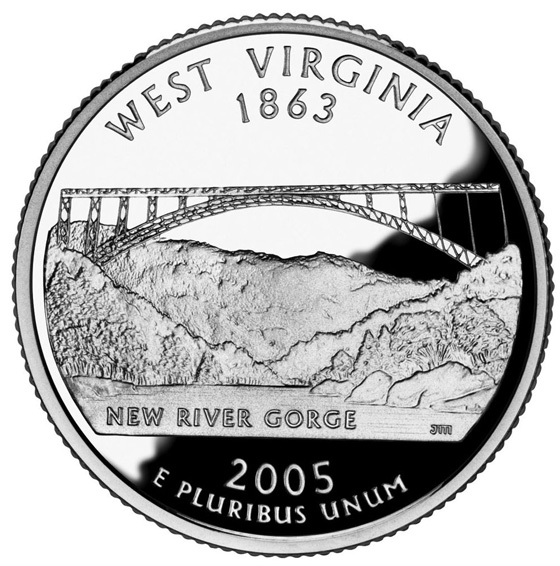 West Virginians are so proud of the New River Gorge Bridge, they chose it to grace their commemorative state quarter in 2005.
Benefits Of Pre-Engineered Metal Buildings
There's a reason steel was chosen as the building material for the New River Gorge Bridge — only steel can span massive distances while maintaining its strength and integrity. Steel has the highest strength-to-weight ratio of any building material, and this quality makes it ideal for open, unobstructed building interiors as well as bridges. Churches, warehouses, aircraft hangars, pavilions, equestrian arenas, big-box stores, gymnasiums, recreational facilities, and other structures enjoy the open spaces afforded by steel. However, clear span interiors are just one of the many benefits enjoyed by owners of steel buildings in West Virginia and Virginia.
RHINO's pre-engineered metal buildings are:
Steel Buildings & Virginia's Climate
With a humid, subtropical climate, Virginia and West Virginia experience high humidity, especially in summers. With RHINO's metal buildings, Virginia can rest assured that moisture will not cause issues. By keeping air flowing with ventilation, moisture buildup can be prevented.
RHINO's overhead door and personnel door options increase air circulation. Vents can also be added, with 3' x 3' louvered endwall vents or 9' x 10' ridge roof vents offered. Insulation also combats humidity, and the RHINO Pro-Value Insulation Package decreases condensation while cutting utility bills by as much as 50%.
Discover The RHINO Difference For Steel Buildings In West Virginia and Virginia
Whatever your low-rise construction project, RHINO steel buildings in Virginia and West Virginia offer the strongest structure at the best price.
Call us today at 940.383.9566 to learn why RHINO customers return to work with us again and again — 30% of our sales in the past 12 months are from past customers and customer referrals. Our metal building specialists are ready to help you get started on your steel building in Virginia or West Virginia today.