METAL BUILDING CONSTRUCTION THAT'S FASTER AND SMARTER WITH PRE FAB METAL BUILDINGS
Saving time on a construction project is vital, because time really is money.  Pre-engineered metal buildings save time— and therefore money— many ways.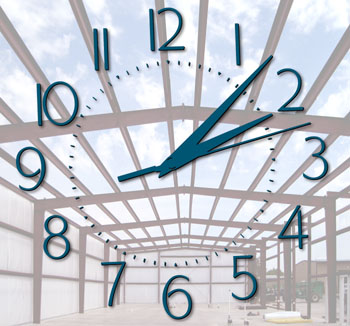 The quicker metal building construction is completed, the less spent on builder's insurance and labor. Faster construction means convenience for consumer building projects.
However, time is even more critical for commercial or industrial ventures.  The faster a commercial or industrial building is completed, the sooner it is open for business and earning a return on the investment.
1.

RHINO's Metal Building Specialists Save Time

Working with someone who really knows that both the product and metal building construction is critical.

RHINO's metal building specialists bring years of hands-on construction experience and a thorough knowledge of the RHINO steel building system to the table. They know all the right questions to ask, so they have a complete picture of the project specifics before they issue a building quote and begin metal building construction.

Our crackerjack sales staff will answer every question.  They often share valuable insights and knowledge for streamlining or improving the project.  Their experience helps bring every project in on time and on budget.
2.

High-Tech Engineering and Design Software Saves Time

A strong, consistent, and predictable building material, steel lends itself well to state-of-the-art computer aided design software.  Sophisticated steel engineering software dramatically reduces design time for a metal building system, making optimal use of steel's inherent strength. Three-dimensional structural analysis software assures structural integrity throughout all RHINO's pre-fab metal buildings.

The software generates manufacturing drawings for individual framing components quickly and efficiently, speeding up the manufacturing process.
3.

Fewer Framing Pieces Saves Time

Steel has the strongest strength-to-weight ratio of any building material.  Design and engineering software works together to create the most efficient use of steel.  Consequently, the framing requires far fewer framing components for a very solid, durable structure. Less pieces means less time needed for the framing of pre-fab metal buildings.
4.

Quick Delivery Saves Time

RHINO typically ships its pre-fab metal buildings in 4-7 weeks, depending on the size and complexity of the building. With multiple shipping points across the U.S., each order is produced at the nearest factory to keep shipping changes to a minimum.
5.

Everything Ships Together, Avoiding Delays

Options ordered with the framing package arrive with the steel.  Those include exterior sheathing, interior steel sheathing, skylights, wall lights, vents, gutters and downspouts, and insulation materials. There is no waiting around for shipments from other sources so your metal building construction can begin right away.
6.

Faster Framing Erection Saves Time

In a pre-engineered metal building system, all the structural components arrive from the factory, ready to assemble.  There's no need for cutting, welding, punching, or drilling. Everything comes marked and ready to bolt and screw together for quick metal building construction.  One of RHINO's pre-fab metal buildings works much like a life-sized erector set.

RHINO's pre-welded clips save time on the lateral framing, too.

Most clients find they reduce construction time 33% or more when they use one of RHINO's pre-fab metal buildings.
7.

Less Clean-up and Waste

The RHINO metal building system drastically reduces the waste typically with other methods of construction.  What little waste, if any, remains after construction, is easily sold at local scrap yard.

Visit with a RHINO metal building specialist now to learn more about quickest building method available today.  Estimates are fast and free.  Call 940.383.9566 today.

You might also enjoy these RHINO blogs: