How Metal Buildings Meet Minnesota's Extremes Conditions
Brutal winters, sweltering summers, and hazardous weather patterns demand the use of pre-engineered steel buildings in Minnesota. No other building system matches the strength, durability, and affordability of steel structures.
Weather Phenomena Faced by the North Star State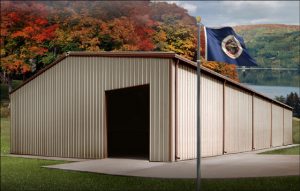 Mother Nature inflicts incredible challenges on Minnesota: blizzards and snowstorms, derechos and tornadoes, frigid temperatures and wildfires. Hardy Minnesotans survive every trial. Their buildings must do the same.
How bad can it get in the gorgeous Land of 10,000 Lakes?
Temperatures: Minnesota's record temperatures range from a deadly -60°F in February 1996, to a sizzling 115°F in July 1917.
Blizzards: In January 1975, one of the worst blizzards in Minnesota history ground the state to a halt. Winds climbed to 80 mph. Snow drifts loomed 20 feet tall. The state closed almost all roads— some for as long as 11 days.
That same year, two more blizzards struck in March. Winds speeds in northern Minnesota escalated to 100 mph. Twenty-foot waves pounded the Lake Superior shoreline. In November 1975, a blizzard intensified over Lake Superior, sinking the Edmund Fitzgerald.
Winds: In late May 1998, a bow echo system spawned severe thunderstorms and tornadoes. Powerful winds screeched across the Great Plans and Great Lakes. Minnesota officially recorded 80 mph winds, but the destruction suggested winds reached 100 mph in some areas. This fierce derecho injured 22 people and damaged thousands of homes and businesses.
In July 1999, another bow echo screeched through Minnesota with 100 mph winds. Hitting the Arrowhead region on July 4, the derecho exacted serious damage to 600 acres of forest and caused multiple injuries for unsuspecting people out enjoying the holiday.
In September 2011, a wind speed of 121 mph recorded near Donaldson broke all previous non-tornadic wind records in Minnesota. (Winds this speed are equivalent to a Category 3 hurricane.)
Tornadoes: On June 16, 1992, 27 tornadoes tore through Minnesota, including an F5 twister in Chandler. The National Weather Service estimated the Chandler tornado reached winds speeds of 260 mph.
On June 17, 2010, Minnesota experienced the largest single-day outbreak of tornadoes in its history as 48 twisters ravaged the state. In 2010 alone, 113 tornadoes gouged through the Minnesota countryside.
Wildfires: Minnesota's plush forests present a prime target for wildfires. The Pagami Creek Fire began in August 2011, when lightning sparked a small fire in a bog inside the Boundary Waters Canoe Area Wilderness. On August 26, the situation turned dangerous when humidity levels plummeted to 18%. On September 12, strong winds whipped the still-burning fire into an inferno. The wildfire spread 16 miles in a single day. By October, the fire had scorched 145 square miles of pristine forest.
RHINO Steel Buildings in Minnesota
RHINO Steel Building Systems provide the building benefits Minnesotans need:
• Affordable pricing
• Built-in resistance to fire, lightning, mold, snows, termites, and wind
• Clear span floor space
• Consistent quality
• Much faster construction
• Economical expansion
• Eco-friendly recycled framing
• Enhanced waterproofing
• Extended lifetime
• Fast delivery
• Guaranty to meet or exceed all current Minnesota building codes
• Heavy-duty steel bolt-and-nut connections
• High-grade steel panels in vivid color choices
• Low maintenance
• Pro-Value Insulation which cuts energy bills in half
Learn more about The RHINO Difference in steel buildings in Minnesota. Our structures create wonderful metal barns, churches, commercial buildings, hangars, industrial structures, recreational spaces, riding arenas, storage units, and warehouses.
Speak with a knowledgeable RHINO metal building specialists today at 940.383.9566. Ask for a fast, free quote on one of our Minnesota steel buildings.