A Texas Steel Building Idea as Big as the Lone Star State
Independent Texans have always displayed a streak of innovation. They welcome new ideas wholeheartedly— including developments made of steel— like metal buildings in Texas.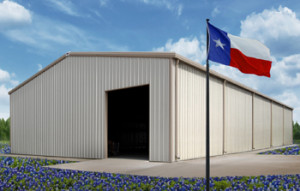 Texans began increasing crop yields with steel plows in the late 1830s, built a steel suspension bridge across the Brazos River as early as 1870, led the charge to prefabricated steel barns following World War II, and pioneered the development of steel self-storage warehouses in the 1960s.
Massive and diverse, Texas embraces beaches, coastal plains, thick piney woods, rugged mountains, lush rolling hills, deserts, and flatlands. Every area presents unique building challenges. RHINO prefabricated steel buildings meet Texas' requirements to a 'T.'
Steel Buildings in Texas
Agriculture Texas farms and ranches cover 130 million acres. (The King Ranch alone covers 825,000 acres.) In fact, 86% of the state's total area is rural.
Yet Texas also boasts three of the top ten largest cities in America— Houston, Dallas, and San Antonio. In fact, one-third of all Texans live in one of those three cities. RHINO services these areas along with all of the rest of the state.
Contact us about southern or northern Texas construction.
Texas leads the nation in cattle, goat, sheep and cotton production. There are also an estimated 600,000 horses in the state.
RHINO prefabricated metal buildings perfectly suit the needs of Texas farmers and ranchers.
Our Texas metal buildings work well for metal barns of any size, as well as livestock barns, equipment storage buildings, hay sheds, stables, and offices.
Strong, durable, and long lasting, RHINO steel buildings in Texas provide built-in resistance to damage from:
High winds
Heavy snows
Termites
Lightning
Mold
Fire
Aging
Metal Buildings for Texas Commercial and Industrial Markets
Known as the "Silicon Valley of the South," Texas is home to an increasing number of high-tech companies. The state also leads the country in the production of gas and oil. In fact, thousands of companies in an ever-expanding list of industries now call Texas their corporate home— including RHINO Steel Building Systems.
RHINO stands ready to fill the low-rise building needs of Texas-based enterprises.
From a gigantic steel warehouse or manufacturing plant, to a convenience store, aircraft hangar, or neighborhood clinic, RHINO brings you the best possible Texas metal buildings at an economical price including:
Pole Barns in Texas
Steel Warehouses for Texas
Steel Industrial Buildings in Texas
Steel Church Buildings for Texas
Texas Steel Aircraft Hangars
Recreational Buildings for Texas
Prefabricated Steel Buildings in Texas
Metal Garages in Texas
Texas Metal Storage Buildings
Texan Indoor Horse Arenas
Commercial Steel Buildings in Texas
Agricultural Steel Buildings for Texan
Metal Barns in Texas
Metal Buildings for Texas Homeowners
Residential buyers also enjoy the easy assembly and no-hassle service of RHINO metal buildings. Texas homeowners find RHINO structures perfect for multi-car garages, workshops, backyard storage buildings, hobby huts, home offices, and other personal structures.
All RHINO metal buildings in Texas are versatile, cost-effective, easy to assemble, and created of environmentally friendly recycled steel. Ask about our Value-Pro Insulation Packages for fantastic energy savings during those sizzling hot, humid Texas summers and cold winters.
Discuss your Texas building project with one of our friendly building specialists today.
Experience The RHINO Difference.
For a free estimate on metal buildings in Texas, call today: 940.383.9566.