Metal Pole Barns and Trends in Farm Buildings
Pre-engineered steel barn buildings still dominate agricultural construction in the U.S. However, in recent years, several other distinct trends have emerged in farm buildings.
Larger Barn Buildings, Wider Doors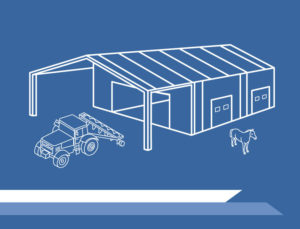 Today's bigger farms employ huge machinery. Consequently, modern farm operations require hefty-sized equipment shelters. And bigger equipment needs extra wide doors.
Only prefab steel farm buildings deliver the size, open space, and ultra-wide doors modern farming demands.
Most farmers now prefer hydraulic-lift doors. They find that sliding doors never seal as well as hydraulic bi-fold or lift doors.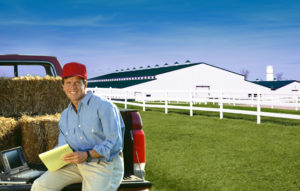 In addition, pull-through barn buildings— with two overhead doors placed on opposite sides of the structure— are also popular today. Pull-through designs increase maneuverability for supersized farm machinery.
Larger doors are no problem with RHINO steel structures. We offer hangar-style hydraulic doors up to 70' wide.
Moreover, RHINO offers insulated or wind-rated doors, too.
RHINO Steel Shade Shelters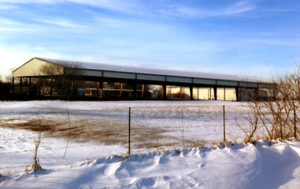 Shade shelters are another trend in farming.
An open-air building is less expensive to buy and build than a fully enclosed structure. Farm buildings without walls allow freer access, too.
There are also compromises between fully enclosed and wall-free designs.
For example, one option is a shelter with only one wall on the side facing the prevailing winds, leaving the other three sides open.
Advantages of Prefab Pole Barn Kits and Farm Buildings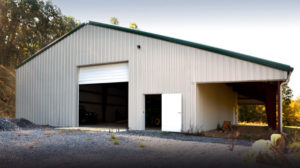 RHINO's commercial-quality metal pole barns and rural structures offer farmers and ranchers fantastic benefits. Our sturdy farm pole buildings are:
Adaptable for slab, perimeter wall, or pier foundations
Affordable to buy, build, and operate
Bird-resistant
Easy to erect, our DIY barn kits save money on construction
Eco-friendly, with a high recycled steel content
Economical to expand
Extremely low maintenance
Long-lasting and durable
Quick to erect, saving time
Resistant to damage from earthquakes, fires, leaks, lightning, mold, rot, rust, strong winds, snow, termites, and gnawing cattle
Roomy and amazingly versatile
Conclusion
No other Ag building system compares to our RHINO-tough metal barn buildings.
RHINO Farm Buildings for Agribusiness Today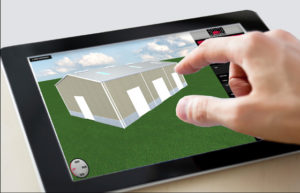 Whether you need steel pole barns, horseback riding arenas, hay sheds, or livestock shelters, RHINO is the answer. We provide the best barn kits and other agricultural buildings at the best possible price.
Call a RHINO steel building specialist today at 940.383.9566.
Ask for detailed information or a quick quote on pole barn kits, shade shelters, general farm buildings, or any other construction project.
Don't forget to try RHINO's online 3D Design Tool to help visualize your ideal rural structure!
(Updated 3-25-2020. Originally published 11-21-2017.)