Eco-Friendly Building in the Cornhuskers State Starts with Steel
Pre-engineered metal buildings in Nebraska stand up to the unique challenges facing cornhuskers.
Nebraska's volatile climate demands structures able to withstand strong winds, occasional earthquakes, blizzards, and violent storms with lightning and tornadoes. Nebraskans demand environmentally friendly buildings. Prefabricated steel buildings satisfy both demands.
Eco-conscious Nebraskans
Nebraskans boast a proud heritage of caring for the environment. Looking out over endless prairies, early settlers in Nebraska longed for the tree-covered valleys and mountains they had left behind.
Arbor Day originated in Nebraska.
Detroit residents Julius Sterling Morton and his wife Caroline (Carrie) moved to the Nebraska territory on their wedding day in 1854. Staunch nature lovers, Morton and his wife quickly planted trees and shrubbery around their home, experimenting with different types to find the trees that grew best in the Nebraskan soil. The Mortons vigorously encouraged others to follow their example.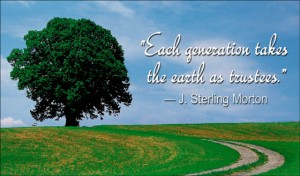 A journalist with printer's ink in his blood (both his uncle and grandfather with publishers), Morton soon became editor of the Nebraska News. Through the newspaper, he continued to promote taming the prairieland by planting trees for soil conservation, fruit, shade, windbreaks, wildlife, and enjoyment.
Morton proposed instituting a united effort for tree planting, to be dubbed Arbor Day. He considered this a "battle against the treeless prairies."
"There is no aristocracy in trees," said Morton in the Omaha Daily Record in 1872. "They are not haughty. They will thrive near the humblest cabin on our fertile prairies, just as well and become just as refreshing to the eye and as fruitful as they will in the shadow of a king's palace."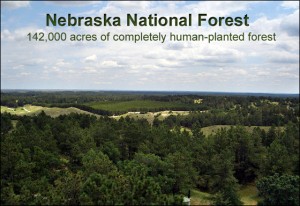 The first Arbor Day, celebrated on April 10, 1872, saw over one million trees planted across Nebraska. The celebration was so popular that Arbor Day became an annual even in Nebraska in 1874.
The Arbor Day idea eventually spread to other states across the U.S., and was even adopted by several foreign countries. Billions of trees have been planted around the world as a result of Arbor Day celebrations.
In 1894, President Grover Cleveland chose Morton for his cabinet, appointing him U.S. Secretary of Agriculture. Morton also served as president of the American Forestry Association.
The Nebraska National Forest itself is the result of human cultivation across previously desolate plains. Covering almost 142,000 acres, it remains the largest human-planted forest in the U.S.
Today the Mortons' home, Arbor Lodge and Arboretum, is a Nebraska State Park. The grounds include 270 varieties of shrubs and trees imported by the Mortons' from all over the world.
The Morton's son Joy, founder of the Morton Salt Company, continued in his parent footsteps as a conservationist. Joy Morton's estate, the Morton Arboretum in Illinois, covers 1,700 acres. Created as a living history museum, the arboretum includes over 4,000 types of trees, shrubs, and other wood-like plants.
Morton's son Paul served as U.S. Secretary of the Navy under President Theodore Roosevelt.
Today the Cornhusker State continues the environmental legacy of the Morton family by developing energy-efficient technologies.
Nebraska ranks fourth in the U.S. as a wind energy resource. Over 500 wind turbines dot the state, generating 300 billion kilowatt-hours of energy.
Building Green with Metal Buildings in Nebraska
Nebraska steel buildings save trees by replacing ordinary wood framing. But that is just the beginning of the environmental advantages of constructing pre-engineered steel buildings in Nebraska.
A 10,000 sq. ft. metal industrial building contains the equivalent of about 30-35 junked cars. Construction a building the same size with wood consumes 10 acres of forest.
A Douglas fir takes 80-125 years to reach maturity. Even fast-growing tree species need 30-35 years to reach harvestable size. A ton of steel requires less than two man-hours to produce.
A single tree absorbs an average of 40 pounds of carbon dioxide each year of its life, while releasing life-giving oxygen into the atmosphere. U.S. forests remove an estimated 1.5 trillion pounds of carbon dioxide annually.
By far the most recycled material on the planet, steel is 100% recyclable. Steel is the only material that can be recycled repeatedly without losing any strength.
Recycling steel reduces greenhouse emissions. Recycling steel reduces mining wastes by 97%, lowers air pollution 86%, and slashes water pollution by 76%.
The steel framing for RHINO metal industrial buildings contains a high amount of recycled steel.
Wood products out-gas, polluting the atmosphere and affecting indoor air quality. Steel does not out-gas.
Wood is organic and feeds mold. Inorganic steel cannot support mold growth.
The constantly changing moisture content in wood causes lumber to warp, split, rot, crack, and creep. Steel framing members start straight and true— and remain that way for the lifetime of the structure.
Steel's superior strength means far fewer pieces are needed to frame a much stronger structure than a wood structure.
In wood framing, 15% or more of the lumber is wasted, left to be discarded. Pre-engineered metal buildings produce little waste, as all the framing is cut-to-length and ready to assemble.
Lumber and engineered wood products require frequent harsh chemical treatments to combat termites and wood ants. Steel is impervious to termites and wood ants.
Buildings consume 73% of all electricity used in the U.S. The deeper wall cavities of metal buildings provide room for thicker, more energy-efficient insulation. RHINO's Pro-Value insulation system slashes a building's energy consumption in half.
Steel buildings last decades longer than wood-framed structures. Consequently, buildings need to be replaced less often, thereby further conserving resources.
When steel buildings reach the end of their usefulness, the framing is sold for scrap, to be recycled again as new steel. Wood framing, on the other hand, general ends up further crowding overloaded landfills.
Steel buildings in Nebraska meet the needs of any low-rise structure for commercial or industrial use. RHINO steel buildings make excellent aircraft hangars, metal barns and hay sheds, churches, commercial buildings, offices, restaurants, storage buildings, warehouses, and personal storage structures.
A premiere steel building company, RHINO steel framing meets or exceeds all loads and codes for which the building is designed for the lifetime of the structure— guaranteed.
Learn more constructing RHINO metal buildings in Nebraska. Call 940.383.9566 today for design assistance, construction tips, a free quote, or further information.