Part 7: Pre-engineered Metal Barns: The Clear Winner
This installment of our eight-part series summarizes part of the reasons RHINO steel barns outperform wood pole barns.
A Feature-by-Feature Comparison of Steel Barns vs. Pole Barns
1. Wood rots, warps, twists, creeps, and splits over time.  The steel framing in metal barns will never rot, warp, twist, creep, or split.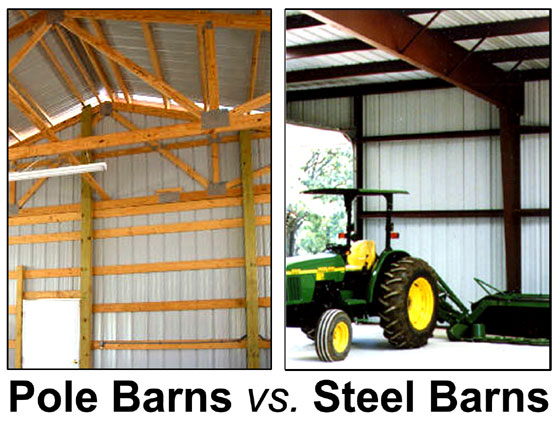 2. Wood pole barns typically need expensive straightening every five to ten years. Pre-engineered steel barns go up straight and stay plumb for the lifetime of the structure.
3. Wood attracts termites. One shows up to test out the wood buffet, then invites several thousand of his closest friends for lunch. No termite makes a meal of steel.
4. Pole barn posts may be pressure treated to reduce rotting and termite damage; however, the chemicals used in treatment can be poisonous to livestock or animals. Prefab steel barns never need treatments with harsh chemicals and are perfectly safe for livestock.
5. Wood trusses common in pole barns provide an open invitation for birds and squirrels to perch and build nests. Disease-ridden bird feces can splatter on anything— or anyone— in the pole barn without warning. Pre-engineered metal barns have no trusses. In a steel barn or building, there is no place for birds to rest or nest.
6. Wood encourages mold. Inorganic steel does not mold.
7. Wood is inconsistent. Lumber varies, depending on the characteristics of the tree from which it is harvested. Man-made steel is reliable. Manufactured to exacting tolerances, each framing component is consistent and verifiable.
8. Most wood pole barn kits have a maximum width of 32'-40'. RHINO's prefab steel barn kits can span widths up to 150' without any interior columns. Clear span widths up to 200' are possible with a RHINO custom order. With a few interior load-bearing columns, RHINO prefab metal barns up to 400' wide are available as a standard design. Widths up to 480' are possible with a custom design.
9. Pole barns are usually limited to 20' or less in height. Steel barns and other structures may tower 40' in height on a standard order. (Even taller structures are possible with RHINO custom orders.)
10. Pole barn posts are normally spaced 10' on center. Since steel is a stronger building material than wood, pre-engineered metals barns space columns 20'-25' on center. Less material may mean less shipping costs for a steel barn. Fewer framing pieces mean faster construction time, too.
11. Pole barns cannot accommodate large door openings. That is a problem for farmers needing to shelter large equipment life combines. Since steel is so much stronger than wood, much larger door openings are possible in a metal barn. RHINO can create any size doorway required. Sliding doors are optional and overhead doors from 24' 70' wide are also available. Insulated doors are optional. Overhead doors can be certified for wind resistance, too.
12. The framing is the third most likely place in a wood structure to be the starting place of a structural fire. Regardless of where the fire begins, wood framing serves as fuel for a building fire. Steel is fire-resistant. The steel framing in a metal barn is not the source of initial ignition— nor will steel add fuel to a structural fire.
13. Wood framing, for structures like pole barns, can ignite when lightning strikes the structure. Lightning current flows harmlessly into the ground of a well-grounded steel barn or building.
14. Since wood pole barns deteriorate quickly and are more likely to burn, insurance is expensive. Steel barns save 30% or more on insurance rates.
15. Pole barns and other wood structures assemble with nails and staples. These fasteners work out of the framing over time. Pre-engineered metal barns and steel buildings are connected with heavy-duty steel bolts, nuts, and self-drilling screws, for long-lasting and stable connections.
Clearly, a pole barn is a poor long-term investment. For the best deal in metal barns and buildings, choose RHINO steel buildings.
Test our metal. Call RHINO today at 940.383.9566.
Related Blogs: