Understanding the Differences in Barn Buildings
The term "pole barns" is sometimes misused, causing confusion when trying to find the right product. People who ask about pole barns may actually be envisioning pre-engineered metal building barns and simply using an incorrect term.
To determine which structure will better fit your needs, let's look at the differences between a traditional pole barn and a RHINO pre-engineered metal barn.
What are Pole Barns?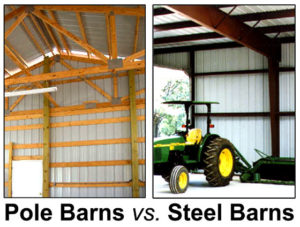 A pole barn uses wood beams or "poles" buried in the ground as the main support structure for the outer walls and roof trusses.
Most pole barn kits include all wood poles as the support beams and a metal shell for the outer walls.
Sometimes a concrete foundation is added to a pole barn (especially for a pole barn home), but many will have a simple dirt floor.
What is a RHINO Prefab Metal Barn?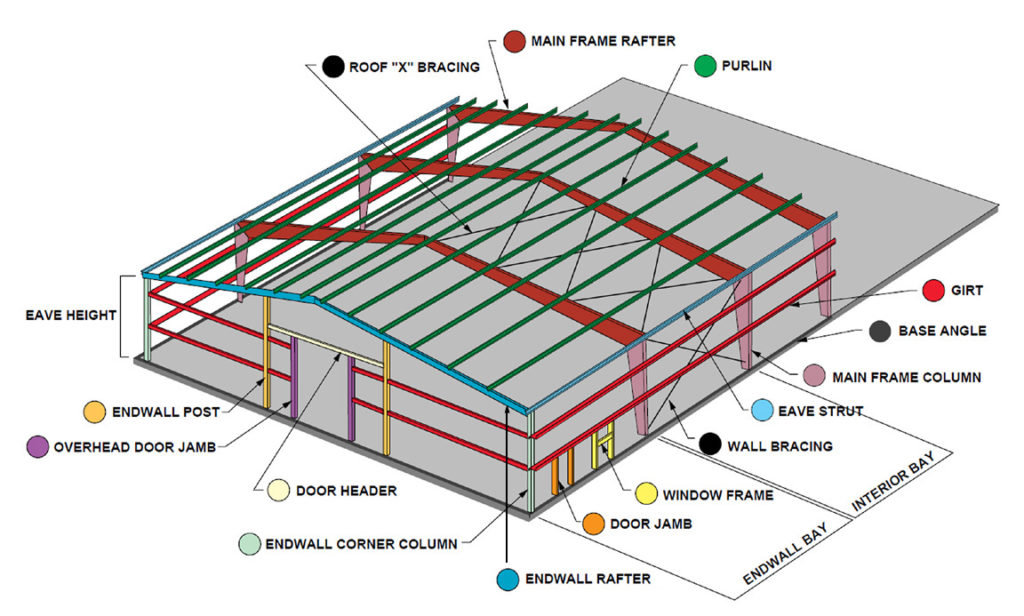 You construct a RHINO rigid-frame steel barn building by attaching steel columns to steel rafter beams to create a single "frame."  Frames are attached to the foundation every 20' or 25'. The space between two frames is called a "bay."
Steel "girts" connect the steel frames across the bay.  "Purlins" join the roof rafters.
Self-drilling screws attach the exterior sheathing of a RHINO metal barn kit to the girts and purlins.
Many people often mistakenly call these metal barn kits "metal pole barns."
What Makes a RHINO Metal Barn Building Better than a Pole Barn?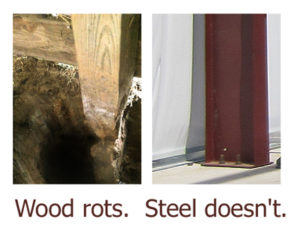 RHINO steel buildings are different from pole barns in that the structure is made entirely of prefabricated steel components, right down to the support beams.
Consequently, a RHINO steel building offers you the following benefits when compared to wooden structures:
ROT: Metal post frame buildings will not rot and deteriorate; wood does.
FIRE:  Steel is noncombustible and cannot add fuel to a fire.
On the other hand, wood framing easily ignites.  Once a structural fire ignites, wood framing simply adds fuel to the fire.
TERMITES:  A RHINO steel barn building is termite-resistant and mold resistant; wood is not.
CLEAR SPAN:  RHINO metal pole buildings can span up to 300' without needing interior load-bearing columns or walls.
Clear span options are extremely limited with a pole barn.
HIGH STRENGTH CONNECTIONS:  RHINO's prefab steel buildings connect framing pieces with high-strength bolts and screws that hold tight, keeping the building straight, strong and leak-free.
Nails and staples join wood framing pieces.  Unfortunately, nails and staples loosen and pull out over time as the wood contracts and expands with its ever-changing moisture content.  The constant expansion and contraction causes the framing to shift, warp, sag, and creep over time. (It also causes damaging water leaks.)
CONSISTENCY:  Manufacturers create inorganic steel members to be straight, uniform, and consistent.
Organic wood poles and beams are inconsistent.  By wood's very nature, all lumber varies in strength, quality, and performance.  Moreover, wood poles continue changing even after completion of the building.
Stronger Sheathing for a Stronger Barn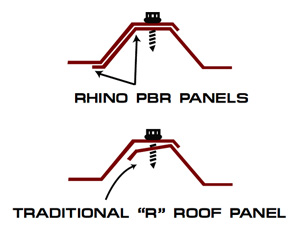 RHINO uses 26-gauge steel wall and roof panels for its standard steel building packages.
Most pole barns use thinner 29-gauge sheeting, which is about 30% lighter by weight.
Attaching metal panels to the wood poles also increases the likelihood of rust, so you may need to replace the panels periodically.
In addition, the corrugation shape on RHINO's PBR steel panels is 1-1/4" deep, compared to the 5/8" deep corrugation typical on pole barn sheathing. Remember: the deeper the corrugation, the stronger the panel.
For increased strength, PBR steel sheathing also overlaps farther than typical pole barn sheathing.
What other Advantages do RHINO Metal Barn Kits offer over Pole Barns?
There are other differences between pole barns and steel buildings. RHINO prefab steel pole barns provide these additional advantages:
KIT PIECES:  Our prefabricated building kits have all parts marked for easy identification and framing erection. Your RHINO kit arrives at your job site ready to assemble.
However, in most pole barn packages, the pieces are neither sorted nor marked, which may cause confusion and delays.
INSURANCE SAVINGS: Steel buildings usually enjoy insurance savings over wood structures—sometimes as much as 30% or more.
PERMITTING:  RHINO buildings come complete with three sets of engineer-stamped plans and a Letter of Certification, which makes obtaining building permits quick and easy.
Unfortunately, pole barns may come without professional plans or documentation, making permitting difficult— or even impossible in some stricter locales.
LIGHTNING:  A properly grounded steel building is far less likely to be damaged by lightning than a wood structure.
RAFTERS:  Unlike RHINO's rafters in metal barn kits, wood barns have trusses.  Wooden trusses not only take up building space, but also create a perfect place for birds to roost and nest.  Who needs birds spreading their droppings in the building's contents, depositing the possibility of avian flu?
ECO-FRIENDLY:  Steel is the most recycled material on the planet. Unlike wood, steel can be recycled over and over without losing any of its inherent strength.
Chemically-treated wood often cannot be recycled.  Treated wood also leaches dangerous chemicals into the ground when dumped into landfills.
In fact, copper sulfate pressure-treated wood is considered unsafe for livestock.
Long-time Benefits of a Steel Barn Building over a Pole Barn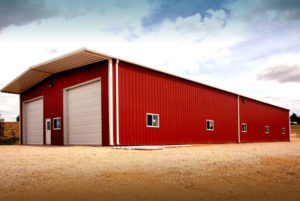 Consider these additional long-term benefits a RHINO pre-engineered steel barn provides over a wood pole barn:
Did you know many property estimators do not consider a pole barn to be a permanent structure? At best, pole barns may only last 15-20 years with expensive maintenance.
A RHINO steel building will last decades longer than a pole barn. Our framing is guaranteed to meet or exceed all local building codes for the lifetime of the structure.
Furthermore, a steel building increases the value of your property.
In addition, steel buildings are practically maintenance free.
Wood pole barns are maintenance intensive. The wooden poles are buried deep in the ground, which means they will shift and eventually decay. As the foundation poles shift, a pole barn may have to be straightened every five to seven years, a process that can cost several thousand dollars.
Conclusion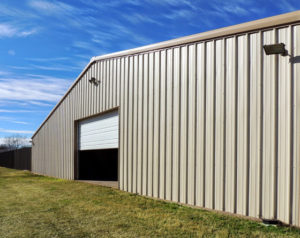 Clearly, RHINO's premium steel buildings are a better value than old-fashioned pole barns.
Call RHINO today at 940.383.9566 for more information and a fast, free quote for your steel barn or other building project.