Eliminating the #1 Enemy of Steel Buildings: Corrosion
Rust on metal buildings starts small.  However, if not squelched immediately, insidious rust spreads.  Corrosion compromises structural integrity, reduces lifespan, and devalues your metal building.
Steel Buildings and the "Man of Steel"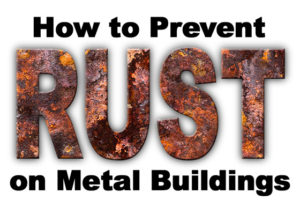 Steel is always associated with incredible strength.  That's why Superman is also known as the "Man of Steel."  However, even Superman had one great weakness: kryptonite.
Like Superman, steel— the hero of building materials— also has one great vulnerability: rust.
Steel stands strong in the face of howling winds, raging storms, and the ravages of time itself.  It valiantly fights the foes of fire, mold, and termites that defeat wood structures.
Yet, as Lux Luther lurks around every corner looking for a way to hinder Superman, rust also lies in wait seeking any opportunity to thwart steel.
The Dangers of Rust on Metal Buildings
Left unchecked, rust causes serious problems like these:
Rusty, crusty spots that deface and devalue the structure
Leaks, which lead to soggy insulation and dampened building contents
Health problems, like interior contents molding and even dangerous tetanus spores
Eventually, weakened structural stability
The best way to avoid rust on metal buildings is to purchase a high-quality building with built-in rust resistant features.
RHINO's Rust-Busting Qualities
Do you want a well-built, corrosion-resistant structure that holds its value decade after decade?  Then you want a RHINO metal building.
RHINO prevents corrosion on steel in four ways.
Better Fasteners:  Cheap fasteners promote rust on metal buildings.  That is why RHINO provides only top-of-the-line rustproof screws.  Our aluminum self-drilling screws feature a cast zinc head that carries a lifetime guaranty against red rust corrosion.
Moreover, each screw includes a high-grade washer made of ethylene propylene diene monomer (EPDM) synthetic rubber.  EPDM washers seal away heat, cold, and moisture extremely well.  Also, EPDM washers carry extra protection from ozone and ultraviolet way deterioration.
Better Base:  The bottom of the exterior steel paneling is another rust-prone area.
Cheaply made metal buildings allow the steel panels to rest in a small depression formed in the foundation.  Water collects in the depression, leeching into the edge of the steel paneling. Corrosion soon follows which can lead to rusted steel panels.
RHINO fights rust on metal buildings by providing formed-base trim with all its orders.  This trim allows the steel panel to extend just past the foundation edge.  Consequently, the steel panel never stands in water— and water never leaks onto the foundation.
Better Coatings:  Unprotected steel panels rust easily.  However, RHINO avoids using cheaply made steel panels.  Our 26-gauge PBR panels provide greater overlap for stronger protection.
In addition, these corrosion-resistant Galvalume® panels carry an extra coating of dense paint.  That double-layered protection comes with a 30-year warranty.
As a further shield, rust-resistant paint covers all RHINO's primary framing components.  Applied at the factory, this red-oxide paint guards the steel from the ravages of rust.
Opening Trim:  Red-iron jambs and headers on a steel building opening lie naked and exposed to the elements without trim. Opening trim supplies a protective covering for the steel framing, while complementing the structure.
Unlike many metal building companies, all RHINO kits contain matching opening trim at no extra cost.
RHINO Rust-Busting Qualities
RHINO steel buildings provide years of trouble-free service at a surprisingly affordable price.  Advances in metal building design, engineering, and manufacturing allow us to create prefabricated metal buildings quickly and economically.
Want to know more?  Then call a RHINO steel building specialist now about your upcoming building project at 940.383.9566.  Ask for a free estimate and specific details about the RHINO Difference in metal building systems.