What are the Pros and Cons of PBR Panels on Metal Buildings?
You have probably heard the term "PBR steel panels"— but what does PBR mean?  And what are the advantages and disadvantages of using PBR panels on a metal building?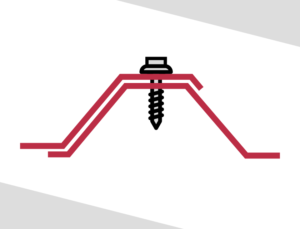 Steel panels create the "skin" or exterior of most RHINO brand steel buildings.  Panels cover both the roof and the walls of basic pre-engineered steel buildings.
The high-tensile-strength steel panels of today's steel buildings replace the old corrugated tin exteriors of yesteryear.  Colorful, durable, and sturdy, today's steel panels perform far better and far longer than ever before.
What is a PBR Panel?
"PBR" stands for "Purlin Bearing Rib" panels.
On a prefabricated metal building, steel components called "purlins" attach across the rafters.  The PBR panels fasten to the purlins to create the roof of the structure.  On the sides of the structure, PBR panels connect to the steel "girts" that run across the steel columns.
PBR panels are formed with deep trapezoid-shaped "ribs."  Smaller ribs fashioned between the deeper ribs provide added strength without adding weight to the panels.  Consequently, PBR steel panels are very economical.  In addition, the ribs increase visual appeal, creating even-spaced shadows over the structure.
High-quality rust-resistant screws with weather-resistant washers connect PBR steel panels on RHINO metal buildings.
RHINO's PBR panels contain two layers of protective coating.  The first layer is corrosive-resistant Galvalume®.  The second layer is a baked-on color, available in a rainbow of vibrant colors, with a 30-warranty.
What Makes PBR Steel Panels the Better Choice?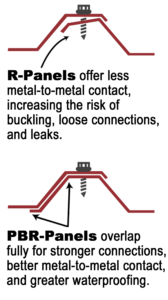 Two basic types of steel panels dominate the metal building market today: PBR panels and R-panels.  PBR panels deliver these strong advantages over R-panels:
RHINO's PBR panels are 26-gauge steel, while R-panels are formed with thinner 29-gauge steel.
The 1-1/4" rib height of a RHINO ribbed steel siding greatly increases strength over the shallow 5/8"-deep rib of an R-panel.
By design, RHINO's PBR steel panels overlap more between panels than cheap R-panels.  Greater overlap equals a stronger joining; shorter overlap produces a much weaker connection.
A person walking on the roof will not crush the stronger PBR panel.  However, weaker R-panels may crimp or buckle under a worker's weight.
The deeper metal-to-metal contact of PBR panels increases waterproofing.  The weaker connection of R-panels increases the likelihood of leaks— especially in wind-driven rainstorms.  Leaks penetrating the roof can soak insulation, causing a soggy mess.
What are the Other Exterior Options?
RHINO includes ribbed steel siding at no additional cost on a standard steel building order. (Other metal building companies often price their buildings with R-panels, offering PBR panels only at an "upgrade" price.)
RHINO offers optional 24-gauge standing seam steel roofing for those who prefer not to have screws penetrating the roof panels.
Energy-saving cool-coated panels, covered with a special light-reflective coating, save on utilities in warmer climates.  Coastal areas, where salt spray permeates the air, require panels coated with a special Kynar® corrosive-resistant coating.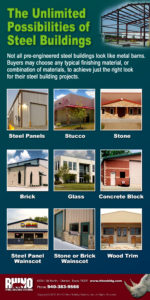 Keep in mind that steel panels are not the only exterior choice for prefab steel buildings.  Adorn your RHINO steel building with ribbed steel siding, brick, stone, stucco, glass, Hardie® board, wood, or any other standard exterior building material.
Do You have any Questions about RHINO Steel Buildings?
Our expert RHINO steel building specialists are available to answer questions about our PR steel panels— or any other inquiries about our building products.
Speak to a RHINO specialist today at 940.383.9566.  We will gladly supply you with answers to your questions, expert tips on your building project, and free quotes.
Download a free RHINO brochure for additional information.