The Sweet Smell of Success Found in Donut and Coffee Shops
Steel-framed buildings make ideal bakeries, donut shops, and coffee shops. And there is no better time to cash in on a snack business than today. Sales are high and the profit margin plump in sweet and coffee shops.
A Quick Look at the Snack Market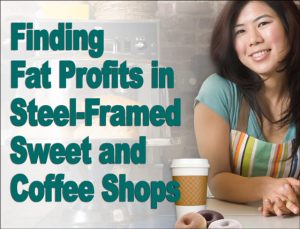 While Americans say they care about eating healthier, the numbers refute the claims. The sales of coffee and bakery goodies continue to soar. It is just too tempting to grab a quick cup of java and a donut on the run.
While requests for sugar-free and gluten-free goodies are on the rise, Americans still overwhelmingly choose to indulge their cravings for sugary sweets. Consequently, coffee and snack shops really rake in the dough. Look at the scope of the industry:
Last year in the U.S., coffeehouses and sweet shops generated $33.5 billion in sales.
36 million Americans visit a coffeehouse each month.
70% of U.S. adult consumers drink at least two cups of coffee per day.
The mark-up on coffee is much higher than on most food items— coffee prices in sweet shops are often four to five times the cost of actually producing the drink.
According to last year's statistics, specialty coffees are experiencing especially high growth.
The 6,000-plus retail bakeries in the U.S. bring in revenues nearing $4 billion annually.
Americans consume 1.8 billion donuts every year. Fancy donuts and pastries bring in even higher profits.
Donuts are one of the most profitable foods in the market today, second only to potatoes.
Why Steel-Framed Buildings Make the Best Snack Shops
Since rent is usually the largest portion of a snack shop's expenses, constructing your own building in a great location provides a viable option. Why pay rent when your shop can be an asset? Steel-framed buildings offer distinct money-saving advantages for a snack or bakery owner, including:
Low cost-per-square foot
Fast, affordable construction
Built-in fire resistance
Terrific energy savings with top-grade insulation products
Unencumbered interiors for efficient layout
Quick and easy expansion
Extremely low maintenance
Great resale value
Lower insurance rates
Take Your Bite Out of the Snack Industry
Before you build a café, donut shop, bakery, or coffee shop, call RHINO Steel Buildings. No other building system offers your business the quality and features of our pre-engineered steel-framed buildings.
Call RHINO today. Ask for a quote on your snack shop plans or other upcoming construction projects. Find out more about the steel-framed building system that stands out from the common herd. Speak to a RHINO metal building specialist at 940.383.9566.