Why Metal Buildings are the Best RV Protection
Are you planning on building RV storage for yourself or for your self-storage business?  Consider ordering a pre-engineered steel structure. Metal RV storage buildings from RHINO deliver the strongest, most durable structures at the best price.
Boats, Campers, and Motor Homes Galore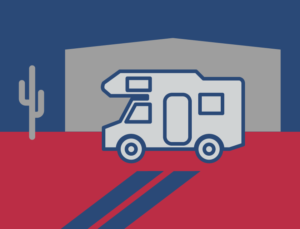 Did you know that 75 million people in the U.S. go camping every year?  That is an incredible 61% of all U.S. households.
In fact, over eight million American households now own an RV.  And that number is growing.  Industry experts predict RV sales to top half a million dollars next year.
Over 140 million Americans also go boating each year.  Current estimates say over twelve million boats are registered in the U.S.
But where do people store those camping trailers, fifth wheels, motor homes, and boats between excursions?
Vessels and RVs represent a sizable investment.  In fact, some luxury motor homes now top one million dollars!  Consequently, these babies deserve the utmost in protection.
However, with new home lots shrinking and RVs expanding in size, storage presents a challenge.  Moreover, many neighborhoods restrict residents from parking curbside.  And sitting on the street is not the safest place for high-priced travel toys anyway.
Steel Building RV Storage for Self-Storage Facilities
Successful storage rental facilities see an opportunity in this RV predicament.  In many locations, self-storage businesses find RV and boat owners eager to rent space in premium storage facilities.
Boat and RV owners flock to facilities with the following advantages:
A convenient location: sites close to home or near favorite lakes or national parks
Great security: well-lit facilities with high fences, controlled entrance gates, and video monitoring
Safe, sturdy storage units: strong, durable structures able withstand local weather extremes
Easy access: ample room to maneuver those large and cumbersome camp trailers, motor homes, and boats safely
Handy amenities: dump stations, wash bays, electrical hookups, online payments, propane gas sales, and detailing services
RV and Boat Storage at Home
If your home has ample space— and no neighborhood restrictions— consider building your own steel RV or boat garage.
A prefab metal building provides the ultimate defense for your recreational investment.  It keeps your boat or RV nearby, eliminates renting storage space, and increases your property value.
Homeowners might also consider adding space for a game room, shop, man cave, or guest room and bath.
But where do you go for the best RV storage structure?  Go to RHINO.
RHINO-Tough RV Storage Structures
There are no limitations on a RHINO storage design.  Choose from a completely enclosed structure, a "manger" style building with only three walls, or a roof-only shelter.
RHINO metal buildings offer the same great benefits to storage business owners and homeowners: ultra-strong buildings at an affordable price.
Just look at the RHINO advantages for building RV storage structures:
A commercial-grade steel building system
Durable structure that holds its value decade after decade
Virtually no maintenance
Numerous rust-deterrent and waterproofing features
Fast, bolt-up construction with ready to assemble parts
Built-in resistance to damage from fire, rot, wind, snow, lightning, earthquakes, birds and termites
No size limitations
Shipping from the nearest factory for lower freight costs
Every order custom created to the buyer's specifications and their local building codes
Insulation packages for climate-controlled structures
Optional wind-resistant overhead doors, gutters, skylights, mezzanine floors and more available from RHINO
Discover the RHINO Difference in RV garages and storage buildings.  Just call RHINO now at 940.383.9566.  Our highly trained and courteous metal building specialists are here to assist you through every phase of the design and ordering process.
Let's get started on building RV storage for you today!