Part 1— Why the Sky's the Limit for the Mini-Warehouses
Self-storage may be the best-kept secret in real estate investments.
Exceedingly profitable, mini-warehouse operations rake in one of the highest returns on investment of any real estate venture. In fact, the self-storage industry represents one of the fastest growing commercial real estate sectors for the last 40 years.
Scope of the Self-Storage Market
Currently, one in ten Americans rents mini-warehouse units.
Industry experts place total number of these storage facilities in the U.S. at approximately 54,000. Shockingly, that is more locations than McDonald's and Starbucks U.S. operations combined!
The market currently supplies 2.6 billion sq. ft. of space for rent. On average, 90% of available space is occupied.
Publicly traded corporations, including Public Storage, Cube-Smart, U-Haul and other industry giants, bring in revenues nearing $5 billion annually. Yet surprisingly, independent operators own 90% of the storage businesses in the U.S.
Total U.S. storage facility sales should top $30 billion this year.
The Future of Self-Storage
Experts project sales to reach $32.6 billion in the next two years. Predictors say the number of American self-storage facilities will push above 60,000 by 2020.
But what self-storage trends drive the continued success of the market?
Greed.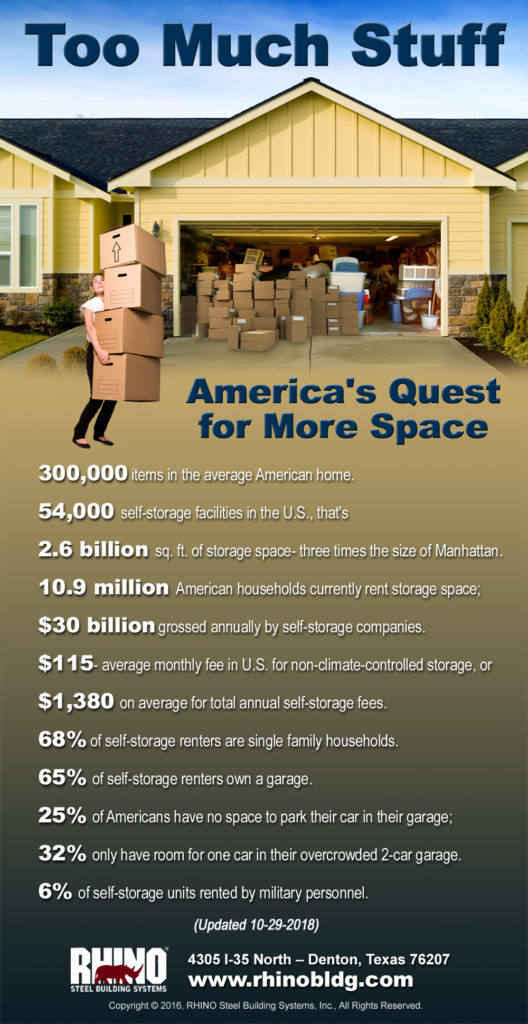 We are a people consumed with wanting more. Americans amass more and more "stuff" than we can adequately store at home. Reluctant to part with our overload of accumulations, we flock to min-warehouses. That way we can clean out the clutter and still hang on to the stuff.
We also need to stow cumbersome vehicles like RVs and boats. Over 18% of self-storage operations offer safe spaces to park our recreational "toys," getting them off our lawns and driveways.
In addition, 11% of Americans move each year. Temporary storage during a move keeps these facilities busy.
However, "temporary" is in the mind of the renter.
Many people squirrel away their unnecessary belongings far longer than they originally intended. More than 30% of storage unit renters keep their units for two years or more.
RHINO Steel Self-Storage Buildings
Now is the time to cash in on the highly profitable self-storage business.
Steel frames the vast majority of self-storage facilities. Owners find pre-engineered metal buildings cost less, erect faster, last longer, and need less maintenance than other building systems.
To learn more about prefabricated steel buildings, talk to a metal building specialist at RHINO Steel Building Systems. Call us at 940.383.9566 for information, quotes, and money-saving tips on building your own mini-warehouse operation.