Why Financial Institutions Choose Steel Bank Buildings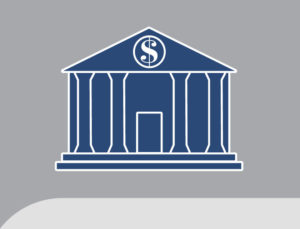 Many financial institutions bank on steel prefab buildings for protection.  Whether the building is for the main bank or one of the smaller neighborhood banks, financial institutions rely on the strength, durability, and security of a prefabricated building framed with steel.
Building a Bank for the Federal Reserve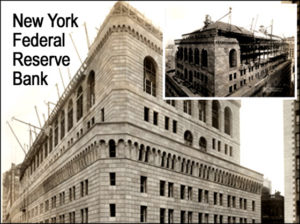 Using steel structures for bank buildings is nothing new.
In fact, the New York Federal Reserve Bank chose steel to frame its bank in Manhattan in 1921— and it was a beauty!
The basement containing the vault system reaches 50 feet below sea level. The vault's nine-foot-wide steel door weighs 90 tons!
Builders completed the steel framework by the end of 1922.  When it opened in 1924, the New York Federal Reserve Bank was the largest bank structure in the world.
Today that bank contains almost 25% of the world's gold supply.
Why So Many Banks Depend on a Steel Prefab Building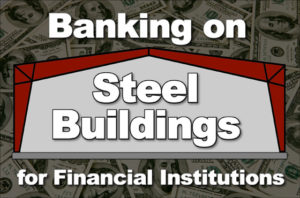 One hundred years later, banking institutions still follow in the footsteps of the New York Federal Reserve Bank by designing steel bank buildings.
So what is the appeal of building a bank with a steel prefab building?
Security is everything in the banking business.  Their structure, like their business, must inspire trust in their customers.  People have to feel their money is safe, or they will take their business elsewhere.
Building a bank with a steel prefabricated building offers these advantages:
Faster turnaround for quicker opening
An economical cost-per-square-foot
Lower operating costs and maintenance
Total exterior design freedom
Extra protection from snow, wind, and earthquakes
Open, clear span interiors
Building longevity
Types of Neighborhood Banks and Other Financial Institutions
Today, many different financial organizations build their structures with a steel prefab building, including:
Brokerage Firms
Commercial Banks
Credit Unions
Finance Companies
Insurance Companies
Investment Banks
Mortgage Companies
Savings and Loans
Venture Capital Companies
Conclusion: You Can Bank on a RHINO Steel Prefabricated Building
Whatever your low-rise building needs, you can count on RHINO Steel Buildings.  Bank on RHINO to supply your financial institution or other commercial enterprise with the strongest structure at the best price.
Please call RHINO today, at 940.383.9566 for more information and for fast, free estimates on your next building project.
 (Updated 9-16-2020.  Originally published 7-10-2018.)