The Super-Sizing of U.S. Farming
BIG defines the agricultural building trends today. Farms are bigger and so are tractors and other farming equipment, creating an increased need for bigger farm buildings.
In 1790, farmers made up 90% of the U.S. labor force. Farming required backbreaking work, plowing fields with crude wooden plows pulled by horses or oxen. Three hundred man-hours were needed to produce 100 bushels of wheat.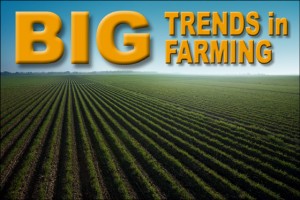 By the mid-1800s, innovations in farming— like the steel plow— allowed farmers to produce greater yield in fewer hours. A farmer could raise and reap 100 bushels of wheat in about 90 man-hours. Farming employed 69% of the American labor force. The average farm size at this time was roughly 200 acres.
The efficiency of today's agricultural professionals— and their massive tractors and equipment— allow farming operations on a much larger scale. The average U.S. farm size today is over 1,100 acres.
Today farmers comprise only 1% of the American workforce. High-tech agriculture techniques, satellite crop planning, and massive state-of-the art tractors and farming equipment have increased production. Modern farmers grow and harvest 100 bushels of wheat in less than three man-hours.
Huge Farms Push the Need for Super-Sized Farm Buildings
The super-sized farms of today demand super-sized tractors and equipment. That equipment comes with a shocking price tag. Combines, for example, may cost over $500,000.
The high cost of modern high-tech agribusiness equipment makes caring for that equipment essential. Consequently, modern farms require massive farm buildings to protect costly, and sometimes ungainly, super-sized agricultural equipment.
The latest agricultural building trends are:
• Bigger barns and other farm structures
• Wider doors on all farm structures
• More roof-only structures
• Increased use of steel buildings
Farmers now demand clear span, large agricultural buildings with easy entry and egress. Sprawling roof-only buildings like shade-structures have increased in popularity. The sales of partially walled farm buildings and open-air structures are also on the rise for both farm and ranching businesses.
Enormous mechanical doors, like those used on aircraft hangars, also appeal to owners of large farm operations. Bi-fold doors and single-panel hydraulic overhead doors now top many farmers' must-have lists. Some even choose super-sized doors on both sides of enclosed structures for simpler drive-through efficiency.
Farmers and ranchers increasingly choose steel barns and outbuildings for their needs. Pre-engineered steel buildings outperform and outlast old-fashioned pole barns and wood-framed buildings.
Steel agricultural buildings span farther, stand taller, withstand weather extremes better, and hold their value longer than any other building system.
(See part 2 in this series for the "21 Benefits of Steel Agricultural Buildings.")
Call RHINO today at 940.383.9566. We will happily answer all your questions and give you a fast, friendly, and free quote for the steel barn or metal agricultural building of your dreams.