Extraordinary-Width Doors for Aircraft and Large Access Equipment
Aircraft demand mega-wide hangar doors for building entrances. RHINO steel buildings can accommodate any aircraft or vehicle with hangar-style doors in a variety of styles.
Aircraft Hangars Built with Steel
From helicopters to jumbo jets, aviation relies on steel-framed hangars almost exclusively.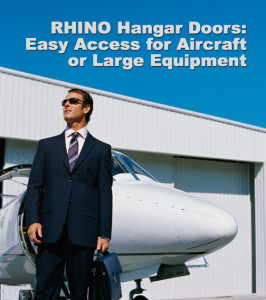 Why? Steel is the only sensible choice for hangars.
Only steel provides the obstruction-free space required by aircraft. RHINO steel buildings easily span 200 feet or more without any interior columns. Building length is unlimited— and easily expanded later.
Large-scale agriculture buildings also need steel-framed clear span structures to protect massive farm equipment.
Both aircraft and large-scale farm equipment represent huge investments. Protecting those investments in the strongest structure possible is the only prudent and responsible choice.
Steel hangars and equipment buildings provide the ultimate in protection, maneuverability— and affordability.
Design Begins with Hangar Doors
When choosing an equipment building or hangar, the hangar garage door is the best place to start. Focus first on the size of the aircraft or vehicle to be sheltered in the structure.
Remember to keep in mind not only current objects, but future aircraft or vehicles as well. For example, if you are planning to house your company's corporate jet, consider any possibilities for housing additional aircraft later on— or plans for purchasing a larger jet later.
Keep in mind not only the width of the aircraft, but also allow ample clearance for the tail.
Pavement surrounding the hangar will slope away from the building to allow adequate drainage. When exiting the hangar, the tail of the aircraft will rise as the nose of the plane descends the slope. Be sure to allow adequate room for that change in the height.
Choosing Placement of Hangar Doors
Like overhead doors and other openings, hangar garage doors may be placed in the sidewall or end wall of a pre-engineered steel building.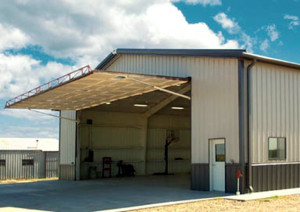 Placing a hangar door in an end wall requires less steel. Consequently, it is usually less expensive to install hangar doors in end walls.
Choosing the Type of Hangar Door
At RHINO, our two most popular hangar garage doors are 45-foot wide and 60-foot wide bifold doors with hydraulic lifts. Even larger doors are available. We also offer sliding and vertical lift hangar doors. Customers may choose from manual, electric, or hydraulic lift systems.
One-piece lift doors provide an additional canopy space for aircraft when in the raised position. Bifold doors lift quickly and quietly with the simple push of a button.
All hangar garage doors are heavy-duty, commercial-grade construction. Like the steel building itself, hangar doors are designed to operate for decades with very little maintenance.
All RHINO doors can be insulated and installed to create a weather-tight seal around the door opening. Wind-rated hangar doors are available for additional protection where needed.
Work with the Professionals at RHINO
A RHINO steel building specialist will assist you in every step in planning your hangar or large-equipment building, including the choice of hangar doors.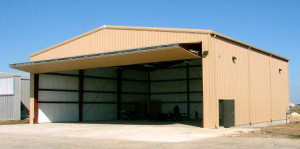 RHINO earns an A+ rating with the Better Business Bureau. We know the steel building business. All our experts have at least a decade of steel building experience.
Please call RHINO to discuss hangar garage doors or your next building project. RHINO: 940.383.9566.
Related blogs:
"Choosing Overhead Doors for Steel Buildings"