METAL BUILDING PANELS, CANOPIES, GUTTERS AND VENTS
RHINO offers multiple steel building exterior options so you can choose what works specifically for you.
RHINO Metal Building Wall Panel Options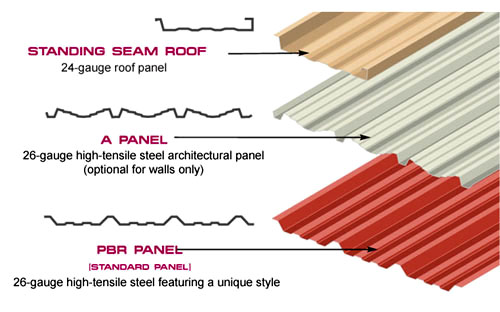 Many steel building suppliers provide ordinary "R" metal building panels. These have a short overlap, which produces less metal-to-metal contact— and a weaker connection.
However, RHINO's standard metal building wall panels are 26-gauge, high-tensile steel Purlin Bearing Rib (PBR) panels.
PBR steel building wall panels are incredibly durable. 
PBR panels overlap much farther than "R" panels for increased strength and water resistance.
RHINO's standard steel building panels are coated with Galvalume®, which provides weather protection.  Our Galvalume® panels include a 30-year warranty. You may choose from eight vibrant Galvalume® coated colors.
Choose RHINO for the strongest, most water resistant metal building wall panels in the industry.
Standing Seam Roof Panels
In addition to our sturdy PBR panels, RHINO also offers optional 24-gauge steel standing seam roof panels.
Metal standing seam roof panels provide advantages many buyers prefer, including:
Greater strength
No exposed screw heads for greater leak resistance
Better shedding of rain, snow, and ice
Fewer ice dam problems in snow country
Cool-Coated Metal Building Panels
Another steel building wall panel option is our cool-coated panels.
These reflective steel panels are ideal for anyone who wants to save on energy bills in hotter climates. These panels reflect 40-50% of the heat away from the building, keeping the interior cooler and saving 7-15% on cooling bills.
Cool-coated panels are the most efficient steel panels for buildings. 
In addition, cool-coated exterior panels come with a choice of 16 roof panel colors and 12 wall panel colors.
Canopy Configurations
RHINO offers near endless customization options, including canopy configurations that can change the profile of your roofline.
Utilizing canopy configurations is a great way to make your metal building design uniquely suit your needs.
For example, add 2'-10' canopies to your sidewalls with soffit or 3'-10' canopies overhangs at your building's end walls.
Door canopy kits are available to fit 30", 40", and 60" wide door openings.
Gutters for Metal Building Exteriors
Gutters and downspouts are a practical addition to any RHINO building.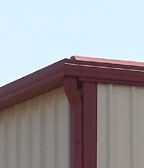 In fact, over 60% of RHINO customers include our high-quality metal building gutters and downspouts with their building orders.
RHINO's superior gutter and downspouts systems are:
Large enough to handle exceptional downpours
Easy to install, with 10' or 20' sections
Available in a wide choice of colors to match or complement any trim or building wall panels
This is another great way to protect and waterproof your metal building by channeling excess water away from the building and foundation.
Ventilation for Metal Building Exteriors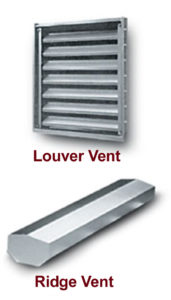 Extend the life of your steel building roof with proper ventilation. 
Louvered vents or ridge vents minimize the temperature differences between the roof cavity and the outside air, which helps remove moisture.
Trapped moisture reduces the R-value of the insulation.  It can also cause condensation problems.
Proper ventilation is the key to thwarting condensation complications in your metal building.
Learn More about RHINO Steel Building Exterior Options
Speak with a RHINO metal building specialist now at 940.383.9566.  Discuss our different types of steel roofs, metal building wall panels, and other metal building exteriors customizing features.